Bill T. Jones/ Arnie Zane Dance Company and SITI Company Prepare NYC Premiere of "A RITE" (DanceUpCloseVideo)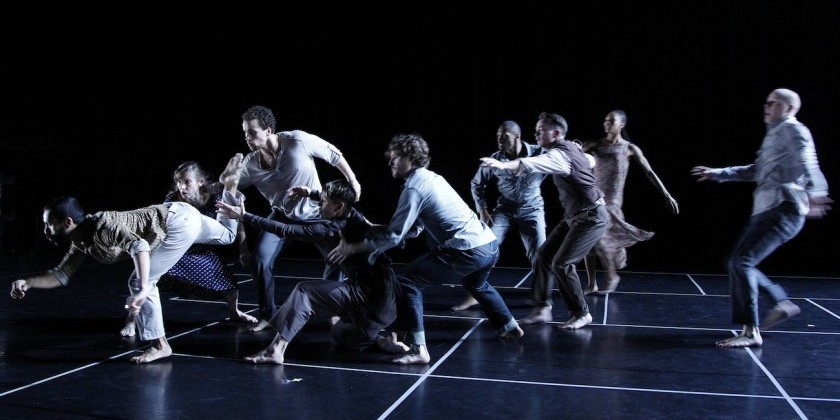 The Dance Enthusiast Dances Up Close to the Two Companies as They Deconstruct the Legendary Stravinsky Score for BAM's 2013 Next Wave Festival
In A Rite, the collaboration between Bill T. Jones/Arnie Zane Company and SITI Company, you will not find a virgin or see her sacrificed; you will not be immersed in a ritual that will allow Spring to grace our city; and you will not feel the need to riot  - or will you?
Janet Wong, associate artistic director of the Bill T. Jones/Arnie Zane Company (@BTJAZDanceCo, we want you to know their Twitter handle so you can tweet the word to get to this show), believes that there is something violent in us that wants to riot and once that feeling enters the body it drives people. Whether or not you know what the riot is about, in the midst of it, you are beyond control.
---
"Nobody in Their Right Mind Wants to Make Another Dance Piece About The Rite of Spring."
Why A Riot? Was It Staged? "There's Something In Us That Wants to Riot."
Is that what happened to the audience 100 years ago at Théâtre des Champs-Elysées in Paris?  How could a musical/ ballet performance elicit a reaction that brought police to the theater? Were the un-balletic angles and stomping of Nijinsky's choreography coupled with the dissonance and raw quality of the music so disturbing?  Why a riot?
This "why" question interested Anne Bogart the Artistic Director of SITI Company (@SITICo) as she entered the collaboration with Bill T. Jones, Wong and their respective companies.
Is there one answer?
Answers seem to lie in the magnitude of Stravinsky's music, which Jones describes as "Mount Fuji" -- meaning that its power is omnipresent like the great mountain. You can feel it, see it and hear it always throughout this piece.
How Is Your Rite Different?
---
Other possible explanations are shared by one of the four intriguing main characters in A Rite - The Musicologist.  Based on the very real Schoenberg scholar, Severine Neff, and compellingly played by the brilliant Ellen Lauren, this musicologist knows what she's talking about. "Well don't you get it," she spits out rapid fire, "this piece is about SEX. Its about basic, primitive, instinctual desires and emotions. Don't you have desires emotions and primitive reactions? - I DO!"
In another second Lauren losers herself dreamily in the circles that spin in the score, wondering if we can hear them too.  It is a supreme pleasure to experience Stravinsky through this character who is simultaneously an earthy intellectual and whimsical romantic.
There are many angles from which to explore this monumental composition. Experiencing the imaginations of dancers and actors, choreographers and directors at work on the puzzle of it all excites.
Enough for a riot? Only time will tell.
This production urges us, invites us and at times simply throws us into Stravinsky's score; one thing is certain, you will never hear the Rite of Spring in the same way again.
How Do Two Very Different Companies Work Together?
---
Please Enjoy A Dance Enthusiast Minute with Bill T. Jones/Arnie Zane Company and SITI Company in Rehearsal for A Rite
---