Brazil Comes To Brooklyn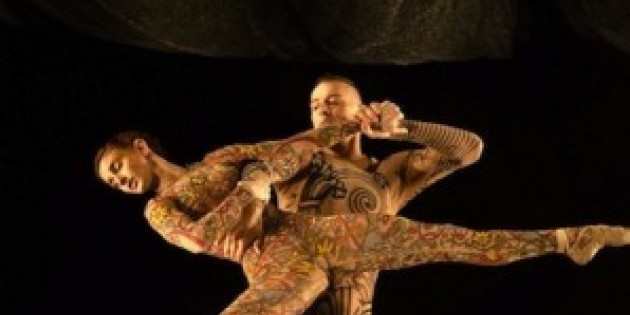 On Freedom, Bagpipes and Art…
Twenty Minutes with Rodrigo Pederneiras, Choreographer of Grupo Corpo
As the Brazilian Company Prepares Two New York Premieres for the BAM's 2012 Next Wave Festival
*Grupo Corpo- "Sem Mim" and "Ímã" at BAM- November 1st-3rd, 2012

October 2012
---

Christine Jowers for The Dance Enthusiast

"In Galicia northwest Spain, one of three of the inhabitants plays bagpipes," Rodrigo Perderneiras, choreographer for Grupo Corpo,the leading contemporary dance company of Brazil, explains to me. (I am used to thinking of bagpipes as  Scottish.) Perderneiras learned this when his friend and frequent musical collaborator, the composer José Miguel Wisnik, introduced him and his brother Paulo, the artistic director and set designer for Grupo Corpo, to seven different pieces of music from 13th Century Galicia.

"All the lyrics are about the sea. A man sings (as a woman) in front of the water, crying for her lover who has gone. She has lost him and is talking with the water hoping it will bring him back. I love this image and the idea that the principal element, the sea, can take your happiness or give it to you," shares Perderneiras.
Sem Mim ;Choreography, Rodrigo Pederneiras; Photography  © Jose Luiz Pederneiras

The Grupo Corpo brother team was drawn immediately to the Galacian songs and deeply appreciated their connection to Portugal. Galicia at one time was part of the Kingdom of Galicia and Portugal. Brazil, where Grupo Corpo has its home, in the aptly named city of Belo Horizonte (Beautiful Horizon), also has Portuguese roots. During the Middle Ages, Galicia and Portugal shared a lyric poetic tradition where poetry was meant to be sung.

In Sem Mim (Without Me), Perderneiras' fourth collaboration with composer, Wisnik, Carlos Núñez plays Galician bagpipes, and poetry, from the Portuguese song cycle Sea of Vigo by Martin Codax, is not only sung but danced with the élan and virtuosity for which Grupo Corpo is noted world-wide.
Sem Mim ;Choreography, Rodrigo Pederneiras; Photography  © Jose Luiz Pederneiras

Both Sem Mim and Ímã, a work inspired by ideas of magnetic attraction and repulsion, will receive their New York premieres as part of BAM's 2012 Next Wave Festival in performances November 1st through the 3rd. These shows mark the popular company's fourth visit to BAM as well as almost 40 years of existence.

"What is the secret to Grupo Corpo?" I wonder.

"In the beginning", recalls Pederneiras, "my sister started dance and I used to play the classical guitar. But one day I saw a show. It was Bat-Dor (the now defunct company from Israel) and I then knew, that is what I want to do. When we started, all the brothers and sisters (six siblings in all) were dancing. We didn't have money or a place to dance, so our parents (both non-dancers: his mom, a homemaker and his father, an engineer) left the only house they knew to find a place where we could work." 

Family and home are crucial to Pederneiras, who could have left Belo Horizonte for the bigger cities of Rio de Janiero or São Paulo, but prefers to work near home. Still, he is fond of reminding interviewers the company is not about the Pederneiras family, it is the Grupo Corpo family.
Ímã, Choreography, Rodrigo Pederneiras, Photography © Juniper Shuey

"We have a very open way of working. We encourage the artists to talk when they want to talk. We encourage open opinions. When a dancer comes to work at Grupo Corpo, they stay until they retire," the choreographer notes proudly. This is a huge achievement in a field known for employees' erratic departures.

In the late 1970's when the company started, Brazil was ruled by the military. Pederneiras, a dancer, not yet the lead choreographer, remembers the work having to be shown to a board of censors for approval. There were two times when the Argentinean choreographer Oscar Aráiz had to change elements of his dances for the censors. It wasn't pleasant.

Today freedom is another fundamental aspect of Grupo Corpo. Pederneiras cites the company's  work with musicians. The dance troupe has been fortunate to work with scores exclusively commissioned for them since 1992. In 2005, Rodrigo and and Paulo insisted that the musicians have " complete freedom to create what they want without boundaries. This is essential."

Though he never works with improvisation - "I do everything," the choreographer announces - Pederneiras is always open to his dancers sharing new ideas or movements. He describes this free atmosphere as "work/ play."
Ímã, Choreography, Rodrigo Pederneiras, Photography © Juniper Shuey

Passion, family, freedom and love of art fuel the choreographer of Grupo Corpo, who, as we end our conversation, professes his enthusiasm for New York City, " I love to walk in the museums of New York. I could live in the museums."

Pederneiras is constantly enamored with paintings, sculpture and especially new ideas presented in contemporary art. He says, "There is a song in Portuguese that says, 'These are things that help us to live, art is one of them.' "

I am certain Rodrigo Perderneiras sings this song everyday.


---
The Dance Enthusiast's DAY IN THE LIFE covers the stories behind dance/performance and creates conversation. For more behind-the-scenes stories from NYC and beyond, click here.
---
The Dance Enthusiast - News, Reviews, Interviews and an Open Invitation for YOU to join the Dance Conversation.