Tony Award-Winning Choreographer Christopher Gattelli on His Life on Broadway During a Rehearsal of "The Cher Show"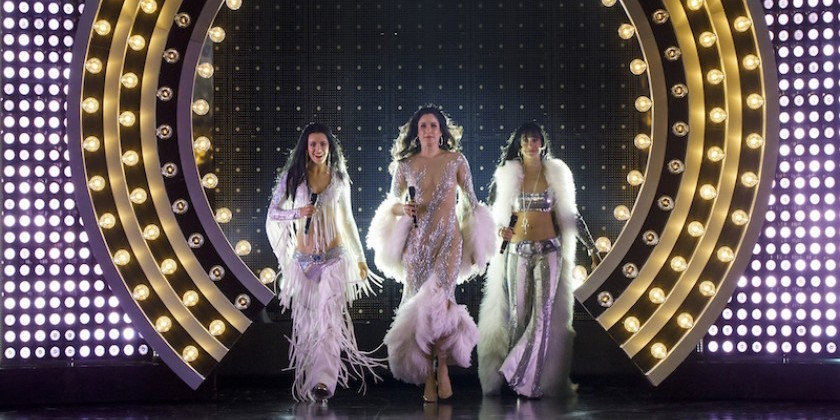 Teal Wicks, Stephanie J. Block, and Micaela Diamond in The Cher Show at Broadway in Chicago's Oriental Theatre; Photo: Joan Marcus
When I slipped in to the back of studio C on the 12th floor of the Pearl Studios in Midtown Manhattan, eight men and one woman were running through a partnering phrase, making several attempts to perfect an overhead lift. This was "Dark Lady," a sequence in the new musical The Cher Show. Here the dark lady, portrayed deftly by dancer Ashley Blair Fitzgerald, channels Cher's struggles for freedom and self-realization during a rivalry between her life partners Sonny Bono and Greg Altman.
Currently in previews, The Cher Show opens on December 3rd  at the Neil Simon Theater. The biographical musical replete with vibrant costumes by Bob Mackie is the most recent Broadway piece by Christopher Gattelli, one of the most prolific and versatile choreographers working today.
"My head is exploding with the research," said Gattelli during a rehearsal break. "There are so many styles featured here – Luigi Jazz, hip-hop, swing, and tango – and each one needs to be authentic."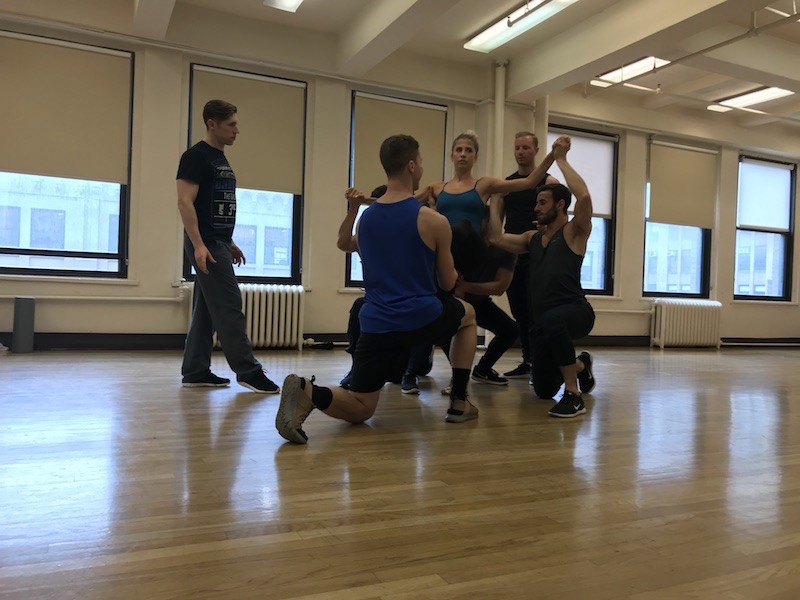 Dancers rehearsing The Cher Show
The Cher Show continues Gattelli's boundless momentum. The last few years have boomed with hits: The King and I, South Pacific, Sunday in Park with George, and his Tony-award-winning Newsies. At this year's Tony Awards, he had choreographic nominations for Sponge Bob Square Pants and the revival of My Fair Lady – two diverse productions.
Gattelli infused joie de vivre in My Fair Lady, directed by his long-time collaborator Bartlett Sher. From the smallest hand gestures of the lovestruck Eliza Doolittle swooning in "I Could Have Danced All Night" to the rousing, jumping-on-the-table jig of "Get Me to the Church on Time," the choreography breathed new life into the classic. Particularly lovely was the "The Embassy Waltz," an instrumental piece where the large ensemble circled the stage and glided through a synchronized Viennese Waltz. For this, Gattelli hired a ballroom expert to break down the movements to the cast, accommodating each skill set.
"I always study the original productions of a revival piece. There are iconic moments that you don't want to miss," said Gattelli. "But like all of my shows, I am in constant dialogue with my dancers and aim to create movement that looks and feels right on their bodies."
Starting dance classes at eight years old, Gattelli considered himself a sponge, always pushing himself to learn new styles of dance. With a background in tap, ballet, and modern, he landed his first role in the Radio City Christmas Spectacular at age 17 when he was a student at The Ailey School. He went on to dance in several Broadway shows before trying his hand at choreography.
Harry Hadden-Paton, Laura Benanti, and Allan Corduner in My Fair Lady; Photo: Joan Marcus
"Chris doesn't take any aspect of a show for granted. He brings in experts, whatever it takes, to advise on the choreography and make the story more real," said Laurie Kanyok, a long-time friend and collaborator.
A veteran dancer on Broadway, Kanyok met Gattelli when they teenagers and performed with him onstage in several productions including Fosse. She has been an active member of his creative team and is currently consulting on The Cher Show. Gattelli is also on the board of directors of her theater education program, Kanyok Arts Initiative where he shares his expertise with the next generation of young theater and dance artists.
"Chris is a giver. What is more unique is not only what he gives to the show, but what he gives to his dancers and actors. He includes them in the process and listens to their voices, which is not typical in the Broadway world."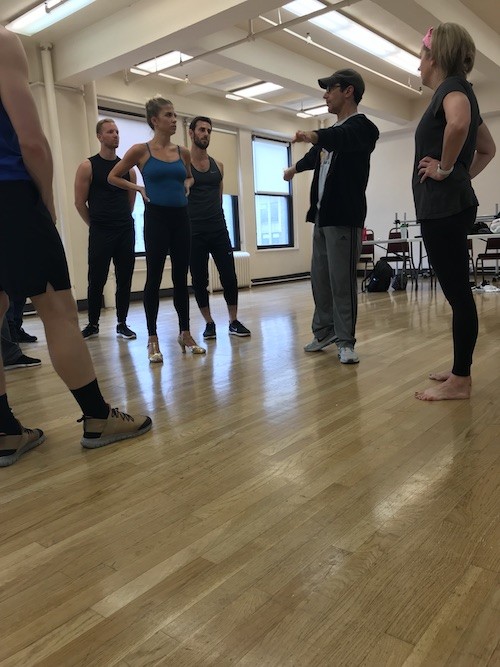 Chris Gattelli and dancers rehearsing The Cher Show
Influenced by the legendary Jerome Robbins, Gattelli hopes to direct in addition to choreograph theater. He is well on his way to following in his role model's footsteps and arguably adding depth and humility to the creative process.
I watched the rehearsal until lunchtime, captivated by the enthusiasm and heated focus in the room. Unpretentiously dressed in a light-blue T-shirt, gray sweatpants, black glasses, and a navy Phillies baseball cap with his dark curls ever so slightly popping out, Gattelli was in the zone. On this day there were no egos present, just a humble architect – head down, hard at work, joyfully refining the complexities of his design.
---
The Dance Enthusiast Covers The Stories Behind Dance Performance, Speaking with Artists and Creating Conversation
For more Behind-the-Scenes Stories of the NYC Dance World Click on our Day In The Life of Dance Section.