The Dance Enthusiast Hits the Streets to see Brooklyn Ballet's Multi-Cultural "Pas De Quatre" and "Quartet" a Hip Hop Response to the Ballet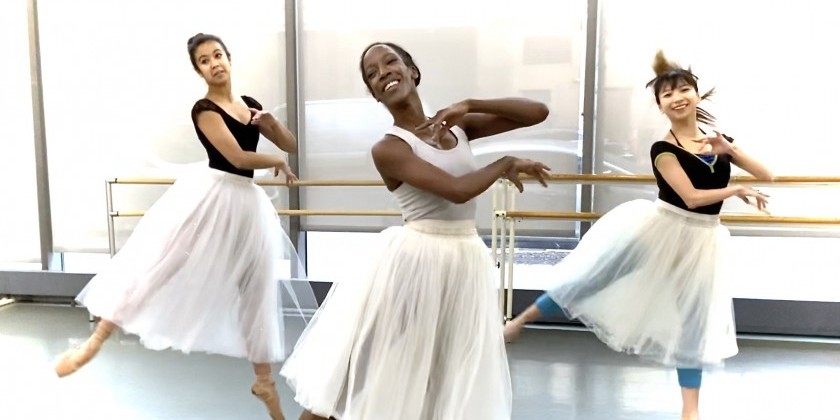 Making History at The Mark O'Donnell Theater at The Actors Fund Arts Center in Brooklyn.
Brooklyn Ballet's  Creating History
Revisionist History 2 - Performances February 13th -16th
The Mark O'Donnell Theater at The Actors Fund Arts Center in Brooklyn.
Tickets Online Click Here or  call the Box Office at  718-246-0146.
Thursday, February 13 at 7:30 p. m.
Friday, February 14 at 7:30 p. m. Free Beer Friday!
Saturday, February 15 at 3:00 p. m. and 7:30 p. m. with Q and A
Sunday, February 16 at 3:00 p. m.
---
Lynn Parkerson's directorial interests continue to be woven into the company's winter season with Pas de Quatre, a work that originally made its premiere in London in 1845, choreographed by Jules Perrot for four of the greatest ballerinas of the time : Marie Taglioni, Carlotta Grisi, Lucile Grahn and Fanny Cerrito.
Original Lithograph of Pas de Quatre Cast from the Victoria and Albert Museum, UK. ( Left to Right) Carlotta Grisi, Marie Taglioni, Lucile Grahn and Fanny Cerrito
Adorned in white tutus, the work captures the essence of the Romantic style and demands a clear execution of the ballet technique; adagio, petite allegro, fast footwork, elegant fluid arm movements, and graceful changes of position.
The costumes, designed by Sylvia Nolan, are a testament to the evolution of the 21st Century ballerina with tutus that reflect the dancer's skin tones, yet stay true to the historical time period, while pianist Julius Abrahams plays Cesare Pugni's score live.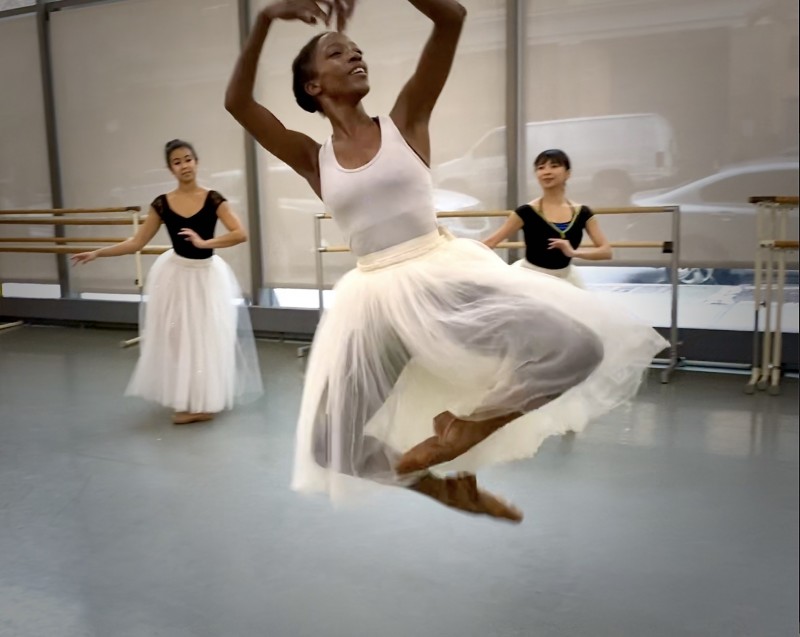 Paunika Jones in Rehearsal, Photo by C. Jowers
Restaged in 1941 by Anton Dolin,  the company  will set Dolin's version with a cast of four diverse and nuanced ballerinas:  Paunika Jones, as Taglioni; Miku Kawamura as Cerrito; Christine Emi Sawyer as Grisi; and Courtney Cochran as Grahn. The women  have been coached by dance historian and winner of this year's TanzPreis Munich, Claudia Jeschke.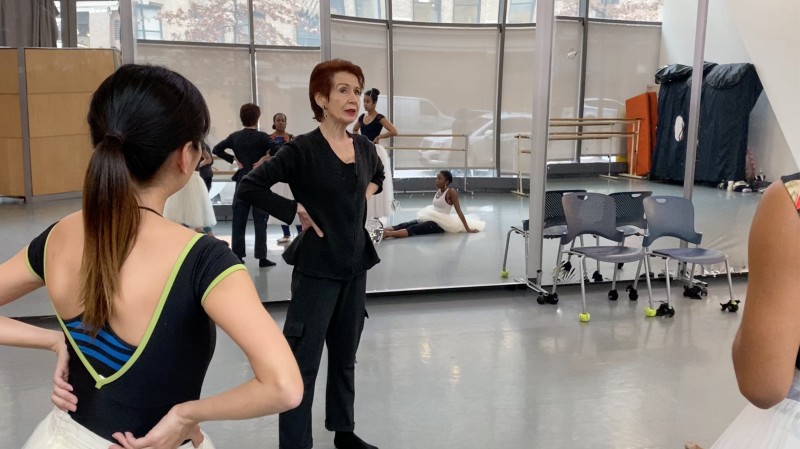 Claudia Jeschke Gives Notes  After a Run; Photo by C. Jowers
Jeschke who is impressed by the company's work, believes that the dancers have the technique and are embodying the Romantic style beautifully.  "They've got it."
The challenge now is to enjoy and to play with expression.
And what ever you do, she implores , "Don't dance on the beat. Look at the 'great dancers', they are either early or late."
"Staying on the beat is for the corps," Parkerson nods.
Courtney  Cochran dances the part of the first famous Danish Ballerina,  Lucile Grahn; Photo and Design by C. Jowers
Both Parkerson and Jeschke have encouraged the dancers to research the women whose parts they are performing. 
"We have the mythology," says Jeschke referring to the stories of the great ballerinas. Now the job is to realize this history, "dance history, belongs to you."  
Pas De Quatre belongs to Brooklyn.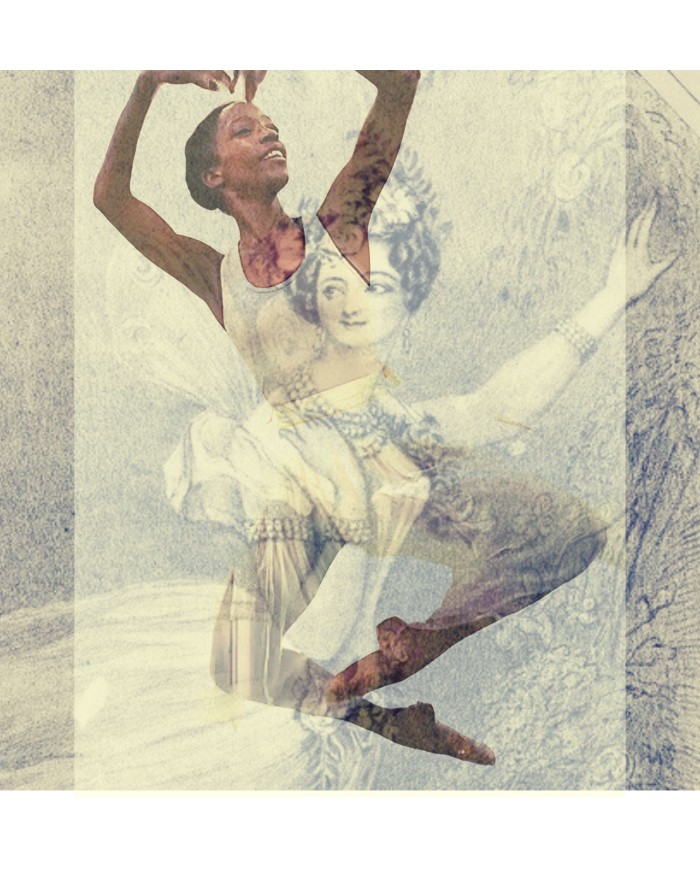 Paunika Jones as Dances as Marie Taglioni ; Photo and Design C. Jowers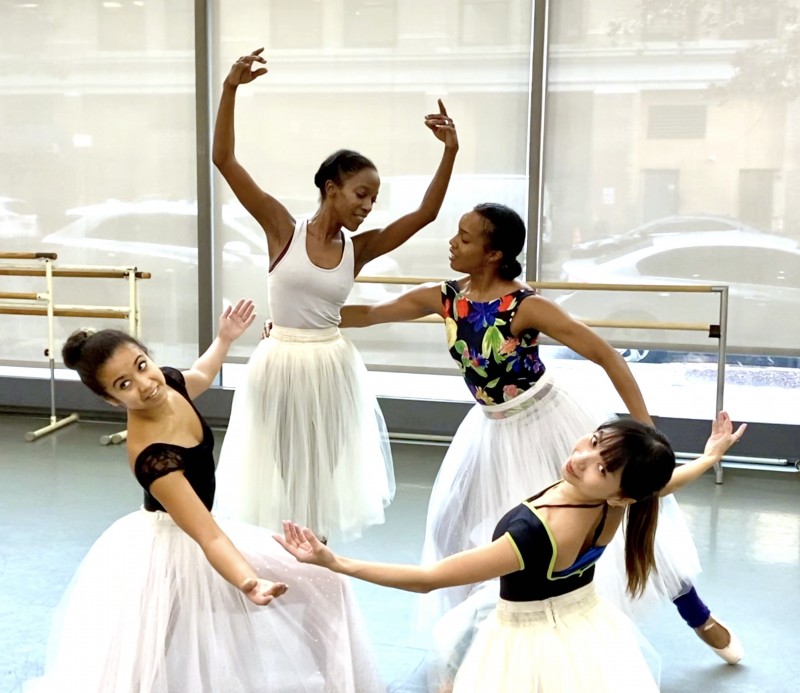 Brooklyn Ballet's Pas De Quatre Cast in rehearsal from L to R  Moving Upwards: Christine Emi Sawyer as Carlotta Grisi; Paunika Jones as Marie Taglioni; Courtney Cochran as Lucile Grahn; and Miku Kawamura as Fanny Cerrito ;Photo by C. Jowers
---
In a further exploration of Pas de Quatre, Parkerson previews Quartet, an original piece that mirrors the formations, dynamics and motifs of Pas de Quatre, but employ forms of Hip Hop like popping, flexing, and gliding, performed by four male hip hop artists : Michael "Big Mike" Fields; James "J-Floats" Fable; Bobby "Anime" Major, and Ladell "Mr. Ocean" Thomas.
This work-in-progress, created in collaboration with Michael Fields, maps the original ballet, with each hip hop dancer performing an individual variation or solo, in succession, between an opening and finale that are danced by all of the artists together.
Quartet  opening -From Left to Right : Bobby "Anime" Major, Choreographer and Dancer-Michael "Big Mike" Fields;
Ladell "Mr. Ocean" Thomas; and James "J-Floats" Fable
---
Finally Parkerson premieres Intersection, a multi-genre dance for an ensemble of nine ; four hip-hop dancers, and five ballet dancers.
She's been creating integrated works since 2005, and this newest signature mixed-movement piece is created with longtime collaborator Michael Fields. 
The music, a city soundscape complete with MTA announcements, is by Malcolm Parson of Turtle Island Ensemble and the Carolina Chocolate Drops.
In Intersection the ballet and hip hop artists of Brooklyn Ballet work together on the stage, furthering the overarching mission of the Brooklyn Ballet to challenge convention and defy expectations.
---
---
The Dance Enthusiast's DAY IN THE LIFE covers the stories behind dance/performance and creates conversation. For more behind-the-scenes stories from NYC and beyond, click here.
---
The Dance Enthusiast - News, Reviews, Interviews and an Open Invitation for YOU to join the Dance Conversation.