Dance: Broadway Stage and Screen: Tales of a Gypsy, Bruce Heath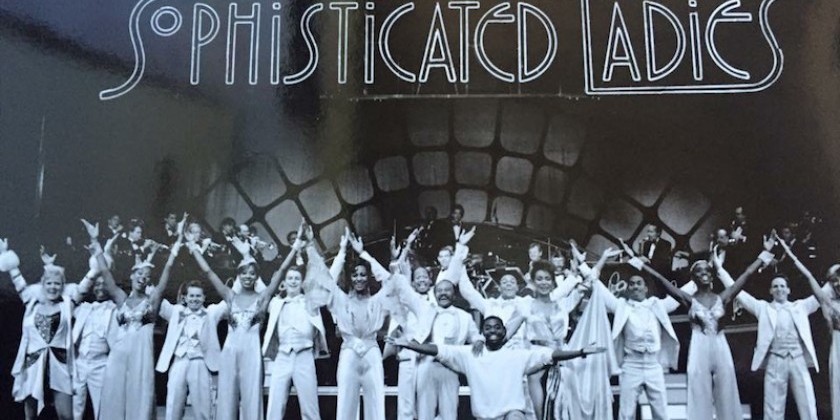 From New York to LA and Back Again
In 1972, Mr. Bruce Heath arrived in Los Angeles with sixty bucks in his pocket and plans to study dance at CalArts. One fateful encounter with choreographer Donald McKayle ( at the time the incoming Artistic Director of Dance at CalArts) on the set of The New Bill Cosby Show changed the course of this young dancer's life.
"I walked through the doors of CBS Studios and they were taping the opening dance number. When I told Mr. McKayle I was here early and didn't have much money, he asked, 'how would you like to do the show next week?' I wasn't even 18 yet. And that was the start."
Heath grew up in Jamaica, Queens — the only boy in his neighborhood who danced. His love for the art form didn't make for the most comfortable of circumstances with his male peers who often called him names and made threats. Luckily, he earned a spot at The High School of the Performing Arts (the inspiration for the film Fame), which Heath said "saved my life".
Though he attributes much of his technical training to the high school, he credits his neighborhood dance teacher Gloria Jackson for exposing him to the magic of theater. "She would take me to Broadway shows. I would remember the costumes, choreography and songs, which we would later reference in our recitals."
Bruce Heath (on the left) with other dancers on the variety television show Manhattan Transfer (1975). Photo courtesy of the artist.
Heath's years of making and learning a wide range of numbers for his studio proved to be a training ground for what was to come. "The New Bill Cosby Show" led to countless gigs — The Academy Awards, American Music Awards, Soul Train and the film, The Wiz. During this time, he learned to perform for the screen. "You don't hear applause and you are not given adoration. I had to get used that," he says. "You can work grueling hours doing the same thing over and over, but you don't know if you're going to end up on the cutting room floor."
Yet, the experiences were electrifying. With a number of job prospects and a demanding schedule, Heath gave up his scholarship to CalArts to pursue stage and screen work full-time. It's a decision that he still stands by.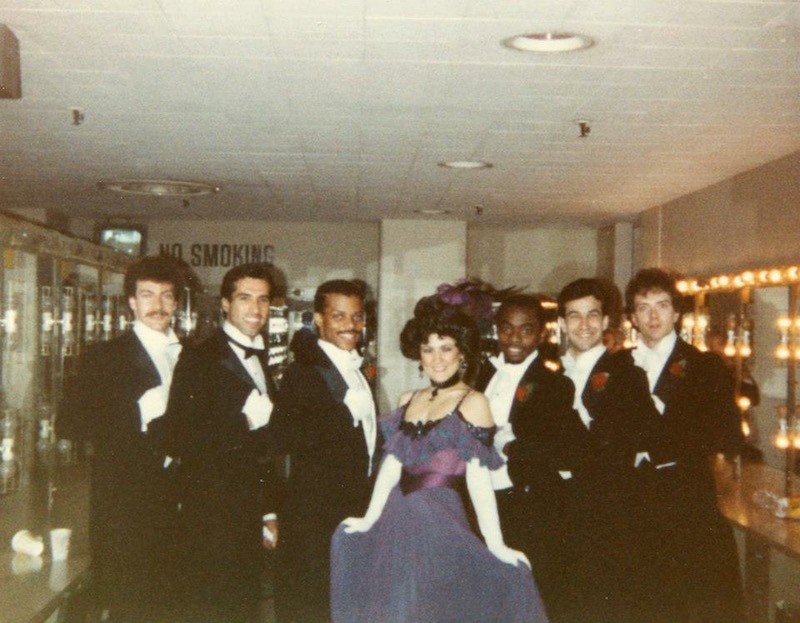 Dancers backstage at the 49th Academy Awards in 1977. Bruce Heath (third from the right). Photo courtesy of the artist.
"At that time a lot of black companies like Afro Sheen and Essence Magazine were advertised on television. Bringing on the darker black hue was in, and the network wanted to represent that. Though they didn't even have makeup our color," he says. "I felt I had a responsibility being in the 'white' world — in 'white' film and television — to be the 'token' black guy and show I can dance like them."
Throughout this period, Heath remained close with McKayle, dancing for the choreographer's LA-based ensemble Inner City Repertory Dance Company and later with him on Broadway.
One of Heath's first experiences on the Great White Way was as a dancer in Doctor Jazz choreographed by McKayle. "I tapped and Donald didn't so I was able to make up a bit of a solo. I will never forget that. It took me back to being a kid tapping in my dance school's recital."
Heath went on to be a part of the critically successful Sophisticated Ladies where he served as associate choreographer, working with McKaylem Hinton Battle, Judith Jamison and the late Gregory Hines. Describing Hines as a mentor, Heath says, "He was against what show biz was all about. His humbleness really made him different. The women loved him. Everyone wanted a piece of Gregory Hines."
From L to R: dancer Gary Chapman, performer Leland Palmer and Bruce Heath on the variety television show Manhattan Transfer (1975).
Photo courtesy of the artist.
After years of performing, Heath made the natural progression to choreographic and directorial roles. He created The Tap Dance Show with The Four Step Brothers and Peg Leg Bates in conjunction with the 1984 Los Angeles Olympics; then, acted as associate director for the Broadway show, The High Rollers Social and Pleasure Club;  and opened up his own dance and acting school in Los Angeles.
During the late '80s and early '90s, Heath began to noticed dramatic shifts in the stage and screen world. Instead of using live performers award shows began to replace dancers with multimedia effects in efforts to save money. The variety show format, which had saturated the television market, was no longer appealing to audiences, and started to trickle out. Choreographers turned to the street and club styles of break dancing and hip hop to attract new audiences. Growing up in a more standard jazz-based tradition, Heath's response was," I wasn't about to start spinning on my head."
While this hoofer may not be not performing split leaps to Marvin Gaye or rubbing elbows with tap legends at the moment, he looks back on the busy period of his career with fondness and reverence. Next month ( May 21, 2016) Heath will join his colleagues from the original production of Sophisticated Ladies in a panel organized by Duke Ellington Center for the Arts (DECFA) .
"I started that day at age 17 and never stopped for the next 30 years… I feel that it's my responsibility to share these experiences."
---
JOIN US ON APRIL 12TH, 2016 FOR THE DANCE ENTHUSIAST'S ENTHUSIASTIC EVENT!   DANCE: BROADWAY STAGE AND SCREEN
Tuesday, April 12, 2016 from 6:15 PM to 9:00 PM
FOR MORE INFO ABOUT OUR SPECIAL GUEST PERFORMERS, PANELISTS, AND THIS ENTHUSIASTIC EVENT! CLICK HERE