Dance Up Close to Cedar Lake Contemporary Ballet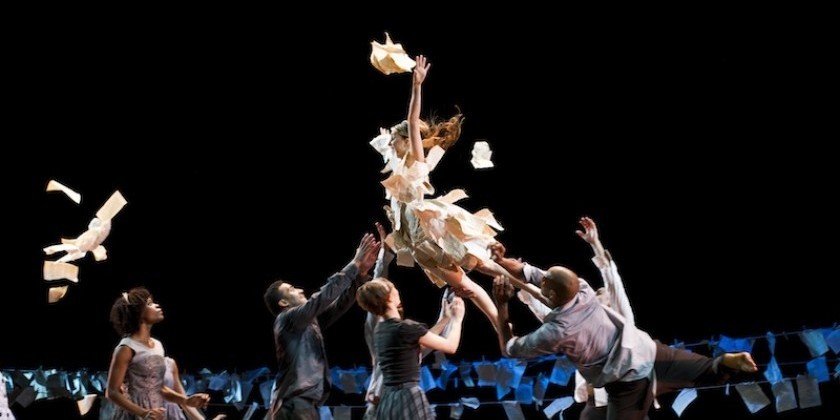 Tenth Anniversary Season at BAM
Artistic Director: Alexandra Damiani
Associate Choreographer: Crystal Pite
Tickets start at $20; click BAM
June 11 and 13 at 7:30 p.m.: "Orbo Novo" by Sidi Larbi Cherkaoui
June 12 at 7:30 p.m.: "Violet Kid" by Hofesh Shechter, "Tuplet" by Alexander Ekman, "Necessity, Again" by Jo Strømgren
June 14 at 7:30 p.m.: "Grace Engine" by Crystal Pite, "Tuplet by Alexander Ekman, "Necessity, Again" by Jo Strømgren
---
Founded by Wal-Mart heiress Nancy Walton Laurie, Cedar Lake Contemporary Ballet has swiftly become an illustrious company both here and abroad. Their unique brand yokes cutting-edge choreography to technical proficiency. Alexandra Damiani, the newly instated Artistic Director, oversees 16 gifted dancers who sparkle with good looks and movie star charisma in a chic industrial space in West Chelsea.
A Minute of Violet with Cedar Lake Contemporary Ballet Company ( excerpts, in rehearsal, of Hofesh Shechter's Violet Kid)
---
Damiani was born in France but spent much of her professional career in the U.S. dancing for companies such as Complexions Contemporary Ballet, Donald Byrd/The Group, and Les Ballets Jazz de Montreal. She joined Cedar Lake Contemporary Ballet nine years ago as Ballet Master and has played a crucial role in developing its singular reputation.
Meet Alexandra Damiani, Artistic Director of Cedar Lake Contemporary Ballet Company
---
The company celebrates their tenth anniversary with an eclectic debut at BAM's Howard Gilman Opera House. Cedar Lake Contemporary Ballet has developed a reputation for introducing spectators to innovative, European-based choreographers, and their BAM schedule features a feast of works by dance-makers who may be unfamiliar to American audiences. Consisting of three programs, theatergoers will have the opportunity to witness Sidi Larbi Cherkaoui's full-length Orbo Novo in addition to Violet Kid by Hofesh Shechter, Tuplet by Alexander Ekman, and Necessity, Again by Jo Strømgren. Recently appointed associate choreographer Crystal Pite's Grace Engine will also appear.
Planning Concerts are Like Planning A Meal
---
Damiani recognizes the juggernaut that is Cedar Lake Contemporary Ballet, which stems from years of laser-focus and unrelenting hard work by its members. However, now that the brand is established, she wishes to invite American dance-makers into the fold to "see what's happening in our backyard, and give a platform to those choreographers." Damiani also hopes to increase their impact in the community through outreach. She foresees collaborating with more visual artists and composers, and even holding presentations in their Chelsea space.
While known for its emphasis on creating snapshots of the current dance scene, Cedar Lake Contemporary Ballet is equally renowned for the prowess and originality of its dancers. Prodigious talent isn't enough to join the company; performers must fit into the group as a whole. Damiani hopes in the future to offer choreographic opportunities to these talented company members. "We had to be so careful to create an identity, but now we can give an opportunity to the dancers in the company to develop their choreographic voices."