The Dance Enthusiast Hits the Streets: Cennarium's Streaming the Performing Arts
David Rubenstein Atrium at Lincoln Center
September 15, 2017
Panelists: Ted Chapin, Janet Eilber, Santino Fontana, Mary McColl, Adam Siegel, Alex Timbers, Jamie Wilkinson
Moderator: Rob Diamond / Performers: Music Talks and Hamza Atoi / Visual Renderings: Pel
---
The performing arts have had a problem since their very inception. Rooted in space, defined by time, the idiom is limited by its need for a witness. If people can't make a show, well, then they missed it. Perhaps for the rest of their life.

In dance, this issue is particularly pitched. Short runs, small theaters, and shoestring budgets consign many fine pieces to the outskirts of historical memory. But technology — just maybe — has come to the rescue. The performing arts are finally joining the party that music, film, and television have been at since the aughts.
Cennarium, which has positioned itself as the Netflix of the performing arts, hosted the first-ever industry forum to discuss the possibilities and the pitfalls of streaming dance, theater, and opera. The event kicked off Promenade, a ten-day fully streamed performing arts festival.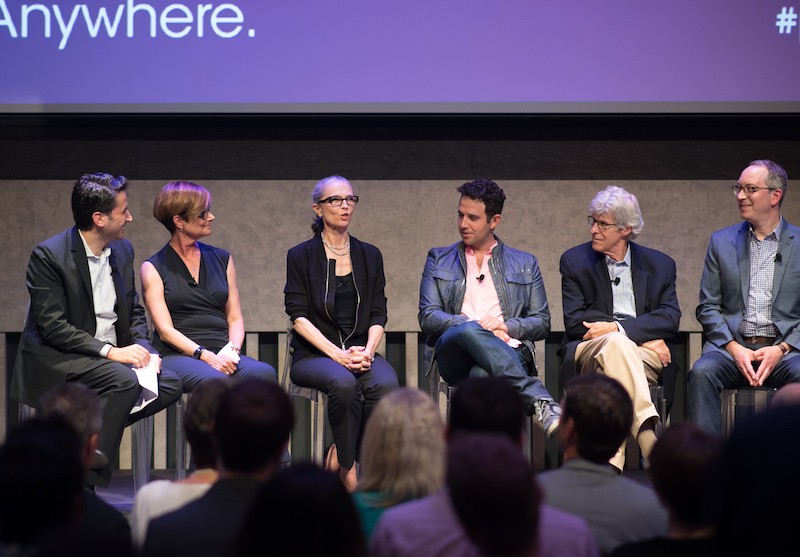 Photo: Joe Jenkins
While Streaming the Performing Arts featured cocktails, petit fours, and performances by cellists from Music Talks and improvisational poetry by Hamza Atoi, plus visual renderings by Pel, the biggest draw was the movers and shakers who gathered at Lincoln Center's David Rubenstein Atrium to opine. These luminaries included Ted Chapin, President of the Rodgers & Hammerstein Organization; Janet Eilber, Artistic Director of the Martha Graham Dance Company; Santino Fontana, Tony-nominated actor; Mary McColl, Executive Director of Actors' Equity Association; Adam Siegel, Managing Director of Lincoln Center Theater; Alex Timbers, Tony-nominated director and writer; and Jamie Wilkinson, Vice President of Engineering at Vimeo. Rob Diamond, Editor-in-Chief of BroadwayWorld moderated the talk.
Whether performer, director, or administrator, all the participants agreed that a streamed event is a companion to rather than a replacement of a live event. Wilkinson stated it best, "The live experience is not substituted by watching it online." Eilber pointed out that watching dance on a screen lacks "the body-to-body" transfer. Timbers suggested entertainment that's presentational rather than voyeuristic may be better suited to streaming. "Things that break the fourth wall," he said. "Like stand-up comedy."
While streaming a show will never replace attending it in person, the reality is that the performing arts are out of reach financially and/or geographically for many individuals. Thus, recorded performances offer companies, as Eilber said, "access to audiences around the world." McColl ticked off three elements that make streaming attractive: "Increased revenue streams, expansion of the performing arts, and opportunity for more work." Siegel indicated that one of his goals is "to create new audiences of young people." He was unsure whether Lincoln Center's current efforts to engage screen-addicted Millennials has resulted in increased ticket sales, but said, "We're definitely getting people to see things they haven't seen before."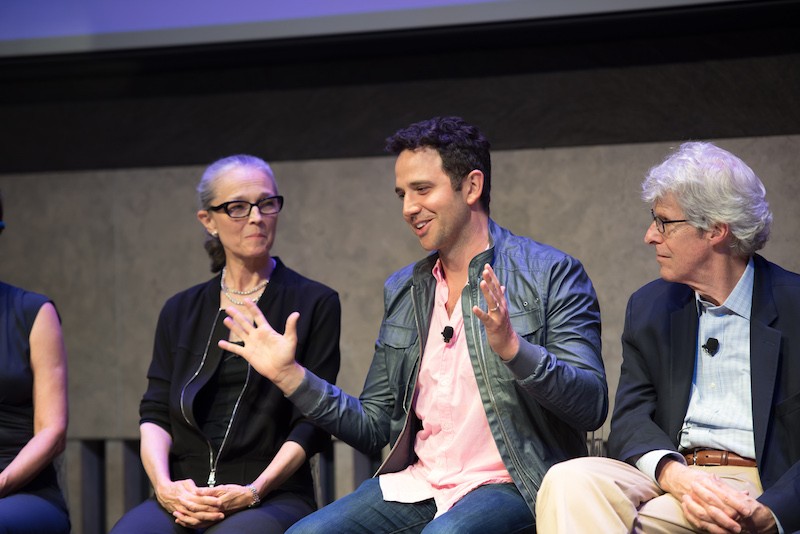 Photo: Joe Jenkins
While the benefits of streaming were clear, the panelists articulated drawbacks. Fontana joked about the distractions inherent in filming a live event. During the capture of The Importance of Being Earnest, he said, "Boom cameras were following me everywhere." He mimed the wide-eyed shock he felt upon turning around to find himself face-to-face with a camera. Siegel observed that he preferred to film works "at the end of their stage run" so as not to cannibalize ticket sales. Wilkinson worried that organizations will avoid challenging tried-and-trued methods of engaging audiences. He warned, "The desire to protect the current structure could stop companies from embracing models that can be disruptive."
Difficulty in establishing income and managing expenses prevents many performing arts organizations from investing in streaming. "So many people need to be compensated," Timbers said. He suggested establishing a "buyout" where artists would be given a one-time lump sum or "a profit-sharing model to make filming cheaper." Siegel said, "It needs to be easier to capture [the shows], and there needs to be a revenue stream." Chapin, speaking as an expert on rights, pointed out that licensing limited rights as the Rodgers & Hammerstein Organization does for a Lincoln Center run doesn't work for a streaming event.
At the conclusion of the forum, it was clear there was much to be excited about. There was also a lot to be worked out. "Rethink the old thing," Wilkinson advised. For art forms that exist in the present tense, it's good counsel to welcome the future unless they want to be relegated to the past. 
---
The Dance Enthusiast Hits The Streets to tell you what is happening in our dance community and to inspire conversation.
For more Dance Enthusiast Day in the Life pieces, which connect audiences to the behind-the-scenes of dance click here.