Compagnie Julie Bour presents "Why Now?"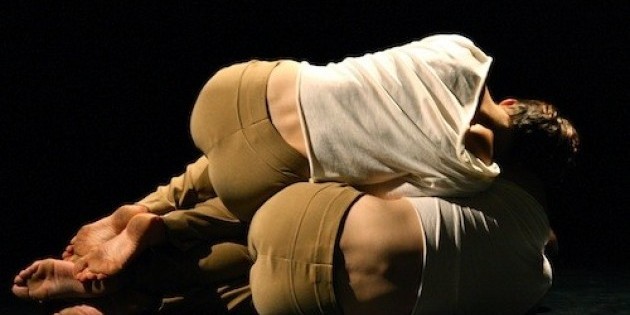 "Why Now?"
Julie Bour Chats with The Dance Enthusiast
video© Christine Jowers, for The Dance Enthusiast
Photos ©Erica Latta
---
Dance New Amsterdam (DNA), NYC's foremost progressive dance education and performance center, presents the world premiere of Compagnie Julie Bour's Why Now?. Developed through DNA's artist residency program, the premiere of  Why Now? marks the culmination of the three-year process and the completion of the three-chapter work.
The performances will take place October 21–22, 8:00 p.m.; October 23, 3:00 p.m. For Tickets Click Here.
---
After traveling from Europe to Israel, Julie Bour relocated to the United States in 2001. It was in the U.S. that she began exploring the theatrical aspect of dance through works like Julie Taymor's Opera Grendel. In 2006, Julie founded The Flying Mammoth with her husband Loic Noisette, and in 2008, she began Compagnie Julie Bour in New York City. Her works have been presented at venues in France and NYC, including Dance New Amsterdam, LaGuardia Performing Arts Center, Skirball Center for the Performing Arts, Miller Theatre and many art galleries. Julie Bour is a native of France and graduated from the Conservatoire National de Danse de Paris.
Julie Bour developed Why Now? to explore how change affects and invokes feelings and molds individuals into a new sense of belonging. The three-chapter story highlights a woman's journey: Why – explores the past; Now – envelops the present and is a discovery of what is left when the "unknown" quiets  and life moves forward.
Julie Bour has danced in works by renowned choreographers including Maguy Marin, Carolyn Carlson, Jennifer Muller, Dominique Bagouet, and in the dance company's of Angelin Preljocaj, Inbal Pinto, and Philippe Combes. She serves as a Rehearsal Director for, Angelin Preljocajre, staging Preljocaj's repertory around the world. In 1997, she was awarded a Bessie for outstanding performance in the duet "Annonciation," choreographed by Mr. Preljocaj.
Julie Bour in The Dressing Room of Dance New Amsterdam : Her Cast, Her Choreography, and Her Love of Movement
---
Julie Shares Some of Her Favorite English Words with The Dance Enthusiast
---

WHY NOW? – World Premiere Company:
Compagnie Julie Bour Choreographer: Julie Bour Assistant to the Choreographer: Amy Miller Composer: Kyle Olson (Chapters Two and Three) Music: DeVotchKa, Kyle Olson (Chapter One) Dancers: Tyner Dumortier, Jacquelyn Elder, Casey Loomis, Melissa Peraldo, and Joseph Poulson Set Designer: Benjamin Heller
---
The Dance Enthusiast's DAY IN THE LIFE covers the stories behind dance/performance and creates conversation. For more behind-the-scenes stories from NYC and beyond, click here.
---
The Dance Enthusiast - News, Reviews, Interviews and an Open Invitation for YOU to join the Dance Conversation.