DAY IN THE LIFE OF DANCE: Company XIV's Austin McCormick on "Nutcracker Rouge Cocktails and Burlesque at Home"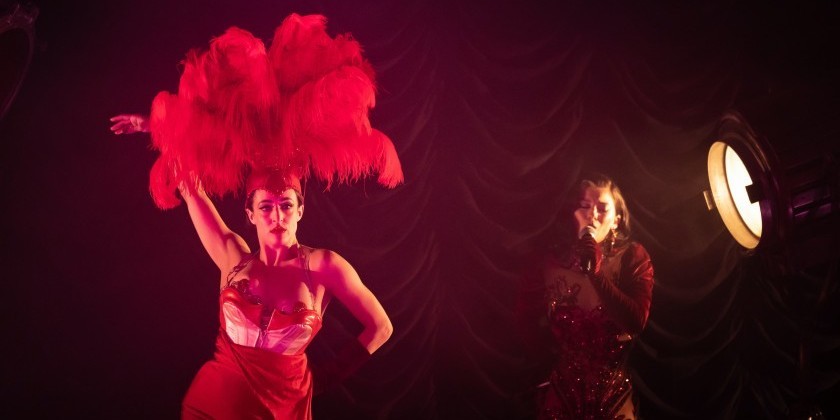 Nutcracker Rouge Cocktails & Burlesque at Home releases weekly videos through December 31, 2020
For more information and to purchase packages, please visit HERE.
---
It doesn't feel much like December without the Nutcracker, so why not give a new type of performance a try, one that's more spice yet still quite nice.
Like many troupes, Company XIV had to confront the realities of Covid-19. It scuppered its annual Nutcracker Rouge, a full-length work with daredevil cirque numbers and flirty dance bits that unfolds against a luxurious set of winking rhinestones and glittering candelabras. 
It would be sad — yet another hallmark of the New York holiday season lost in 2020 — but artistic director Austin McCormick has executed a pandemic pivot. Nutcracker Rouge Cocktails & Burlesque at Home brings the troupe's inimitable extravagance and sophisticated sensuality straight to your living room with curated recipes for libations and eight short but saucy acts released weekly. McCormick says, "I've missed Théâtre XIV [Company XIV's home in Bushwick] so much that I've been listening to our pre-show playlist, making XIV cocktails, and burning frankincense in my apartment. In these bizarre and isolating times, I wanted to find a way to bring XIV's glittery magic into the homes of our audience."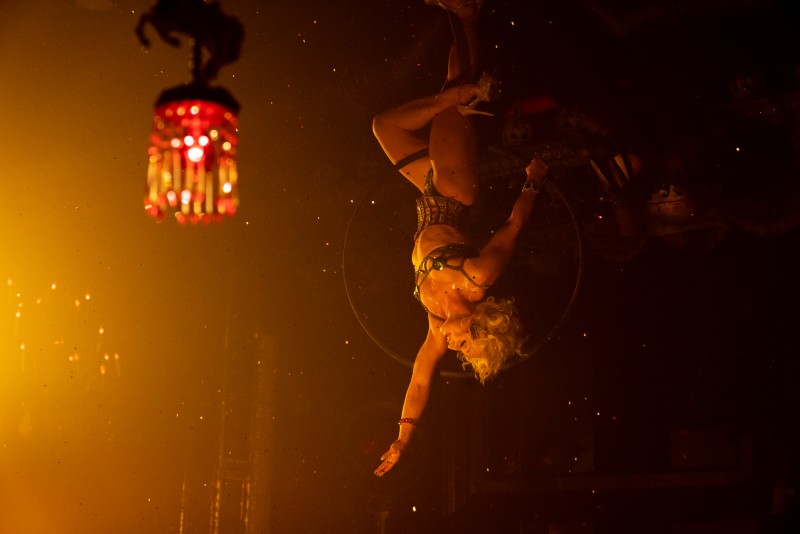 Marcy Richardson / Candied Violet; Photo by Alexander Sargent
While nothing replaces the thrill of watching dizzying antics in real-time, these videos allow you to hone in on subtle facets that may be overlooked in live performance. The first film released, Candied Violet, spotlights Marcy "OperaGaga" Richardson hitting sky-high notes as she slinks through and spins atop an aerial hoop. 
The camera caresses her from all angles. Several times, as she's twirling like a possessed top, the vantage point assumes a god's eye view, showing how cat-like her hooked legs and draped body look. "Capturing the XIV world on camera allows us to highlight the decadent details of Zane Pihlstrom's costumes, the sumptuous lighting by Jeanette Yew, and the fabulous physicality of the performers. I've heard from many audience members that, when viewing the shows live, they are often swept up in the moment and may not notice details," explains McCormick.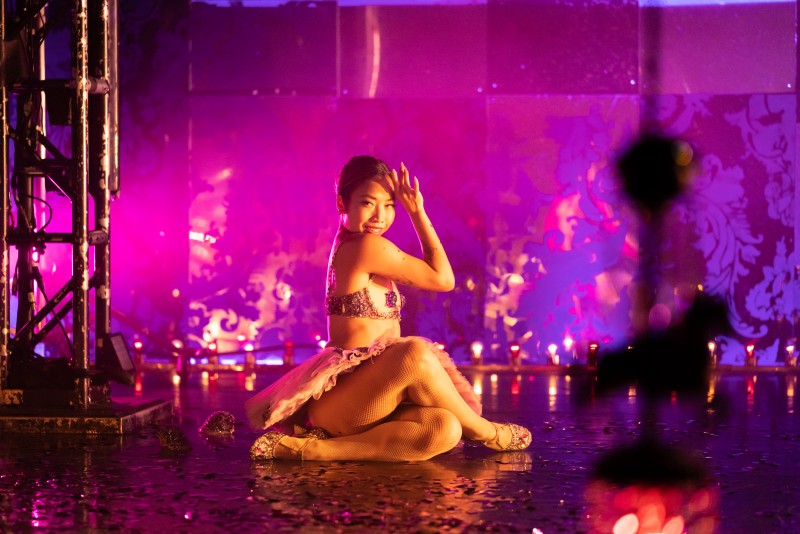 Christine Flores / Sugar Plum Fairy; Photo by Alexander Sargent
Choosing what to excerpt from the full-length Nutcracker Rouge, which was set to celebrate its tenth anniversary this year, proved difficult as many performers had left town. Still, many collaborators remained, who were excited to reset old pieces as well as come together to fashion new works. All were imagined or re-imagined to fascinate both individually and as a coherent whole. "I planned the sequence of episodes to give our audience titillating variety, plus an up-close relationship to the utterly brilliant physicality and artistry of the XIV performers," says McCormick. The second act, Red Velvet, is a sultry striptease by Lilin, whose dramatic backbends and slithering floor contortions literally alight the audience to earth after the airy gyrations of Richardson.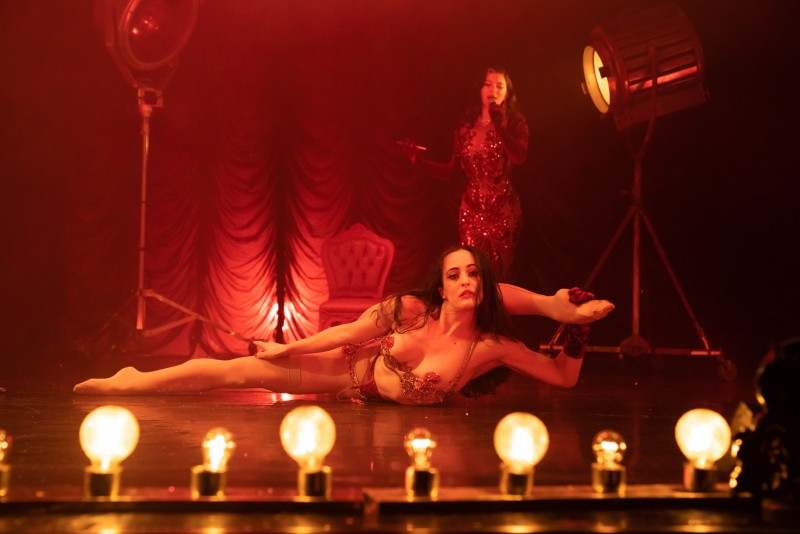 Lilin, LEXXE / Red Velvet; Photo by Alexander Sargent
The acts coordinate with the cocktails to evoke a delectable Land of the Sweets, such as Peppermint Twist, Lady Licorice, Sugar Plum Fairy, and more. Although the high-end packages come with gold-plated barware among other goodies, all options include access to the videos along with cocktail recipes and mixing demonstrations by smoldering company members.
Designing the tipples is a big perk for McCormick: "I love to get inspired by the production themes and specific acts when conceiving the drinks. I created delicious and unique cocktails inspired by Turkish Delight with vodka, bergamot liqueur, lemon juice, orange bitters, and orange blossom water. The XIV twist is that we smoke the glass with our signature scent — frankincense." If you get the munchies, McCormick suggests black-truffle potato chips.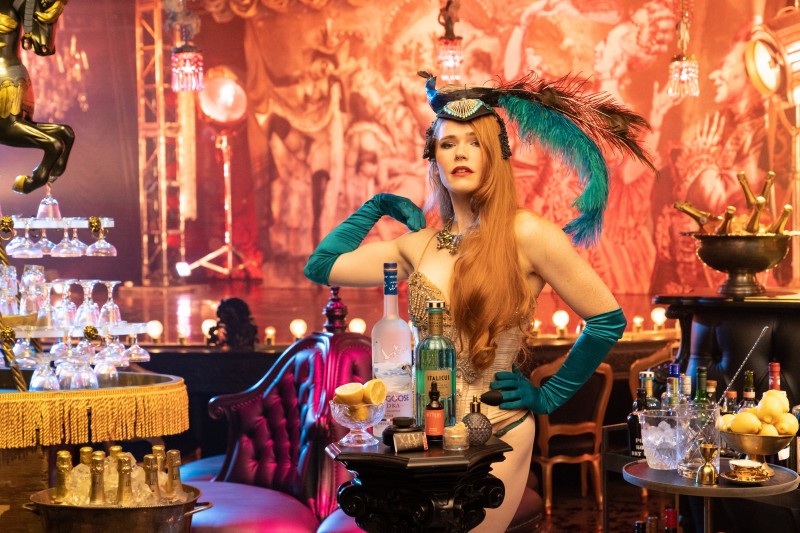 Bartender: Erin Dillon, Cocktail: Turkish Delight; Photo by Alexander Sargent
Many of us have spent our sheltering-in time cleaning and purging so conspicuously that it would spark tears of joy from Marie Kondo. In contrast, Company XIV embodies a gilded, perfumed sensibility that hearkens to the Sun King. McCormick believes it offers a much-needed balance to current minimalistic trends. "Our Baroque-burlesque aesthetic envelopes audiences into a glitter-covered, champagne-soaked dream world where more is more. I think gender-bending, multi-era, cross-genre, queer, inclusive cabaret works will always be important and needed," he effervesces.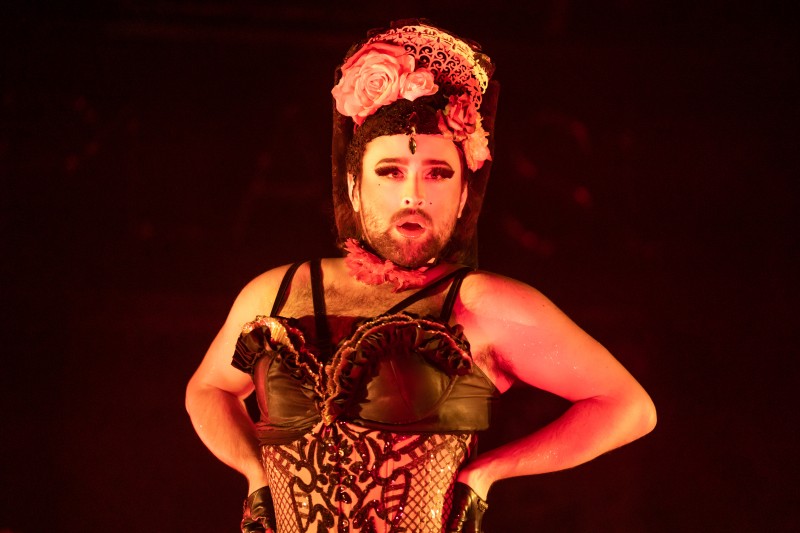 Pretty Lamé / Spanish Chocolate; Photo by Alexander Sargent
The future may be shrouded in fuzzy shadows, but McCormick knows one thing for sure. Company XIV will always find a way to share its fanciful extravagance. Besides enhancing its digital presence, the outfit has spearheaded a gift shop. The lure of live theatre, though, will always be something audiences seek out. "Live performance is ephemeral, and nothing can replicate the experience of being in a room with artists who are in the moment and performing specifically for a group of people signing up to be transported." Until then, Company XIV promises to bring the "glitter, booze, butts, and burlesque."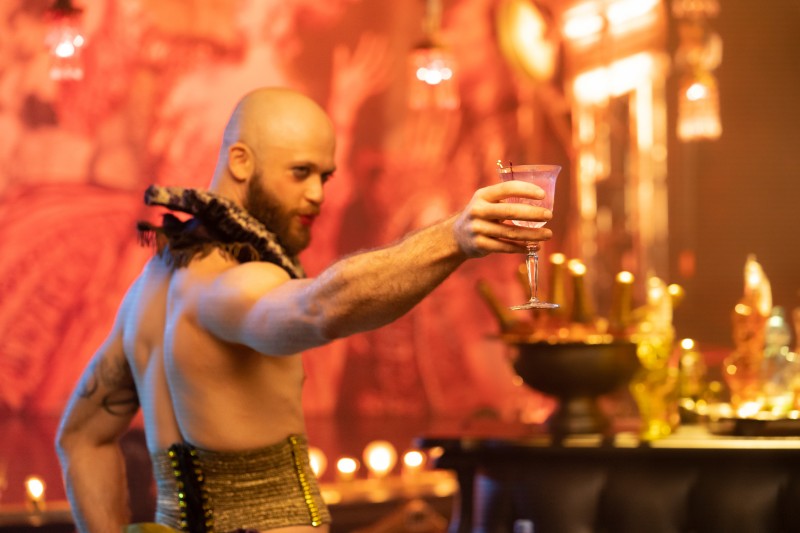 Bartender: Sam Urdang, Cocktail: Candied Violet; Photo by Alexander Sargent
---
The Dance Enthusiast's DAY IN THE LIFE covers the stories behind dance/performance and creates conversation. For more behind-the-scenes stories from NYC and beyond, click here.
---
The Dance Enthusiast - News, Reviews, Interviews and an Open Invitation for YOU to join the Dance Conversation.