Contact Dance in the Time of Covid-19: Carl Flink's Black Label Movement and Dr. Jon Hallberg of University of Minnesota Bring Dancers Together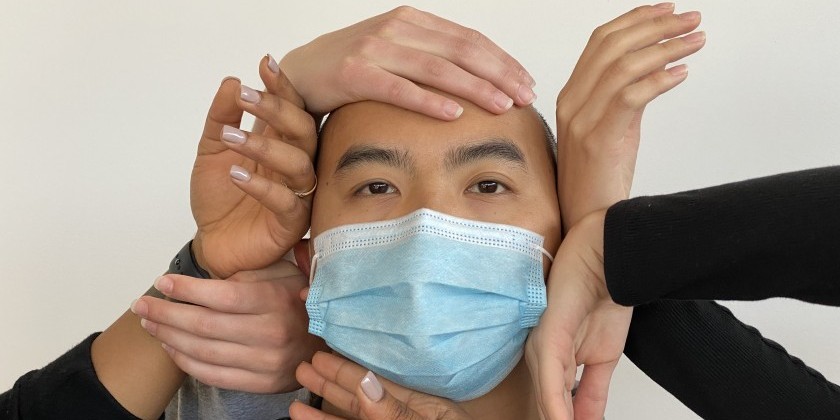 As he rang  in the New Year, Carl Flink, artistic director of Minneapolis' pre-eminent Black Label Movement, and chair of theatre arts and dance at the University of Minnesota, was jazzed about the future.
His thrilling movers — "Not dancers," underscores Flink, "we are interested in the larger umbrella of movement as a tool for communication and embodied research" — were set to show off their boundless physicality at January's APAP in New York City (Happened).
Flink's choreography for Shakespeare's Twelfth Night at The Guthrie Theater would run from early February to March 22nd (The season was shortened); his commission for the St. Louis based company MADCO was about to premiere (Postponed); and then, in October, Black Label Movement would participate in a TEDxMinneapolis event (Still on schedule, and happening October 23rd.)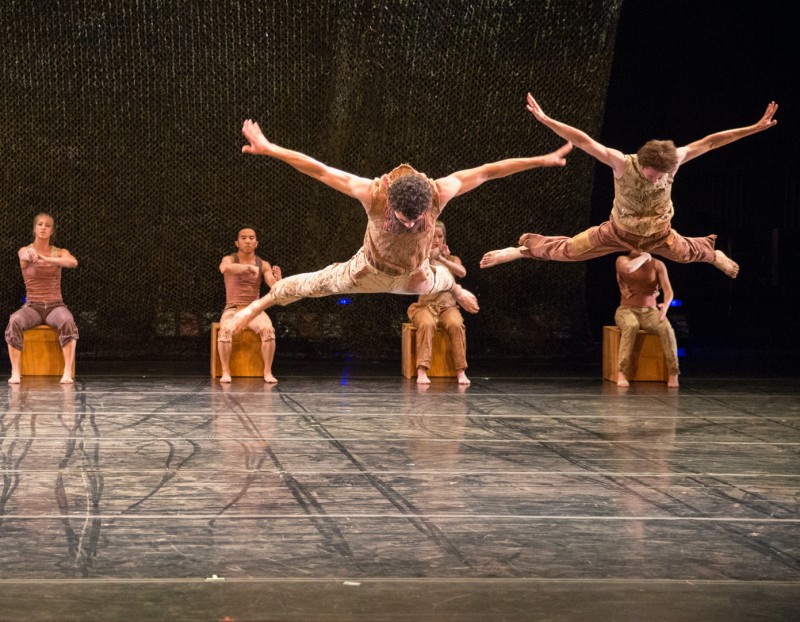 Black Label Movement; Photo Courtesy of the Company
Flink planned to use the TEDx talk to delve into Black Label's unusual, highly successful collaboration with David Odde, Ph.D., professor of bio-medical engineering at the University of Minnesota.
Since 2010, Black Label Movement has been bodystorming (a physical version of brainstorming) with Professor Odde and his colleagues as they strive to find new therapies, strategies, and treatments for debilitating diseases like cancer and Alzheimer's.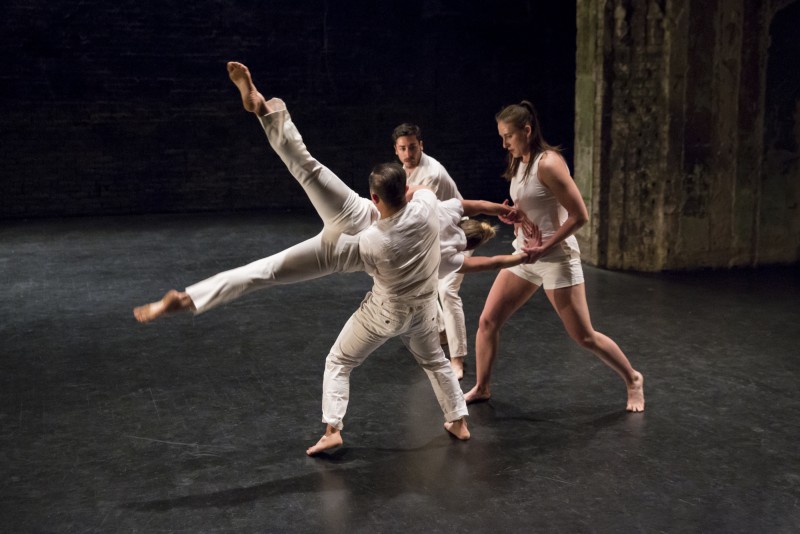 Black Label Movement in HIT; Photo Courtesy of the Company
Using dance to represent the chaotic lives of cells, the artists have assisted the scientists in testing theories, illustrating algorithms, and understanding one another's research models more clearly and deeply than any computer software program, or discussion alone could allow.  
As it turns out, scientific research and turmoil in the cells have also inspired exciting artistic directions. HIT, choreographed in 2011 by Flink, exemplifies this. Mayhem, collision, and full-throttle force are embraced to stunning effect.
Black Label Movement in HIT; Photo Courtesy of the Company
"We were going to do our TEDx talk about the physical impact work that Black Label Movement explores, where we do athletic level tackling as a part of our vocabulary," says Flink. "Then, the COVID curtain happened, and the murder of George Floyd. I didn't want to do talk about hitting and tackling people. That felt completely out of sync with where we were."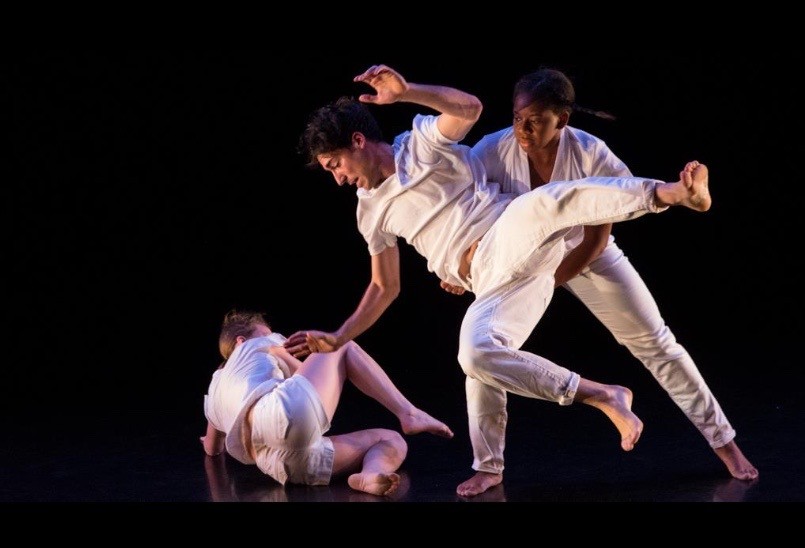 Black Lable Movment in HIT; Photo Courtesy of the Company
By this time, TEDx, which had already planned to virtual,  agreed to make a film of Flink's company for their presentation. But what would the new theme be?
Flink found himself missing physical contact.
"How do we touch when touch is gone?" became his central question, quickly followed by another — "Is it crazy to ask if there is a process that my company could go through which would allow us to physically partner?"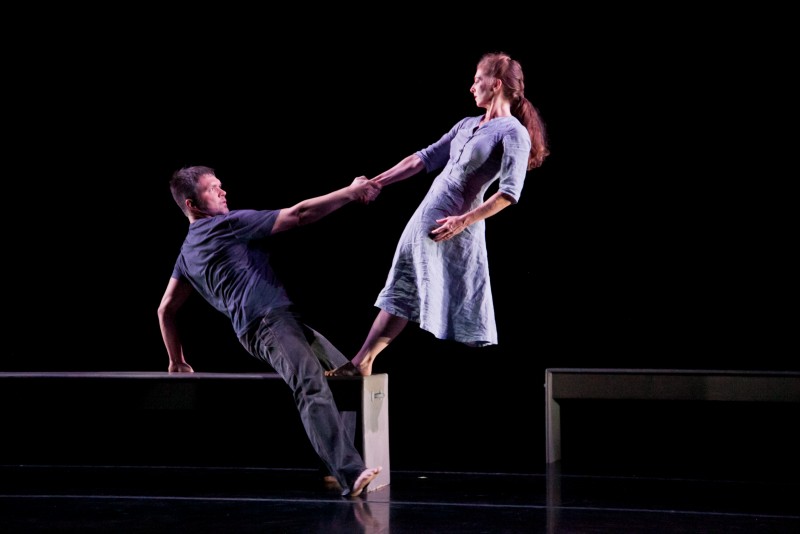 Black Label Movement. Carl Flink and Emilie Plauché Flink in A Duet for Wreck
"I kept asking myself, how do we emerge from COVID, rather than succumb to it? How do we keep allowing ourselves to gently reach out?"
For answers Flink turned to science. In mid-July, he connected with Dr. Jon Hallberg, another colleague at U of M's department of medicine. Hallberg, a passionate believer in arts and science collaborations, and a medical specialist for many of the Twin Cities' artistic organizations, was already immersed in attempts to bring the Minnesota Orchestra back together (though masked and socially distanced.) Those efforts, coupled with research to get professional sports teams playing again provided a path forward for Black Label.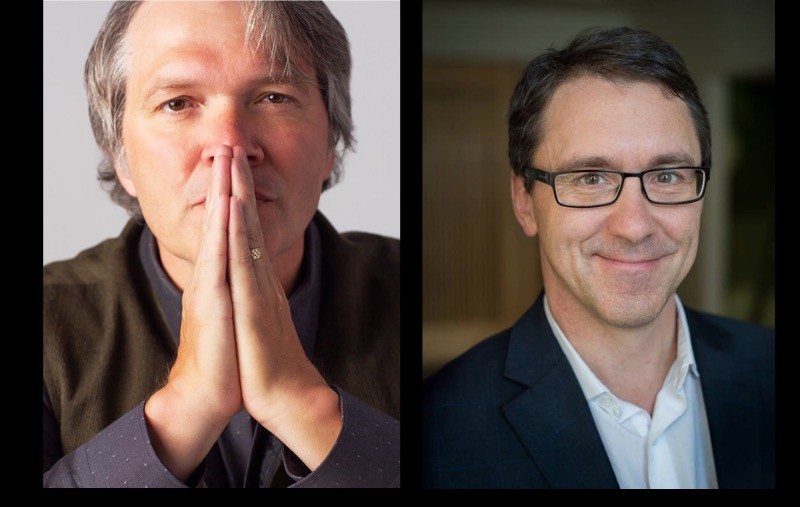 Carl Flink (l); Dr. Jon Hallberg (r)
The science is so new, says Flink, that had he contacted Dr. Hallberg a few months earlier the answer to any form of group dance partnering would have been, "Absolutely no!"
In a brief month-and-half, the artists and doctor developed a testing and quarantine protocol for responsible-contact dancing which required three COVID tests — one nine days before their filming project, then six days prior, and finally, two days before.
"After the six day test we were supposed to be able to start rehearsing in close proximity and contact, even though we were going to keep masks on. When all the tests came back [and]… it was almost certain a false negative hadn't gotten through, Dr. Hallberg said, 'Yeah, now you can start doing physical contact with confidence that you are likely COVID-free.' "
Members of Black Label Movement Photographed When  First Allowed Contact Wearing Masks; Photos Courtesy of the Company
What was it like for Flink's eleven-member ensemble to dance together, mask-less, after months of isolation?
"The thing that I have to be honest about," says Flink, "is that I held myself distanced. I wanted the company to have the joy of this coming together. When they finally did come into contact, there were lots of tears —tears of joy, not sadness— just like, oh my gosh, this is actually happening.  It feels so amazing.  My company has partnering as a very deep center, so losing that for the last five months has been shocking. And, yes, I finally got to do what I see, rather than just imagining it. Opening that door again was — well,  it's hard to describe how much of a treasure it was."
Black Label Movement in HIT; Photo Courtesy of the Company
Black Label Movement's TEDx dance film will premiere on Oct 23rd.  A video including their film, a  behind-the-scenes story on the science of creating and dancing together in the time of COVID,  and a Q+A with Carl Flink and Dr. Hallberg will be available to the public on YouTube shortly thereafter.
As the world awaits a vaccine, cure, or some natural resolution for COVID-19, perhaps this collaborative research can benefit other dance companies looking forward to touching again.
---
Watch Black Label Movement in Action
---
The Dance Enthusiast's DAY IN THE LIFE covers the stories behind dance/performance and creates conversation. For more behind-the-scenes stories from NYC and beyond, click here.
---
The Dance Enthusiast - News, Reviews, Interviews and an Open Invitation for YOU to join the Dance Conversation.