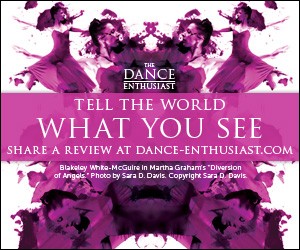 Related Features
TDE Hits the Streets to the Dance/NYC's 2016 Symposium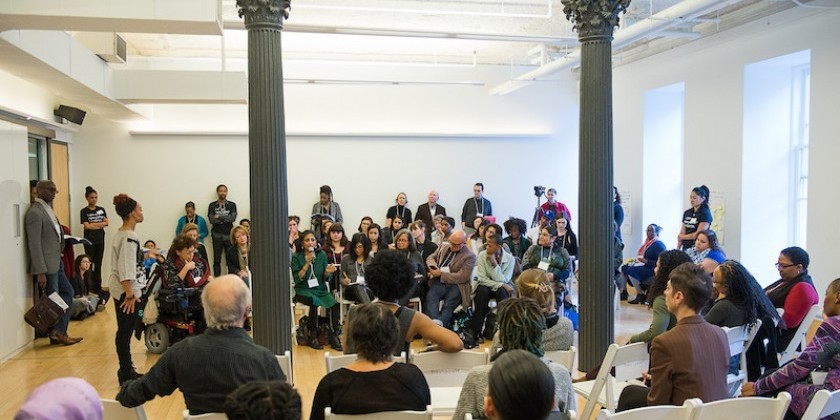 Dance/NYC's 2016 Symposium began with a conversation between Dance/NYC Executive Director Lane Harwell and Ford Foundation President Darren Walker that set an empowering tone for the day. "We shouldn't have to justify the arts," said Walker in a memorable moment. "The arts are essential to who we are as a civilization."
However, Walker did not shy away from being critical of the field, particularly when it comes to how power and money are shared (or not). He pointed out that while the dance field is is lacking in financial resources across the board, smaller organizations bear the brunt of that scarcity. This is doubly unfortunate because small organizations are often the ones who support or employ a more diverse roster of artists and administrators. "Organizations that are privileged are just like people that are privileged. They don't want to change," he said.
Misty Copeland and Virginia Johnson. Photo: Christopher Duggan
The Symposium, which drew over 500 guests, was held at Gibney Dance's 280 Broadway location. The day's biggest events, including the conversation between Harwell and Walker and a later talk between Virginia Johnson and Misty Copeland, were held in the theater and simulcast next door in studio C to accommodate all the attendees. Like last year, it was nearly impossible to decide which events to attend simply because so there were many fascinating ones happening at once.
After watching the simulcast of Walker and Harwell's conversation, I remained in Studio C for a presentation on the New York City Department of Cultural Affairs (DCLA) Diversity Initiative. Acting DCLA Commissioner Edwin Torres and General Counsel Kristin Sakoda – who is an accomplished dancer as well as a lawyer! – presented preliminary data from DCLA's survey of cultural organizations across the city.
Because the survey focused on arts organizations, it mostly captured data about administrative and technical staff, though some working artists were included. From this presentation I learned that recently hired arts administrators – specifically junior employees – are the most racially diverse group. And, while women are better represented in dance organizations than in arts organizations overall, they are scarce at the highest levels of the largest organizations. There are also fewer women in technical and production jobs. It seems apparent that, going forward, arts organizations must focus not only on hiring people of color and women, but also retaining them and supporting their career growth.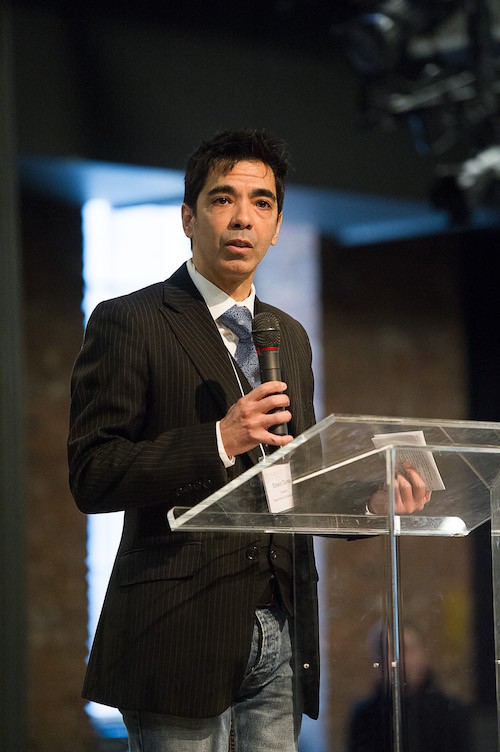 Edwin Torres. Photo by Christopher Duggan.
Torres and Sakoda said that DCLA considers this survey just the beginning, and that the agency plans to conduct further research. In the future I hope that DCLA will also attempt research that includes more working artists and not exclusively administrators. The preliminary numbers show that dance is one of the most diverse artistic fields in New York, and yet we still have a disproportionate number of white men in leadership roles in our field.
The next two presentations I attended could have been driest of the day, but ended up being pleasantly engaging. First, there was a presentation by representatives from the CUNY Dance Initiative (CDI), a young and ambitious program that makes space on CUNY campuses available to choreographers for residencies and performances. Only four of CUNY's 24 institutions have dance programs, so CDI offered interesting insight into generating new dance audiences. Their successful approach includes integrating performances into class coursework and hosting choreographers two years in a row to foster a sense of community.
CDI's social media master Jamie Benson spent about 30 minutes giving the audience a crash course on artful self-promotion. It was easily the most energetic presentation of the day, and we came away with solid rules to post by. These include the 80/20 rule – only 20 percent of your social media posts should be about yourself – and the idea that social media is a team sport.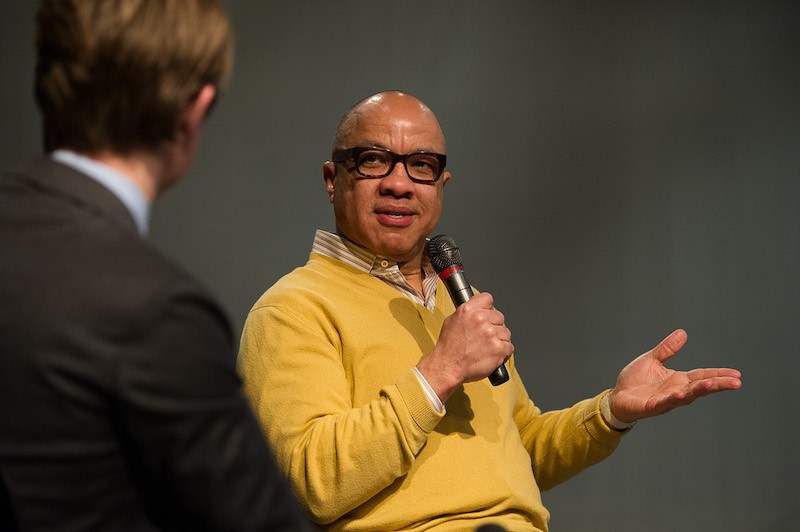 Darren Walker. Photo by Christopher Duggan
Next, lawyers Steve Hurd and Corrine Osborn led a discussion on the distinction between employees and independent contractors. On its face, not the most exciting subject material, but a sticky issue in a field where many of us work more jobs than most people could keep track of. It was clearly a much-needed discussion: the audience members were full of questions and Hurd and Osborn were both generous and concise in response.
My day concluded with the Dance for Public Space panel, a discussion moderated by Susan Chin of the Design Trust for Public Space. Panelists included Simon Dove of Dancing in the Streets, Ana "Rokafella" Garcia, breakdancer and director of Full Circle Productions, choreographer Jennifer Monson, Peter Trojic of Heidi Latsky Dance, and dancer and choreographer Ricarrdo Valentine.
A key issue raised in this discussion was access to public space, which can be lost due to development, or restricted due to liability concerns. Garcia pointed out that hip hop evolved in public spaces, and that she learned early on to adapt to any obstacles thrown her way, including weather and police interruption.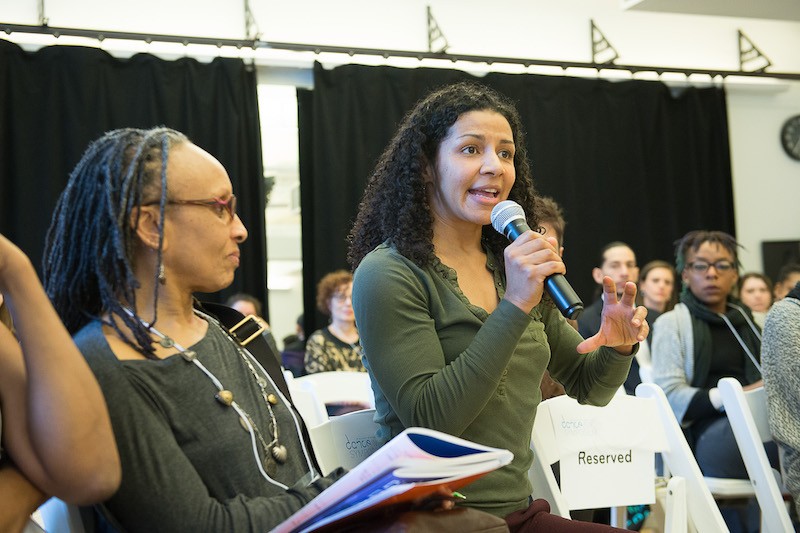 Photo by Christopher Duggan
"People complain about dancers on the train, but they wouldn't be on the train if they had access to other spaces," she said.
The Dance for Public Space panel was followed by a performance by Brother(hood) Dance!, a collective headed by panelist Ricarrdo Valentine and fellow dancer/choreographer Orlando Hunter. There were a few other performances throughout the day which I missed, so it was a joy to actually see some dance after a day of talking and thinking about it. Their emotionally rich piece, "Black Jones," featured a community-oriented, participatory element. Its exploration of black male identity and intimacy was an important reminder of the real lives and experiences that can be glossed over in bland discussions of "diversity."
Throughout the day, there was a pervasive sense that we must go beyond checking boxes in order to make access to dance equitable and inclusive of people of all identities and backgrounds. This is a topic that needs to be explored more deeply in future symposiums. While we have become more adept at identifying what is missing in the dance world, I am interested to hear about concrete steps the field can take to change outdated and discriminatory systems. There was a strong sense of community at the Symposium, which I enjoyed, but and I hope to see that community actively broaden every year.