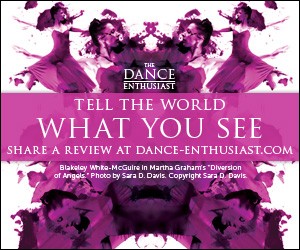 Related Features
DANCING UP CLOSE TO TAKE DANCE
The Many Amazing Memories (and Melodies) of Take Ueyama
A Day in The Life with TAKE
April 9th, 2013
---
Christine Jowers for The Dance Enthusiast
video by Christine Jowers
TAKE DANCES' SOMEWHERE FAMILIAR MELODIES will be performed Friday April 12th & Saturday April 13th at JOE'S PUB, NEW YORK CITY at 7pm
Doors open at 6pm for Dinner and / or Cocktails. Show Starts Promptly at 7pm. TICKETS 5 IN ADVANCE 0 at the door 212-967-7555
The Public Theater (1pm to 6pm) Joe's Pub at The Public Theater 425 Lafayette Street at Astor Place, New York City
---
The music for the dance with the umbrella is from the first record his father ever bought him. Then, there is the "cheerleading song"; it was the theme that played every intermission during a Japanese Saturday night TV show that starred The Drifters –a popular comedy team and rock band. We'll also hear the soundtrack from another TV show called
The Weekender
; it delivered Japanese erotic news."That came on late, late on Saturday and I wasn't supposed to watch," laughs the choreographer, "but I did."  
TAKE DANCE in Takehiro Ueyama's Somewhere Familiar Melodies Dancers : John Eirich,Marie Zvosec Photo: Video Still

"When did you find time to dance?" I ask Takehiro Ueyama, also known as Take (pronounced Ta-keh), as he takes a quick break from a teaching residency in Virginia to chat about his upcoming premiere, Somewhere Familiar Melodies, at Joe's Pub.
Fact is Ueyama spent most of youth in Tokyo watching TV, listening to radio (lots of radio) and playing baseball. He was an avid player as a boy and kept it up until an injury stopped him at age 18. Though he did dabble in break dancing (as well as bartending), he never thought much about dance."I wasn't even serious, I took one class a week," admits the choreographer who has been hailed by critics for his artistry, power and originality.
 
Dance Up Close With TAKE DANCE

Life changed when Kazuko Hirabayashi, a former member of Martha Graham Dance Company, and artistic director of her own esteemed
Kazuko Hirabayashi Dance Theatre
, came to Japan to teach a workshop in American Contemporary Dance. Ueyama was attracted to the way she created movement and immediately recognized,THAT was what he wanted to do.
So, at 20 years old, with absolutely no English, he left Tokyo (with his parents blessing) for New York City; attended Juilliard; danced with Paul Taylor for eight years directly following his studies and has been choreographing for TAKE DANCE from 2004 to this very moment.
It has been a whirlwind of a dance career for a guy who hates dance belts (though
who
likes dance belts?) and never ever dreamed he would be an artist.  
TAKE DANCE in Takehiro Ueyama's Somewhere Familiar Melodies Dancers: Gina Ianni, John EirichPhoto: Video Still
Ueyama tells me that after Juilliard he had the opportunity to go to Europe and dance and was also invited to audition for Hubbard Street in Chicago, but he never wanted to leave New York City. The Paul Taylor invitation was a blessing. Coming from Tokyo, a similar 24/7 metropolis, he finds he needs the city -the noise, the grit, even the garbage. "That New York City smell, I love it." I can hear him all the way in Virginia ready to come home.
While Ueyama loves The Big Apple, he has had Japan on his mind for a few years now, needing to choreograph Japanese ideas and inspirations; it feels organic, necessary.
TAKE DANCE in Takehiro Ueyama's Somewhere Familiar Melodies Photo: Video Still
This weekend at Joe's Pub, as part of the 2013 Dancemopolitan Commissioned Artist Series, Ueyama and his astounding TAKE DANCE dancers will honor the memory of those affected by March 11's Tohoku earthquake and tsunami by dancing to a montage of songs from Ueyama's youth in the 70's and 80's.
"I want entertainment and a cheering, not heavy message. This is a show for you- (my country and my people). I don't want to forget."
For Tickets and Info
TAKE DANCES'
SOMEWHERE FAMILIAR MELODIES
will be performed Friday April 12th & Saturday April 13th at JOE'S PUB, NEW YORK CITY at 7pm
Doors open at 6pm for Dinner and / or Cocktails.
Show Starts Promptly at 7pm.
TICKETS 5 IN ADVANCE 0 at the door 212-967-7555
The Public Theater (1pm to 6pm)Joe's Pub at The Public Theater 425 Lafayette Street at Astor Place, New York City
---
The Dance Enthusiast's DAY IN THE LIFE covers the stories behind dance/performance and creates conversation. For more behind-the-scenes stories from NYC and beyond, click here.
---
The Dance Enthusiast - News, Reviews, Interviews and an Open Invitation for YOU to join the Dance Conversation.