DIDO AND AENEAS SPEND THE NIGHT (Just One) WITH JODY OBERFELDER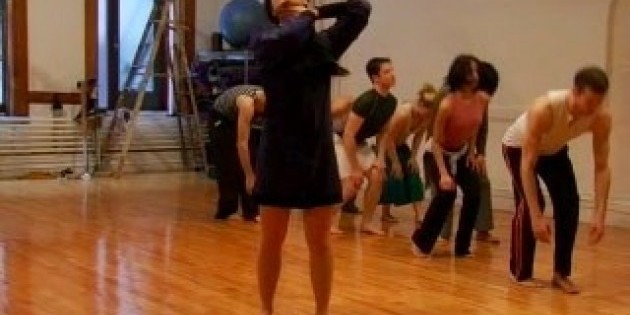 BY CHRISTINE JOWERS –THE DANCE ENTHUSIAST - 2008
---
"It was amazing to me after having worked with only the CD to stand there and hear this 'SOUND'. My goose bumps just pricked right up...."
Jody Oberfelder Dance Projects in Rehearsal for Dido and Aeneas
Jody Oberfelder Discusses Working with Phyllis Lamhut as Choreographic Mentor.
Jody Oberfelder, perched cross- legged atop a wicker chair -back super straight, eyes shimmering, and hands gesturing floridly- relates her delight at working with the La Guardia High school Senior Chorus and Orchestra of St. Lukes Vocalists in her latest project, the opera DIDO AND AENEAS, a commission by the Orchestra of St. Lukes. It is her first opera.

"There are so many layers of sound that you don't get on the CD and, you can watch the singers mouths to see whose bouncing off who. I've never worked with this volume of live music."

For the past months as a partner in educational programs with the esteemed Chamber Orchestra, Oberfelder and her dancers have been exploring Henry Purcell's 1689 Opera with students from Pre K to Grade 6. They talk about the story, delving into the characters, and tackling big questions like " Who is a hero?" and " What is evil", while choreographing, dancing, and in general preparing to meet Oberfelder's DIDO AND AENEAS, a celebrity couple straight out of today's tabloids.

"I wanted them to be modern, not mythological creatures of Ancient Greece and Rome and not Baroque. I wanted to see people now dealing with love, the dispersal thereof, and the interruptions of fate--age old themes."

In Virgil's Aeneid, and in Purcell's Opera, Dido is portrayed as weak and dependent. When her lover Aeneas leaves her to found Rome her spirit is destroyed and she kills herself. Oberfelder wondered if the story should continually be told that way. Questioning the traditional hero model of classical mythology was central to her approach to this tale.

"That's not really how I feel it should be." Oberfelder contemplates in her gentle, but determined manner. In this retelling, Dido discovers her potency.

"Maybe part of her dies, but part of her transforms and moves on."
 
FOOTNOTES
DIDO AND AENEAS – JODY OBERFELDER DANCE PROJECTS-A WORLD PREMIERE PRODUCTION-
AN ORCHESTRA OF ST. LUKES COMMISSION
ONE NIGHT ONLY -
WEDNESDAY MARCH 19TH, 2008 AT 7:30 PM-
LA GUARDIA HS OF THE PERFORMING ARTS-100 AMSTERDAM AVENUE NYC
TICKETS: GENERAL ADMISSIONS 5.00 STUDENTS 0.00
http://www.jodyoberfelder.com/tickets.php?event_id=1&performance_id=1
OPERA BY HENRY PURCELL
LIBRETTO BY NAHUM TATE
FEATURING DANCERS, GINA BASHOUR, ADITI DHRUV, JILL FRERE, ELISE KNUDSON, REBEKAH MORIN, JAKE SZCZYPEK, ED RICE, AND CARLTON WARD.
THE ORCHESTRA OF ST. LUKES
VOCAL SOLOISTS LUCIA BRADFORD, ADRIENNE DANRICH, MICHAEL LOCKLEY, GREG PURNHAGEN, AND TRINA RENAY.a
AND THE LA GUARDIA HIGHSCHOOL SENIOR CHORUS
SET BY JUERGEN RIEHM,
VISUAL DESIGN BY DESIGN BROOKLYN
PHOTOGRAPHY BY JILLIAN PATTERSON
---
The Dance Enthusiast's DAY IN THE LIFE covers the stories behind dance/performance and creates conversation. For more behind-the-scenes stories from NYC and beyond, click here.
---
The Dance Enthusiast - News, Reviews, Interviews and an Open Invitation for YOU to join the Dance Conversation.