The Dance Enthusiast Hits the Streets: "New York Meets Havana" at the Museum of the City of New York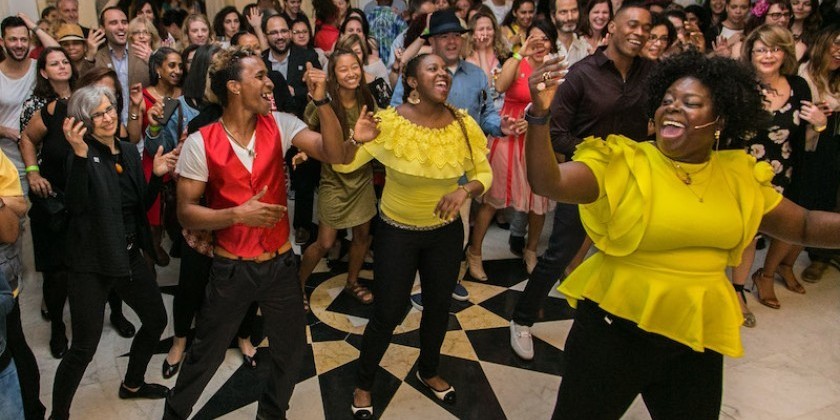 ---
New York City makes music that's all its own: the shrill clang of a subway station, the impatient honk of a cab driver, the plaintive wail of a busker, the relentless throb of eight million hearts beating with ambition. Salsa — rife with layered rhythms, sunny harmonies, and seductive melodies — acts as both a movement and music that exemplifies the tempo and tenor of New York City.

An exhibit opening June 14 at the Museum of the City of New York entitled Rhythm & Power: Salsa in New York unpacks the Cuban, Puerto Rican, and American influences that birthed one of the world's preeminent social forms. In anticipation of this exhibit, which is curated by Derrick León Washington, the museum held an event celebrating the cultural collision that defines Salsa — New York Meets Havana. Over four hours, curious newbies and seasoned dancers delight in spicy dancing and icy mojitos.
Activities take place in the museum's white-marble lobby under a waterfall of lights that glimmers like fireflies. The high-energy evening unfolds with general dancing, brief performances, and a group class. In between, DJ Christian Martir of Sociedad and DJ Nego spin poppy salsa hits. While the dance floor stays packed, many attendees congregate on the grand curving staircase, taking it all in.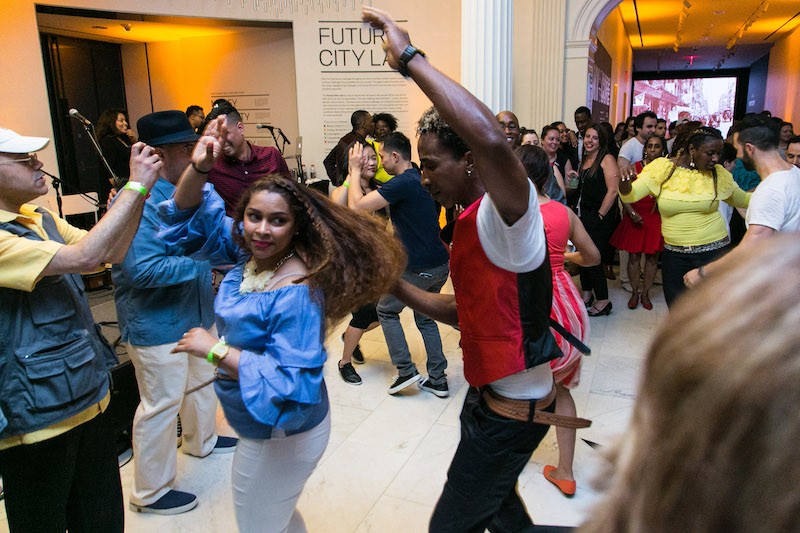 New York Meets Havana at the Museum of the City of New York
And there's a lot to take in. Performances by Ruedame and Fuákata — Cuban Salsa NYC display the gregarious complexity of rueda de casino, which features a circle of partner-switching couples. Both troupes sizzle with wiggling hips, cross body leads (a step that rotates 180 degrees), jazzy shines (solo moves popularized in Mambo), and pretzel-like underarm turns.
For those inspired by the joyous performers, legendary Santiago de Cuba instructor Danys "La Mora" Perez teaches an all-levels group class. She and her three assistants lead the crowd through 300 years of Cuban dance in thirty minutes. It's a free-for-all freestyle where the steps segue from easy in-place basics to a splashy cha cha.
Perez teaches movements based on rock steps (a transfer of weight from a gesturing foot to a stationary foot), the timing two quicks to one slow. Occasional flicks of the arms, assertive stomps, and brisk spins pepper the hypnotic regularity of basics. As for the hips, they stay in perpetual motion. Exuberance on the dance floor can outstrip ability, and more than a few people go home with feet that have been trampled on. But who cares? Everyone's having a blast.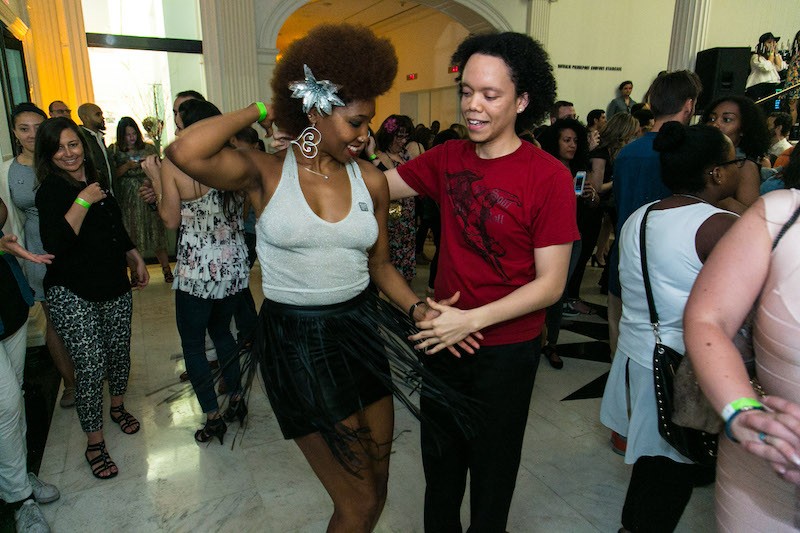 New York Meets Havana at the Museum of the City of New York
At ten, Los Hacheros takes the makeshift stage. The band is an excitable bunch, slapping their drums ebulliently and strumming their guitars vigorously. Harmonies alternate from bright and brassy to piercing and imperative. The call to move is irresistible. Couples swirl and twirl while those without a partner swivel and slither, lost in a blissful reverie. A couple of ringers thrill with death drops and sensuous dips. Although it's been a few decades since salsa burst onto the New York social scene, its appeal remains sky-high.
This event operated as the first in Museum of the City of New York's new series, Metro Mashups. More Friday-night parties that fete New York's culturally rich nightlife are on tap. Each evening will spotlight live music, dancing, and the cuisine of other global metropolises.
---
The Dance Enthusiast Hits The Streets to see what is happening in our dance world, and Create Conversation.
For more Dance Enthusiast Hits The Streets stories as well as other Day in the Life pieces, which connect audiences to the behind-the-scenes of dance click here.