The Dance Enthusiast Hits the Streets to The Next Stage: Ballerinas Find New Careers Talk at Barnard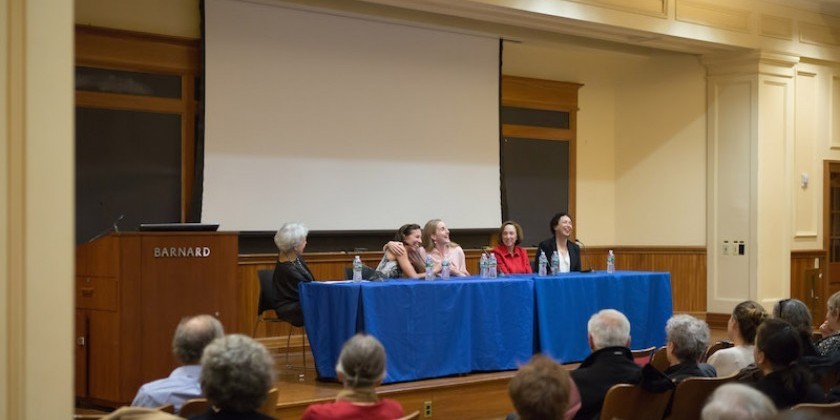 Led by dance historian Lynn Garafola, Wendy Whelan (NYCB), Virginia Johnson (Dance Theatre of Harlem), Lourdes Lopez (NYCB), and Arlene Shuler (Joffrey Ballet) talk transitions.
Barnard College Department of Dance
April 5, 2017
---
Dancers love transitions, whether between steps or among ideas. Recently retired Barnard professor and dance historian Lynn Garafola pointed this out during a talk she moderated called The Next Stage: Ballerinas Find New Careers. But, as she said, the challenging transition out of a performing career can be downright traumatizing. 
Four dance-world luminaries came together to discuss their transitions out of ballet careers. The speakers included former New York City Ballet principal Wendy Whelan, who now performs in contemporary dance projects; Dance Theatre of Harlem artistic director Virginia Johnson; Miami City Ballet artistic director Lourdes Lopez; and New York City Center president and CEO Arlene Shuler.
L-R: Virginia Johnson (top left) as Giselle in Creole Giselle, Photo: Dance Theatre of Harlem Archives; Arlene Shuler (bottom left) as a teenager rehearsing with the Joffrey Ballet at City Center,  Photo courtesy of Arlene Shuler; Lourdes Lopez in George Balanchine's Theme and Variations, Photo: Steven Caras; and Wendy Whalen, Photo: New York City Ballet
The evening began with a short video or photomontage important to each speaker.
Whelan's clip showed Christopher Wheeldon's After the Rain pas de deux, which he created on Whelan and former New York City Ballet star Jock Soto for Soto's farewell in 2005. "It was the first time I'd been taken off pointe," Whelan said.
Whelan described her ballet career as existing in three parts. At first, she made a name for herself in Balanchine's angular "Black and White Ballets," like Agon and The Four Tempermants. Whelan reflected, "It was what I wanted to figure out — the musicality and the elegance within the spareness." Later in her career, she said, she wanted to learn classical roles like Tchaikovsky Pas de Duex." "I knew that, after 30, there were things [limitations or injuries] in my body that weren't going away. I was ready to tackle the more intellectually advanced romantic ballets." Toward the end, Whelan solidified her legacy through partnerships with choreographers like Alexei Ratmansky and Christopher Wheeldon. "I was grateful to find out that working with new choreographers is my gift," she said.
Arlene Shuler had a more limited performing career. She danced with the Joffrey Ballet while the company was still in New York, performing work no one else was doing, like Kurt Jooss' The Green Table. "I was picked by George Balanchine to be Clara in The Nutcracker," Shuler said, wryly. "My career was all downhill from there." After four years of dancing professionally, she knew she wasn't cut out for it. "When I told Bob Joffrey I was thinking about leaving the company, he said, 'I know,'" Shuler said. "He said I was too smart to be a dancer. I think what he meant is that he could see me doing other things."
L-R: Wendy Whelan, Arlene Shuler and Virginia Johnson
To introduce Virginia Johnson, Garafola played a clip from Johnson's career as a founding member and principal dancer at Dance Theatre of Harlem: Giselle's mad scene from Act I of Creole Giselle, with Johnson in the title role. The high-quality footage did justice to Johnson's dramatic quality as a performer, and she appeared to be emotional as the lights came back on. "It's a weird feeling to see yourself," she said.
When she joined DTH, Johnson initially floundered. She wasn't used to the company's neo-classical repertoire (brought in by founder and former NYCB star Arthur Mitchell). "I like being a character onstage," she said. "Characters became a reality for me. In Balanchine ballets, you can't hide." Eventually she realized the various styles were just different forms of communication.
After Lopez's clip — a solo from Balanchine's Who Cares — she said, "Dancers [in my generation] didn't grow up watching themselves". "Miami City Ballet dancers are always watching themselves after a performance, and I don't think I could have handled that." She suggested this remove makes her a better coach by taking her ego out of the equation in order to watch the dancers objectively.
Garafola directed the conversation toward the dancers' post-career paths, remarkable in both their departures from performance (except for Whelan) and continued relationships to the arts.
Lopez, whose first post-performing job was with WNBC-TV as a cultural reporter, skipped NYCB's Saratoga summer season for the opportunity and never went back. Whelan said, "One day she was just gone." Lopez shrugged. "My advice to you is to say 'yes' to everything," she said. "Dancers know how to learn. You'll figure it out." From WNBC, she went to Fordham University, worked as the executive director of the George Balanchine Trust, and co-founded Morphoses with Christopher Wheeldon in 2007, before becoming the artistic director of Miami City Ballet in 2012. "After working at the Balanchine Trust I felt closer to Mr. B as a man," she said. Her experience helped earn Miami City Ballet glowing reviews during its 2016 tour to New York.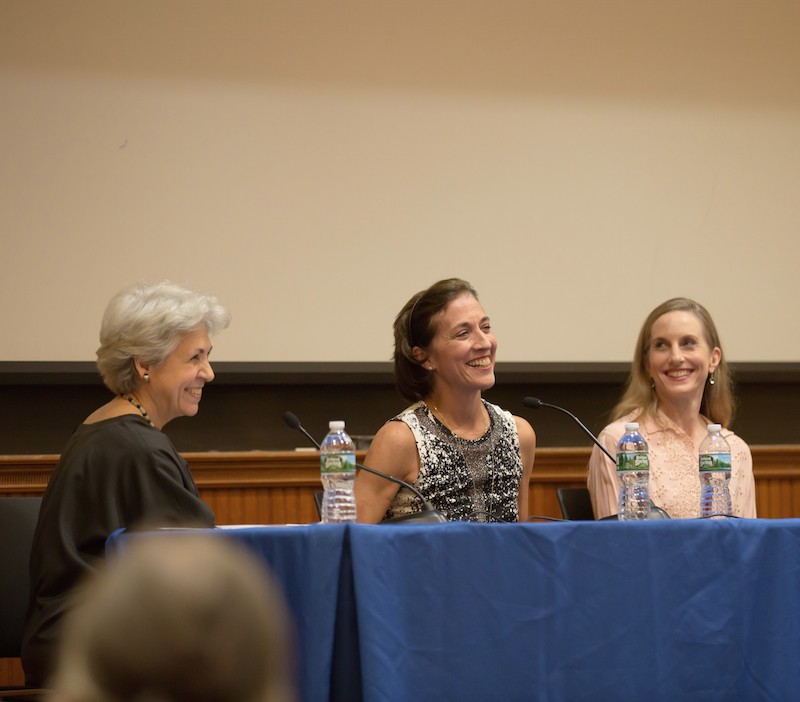 L-R: Lynn Garafola, Lourdes Lopez and Wendy Whelan
Unlike the others, Whelan is still dancing. She's shifted from a quintessential New York City Ballet artist to an enterprising contemporary dancer. She's seemingly everywhere: in films, on panel discussions, onstage at the Joyce, or in residence at Barnard. "I didn't consciously think about my future [when I was at NYCB]," she said. "I would ask myself, 'What's my best today.'" Since retiring from NYCB, she has taken on administrative duties for her independent projects (a steep learning curve, she noted), but performance remains her focus.
Garafola pushed for details about her transition into celebrated partnerships with choreographers like Brian Brooks. If she hadn't thought ahead, how did something like that happen? "I was receiving an award at the Bessies," Whelan said, "and, totally unplanned, out of my mouth popped, 'All you downtown choreographers, call me!'" The next day [Stephen] Petronio was calling me, everyone was calling me."
For Johnson, the next step was a total surprise. "I was ready to turn my back on dance," she says. "You get to the point where your artistry is deeper, but your body just can't do it anymore." She interviewed for an editorial job at Dance Spirit magazine and was told the company was about to start a ballet magazine. "They asked me, 'What do you think we should put in it?'" So Johnson wrote an outline including everything she wished she'd known as a dancer. As a result, she was hired as the founding editor-in-chief of Pointe magazine, serving from 2000-2009.
Then, Johnson was faced with another opportunity to reinvent herself. DTH director Arthur Mitchell asked Johnson to take over the company. She was speechless and hesitant, but she realized she couldn't say no. "This was the person who gave me my dream," she said.
Unlike Lopez, Whelan, and Johnson, who were ballet icons with connections that served them well, Shuler had little recognition. When she stopped dancing, she didn't know what to do beyond teaching herself how to type and getting a job at a cosmetics company. Eventually, she enrolled in the General Studies program at Columbia University, putting herself through college because her parents had already paid for her dance training. She went on to pursue a juris doctorate because, as she put it, "I didn't want to type for anyone else." During her first summer in law school, she landed an internship with the National Endowment for the Arts. "It was a pivotal moment which allowed me to return to dance," she said. From there, she worked in a series of arts administration positions until she took the helm at City Center.
All four women have enjoyed extraordinary careers, and their ability to embrace challenges is inspiring. We need more conversations like this for younger dancers and arts administrators, especially young women, who can be empowered by seeing examples of women taking charge of their own choices and opportunities.
---
The Dance Enthusiast Hits The Streets to see what is happening in our dance world, and Create Conversation.
For more Dance Enthusiast Hits The Streets stories as well as other Day in the Life pieces, which connect audiences to the behind-the-scenes of dance click here.