Related Features
Contribute
Your support helps us cover dance in New York City and beyond! Donate now.
The Dance Enthusiast Hits the Streets to see Taja Lindley's film "This Ain't A Eulogy: A Ritual For Re-Membering"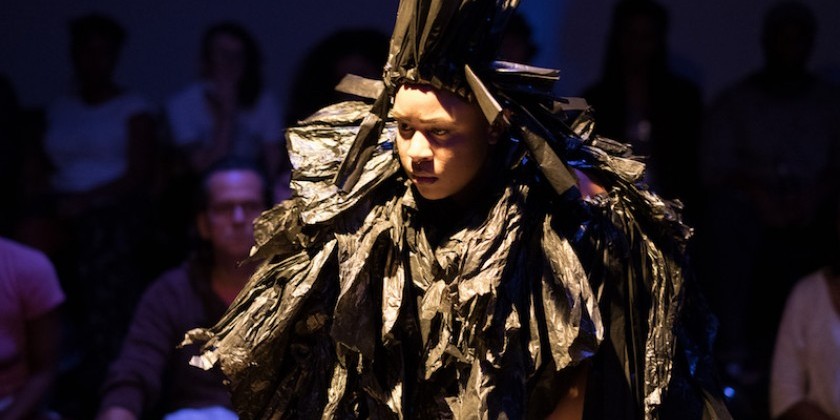 Performance by Taja Lindley / Written & Choreographed by Taja Lindley
Directed by Taja Lindley & Ellen Maynard / Cinematography by Ellen Maynard & Jim Tripp
Creative Direction by Daví / Lighting Design by Jim Tripp
Drone Operation & Sound by Owen O'Neil / Editing by Ellen Maynard
Music by Lolo Halman / Music Mixed and Mastered by Keith "Sweaty" Milgaten
Costume & Set Design by Taja Lindley / Produced by Taja Lindley
Pictured above: Taja Lindley the work-in-progress version of The Bag Lady Manifesta from submerge in November 2016
---
The materiality of the trash bags, monochrome impressions, or vast black abyss could seem ready to swallow you whole, but understand first that This Ain't A Eulogy: A Ritual for Re-Membering is about the deaths of innocent Black people killed in the United States.
This short film, cultivated by performance and visual artist Taja Lindley, premiered as part of the 5th Annual Black Artstory Month and was presented by the Myrtle Avenue Brooklyn Partnership. The main character in Lindley's film, The Bag Lady, honors the lives of recently murdered Black people through a ritual of healing and remembrance.
In one scene, black convenient store bags blow across empty urban landscapes with names written in white. In another, bags and balloons fill a cavernous room and envelop The Bag Lady's frame. She grabs and gathers the surrounding contents, evoking Black lives, to keep them from blowing away and being forgotten. Her body writhes and convulses as authoritative 'shuush(s)' become grief-stricken 'shoots, don't shoot.'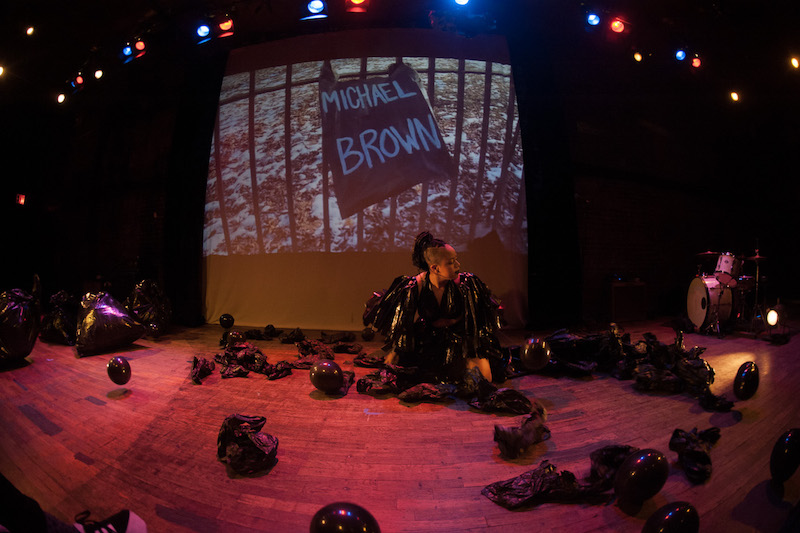 Taja Lindley in TRINITY in July 2015; Photo credit: Eric Lippe
The seed of The Bag Lady was first planted during Lindley's performance as part of the EmergeNYC program for arts and activism housed at the Hemispheric Institute at New York University. Initially, the work was about what we, symbolized by the bag lady, can relinquish. A more developed version debuted at La MaMa's SQUIRTS in 2015. Since then, the work has manifested in dozens of places and spaces, reforming and transforming.
In late 2014, The Bag Lady's cause shifted when police officers involved in the murder of Eric Garner were not indicted. The problematic relationship between law enforcement and Black communities bubbled over. Social media transparency and street protests amplified the epidemic of unsubstantiated deaths on a massive scale. Black spaces were charged with outrage and resistance.
"My creative process is part of my healing process," says Lindley. "In the studio, it occurred to me that The Bag Lady is onto something. Black lives are treated as if they're disposable, and what if we're letting go of things that are [of] value." This was when The Bag Lady's mission changed from letting go to holding on. 
This Ain't A Eulogy: A Ritual for Re-Membering is a digital version of Lindley's live performance. It "creates a [viewing] experience as if you were watching it live. It's available for free, because it is a gift. I'm not here to simply take up space. I'm here to offer something."
Lindley describes the filmmaking process as strenuous because a ten-minute performance extended across one long day.  To take care of herself, Lindley practiced an intentional ritual to enter and exit the work. "I had to do [my ritual] multiple times throughout the day. I say prayers around being a vessel and removing anything that stands in the way like ego, perfectionism, fear . . . but also try to stay grounded."
What you see on film is different than what you will see live, but the intention remains the same. This is in part thanks to Cinematographer and Co-Director Ellen Maynard's eye as a dancer, Daví's creative direction, and Lindley's tenacity. It is also made possible by Lighting Designer Jim Tripp, Drone and Sound operator Owen O'Neil, sounds by Lolo Halman, and space donated by Five Myles Gallery in Crown Heights.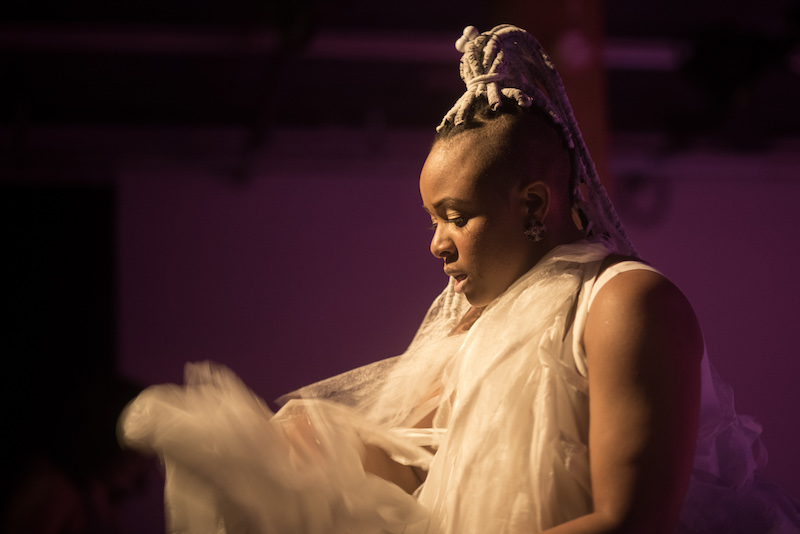 Taja Lindley in TRINITY in July 2015; Photo credit: Eric Lippe
When watching the film, Lindley advises viewer to read the description. Know what you're getting into. Give yourself time to take in the work. Light a candle, burn sage, breathe, and "do whatever feels good and nourishing to you," Lindley recommends.
Given the current US political climate, the work maintains a sense urgency and relevance. "This country has a really bad habit of selective amnesia, erasure, sweeping some ish under a rug. The Bag Lady's not having it. We actually need to sit in memory and loss sometimes in order to move past it."
There will be an opportunity to witness This Ain't A Eulogy: A Ritual for Re-Membering live at Dixon Place, Saturday September 9, 2017. To learn more about this and other projects, visit www.tajalindley.com.
---
The Dance Enthusiast Hits The Streets to see what is happening in our dance world, and Create Conversation.
For more Dance Enthusiast Hits The Streets stories as well as other Day in the Life pieces, which connect audiences to the behind-the-scenes of dance click here.