Dance Glorious Dance - Taking Class with Elana Aquino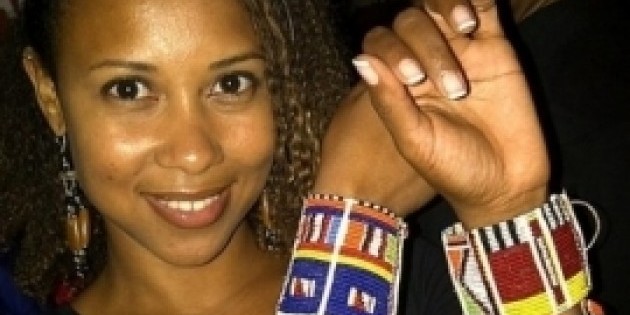 9 Glorious Days of Dance @ The 2013 NYC Dance Week Festival
Guest writer, Elana Aquino for The Dance Enthusiast
---
Dance finds you where you are. And here I am again, ready to dance. For ten days, I embarked on something special, absolutely free dance classes in New York as part of
NYC Dance Week 2013
. Anyone who's ever tried taking dance classes in New York City knows that the average dance class, around 7 per class, is cost prohibitive for many, especially dancers trying to keep their craft up and body moving while keeping a roof over their head. Founded by Tasha Norman of FitEngine, NYC Dance Week takes down this seemingly insurmountable barrier for 10 wonderful days in which some of the city's top dance studios open their doors for free. It is a veritable smorgasbord for those who love movement. Here's what I did in nine days:
Day 1
6.00 pm – Lila, taught by Oscar Trujillo @ Studio Anya
I headed downtown to try a class called Lila (pronounced "lee-lah") at Studio Anya in Chelsea taught by Oscar Trujillo. Inspired by a Hindu concept meaning sacred play or cosmic dance, Lila combines ballet barre, modern dance, Vinyasa Yoga, Pilates and Tai Chi. It had to try it to believe. And yes, the experience is true to its word. Of course, there is only so much one can do in a 60-minute class. My guess is, if one keep's coming back, you would likely see more of these different styles and techniques woven in, probably leaning more towards one style or another depending on the day. It was a fascinating experience. My body is thoroughly confused and thankful for it.
Oscar Trujillo -Studio Anya

Day 2
7.00 – 10.00 pm – Community Class, taught by H+ Crew @ Hip-Hop Dance Conservatory
When you walk into a hip-hop dance class, the last thing one would expect to be doing are Chinese meditation exercises. But this is in fact the way the three-hour class began last night, and what a treat it was. Then… Woom! Wam! Wam woom! Boom kack! Diggie diggie dah dah! These were the sounds of the choreography-learning segment. Artistic Director, Safi Thomas, advised the class that the best way to remember choreography is by assigning value to each move or phrase. 'You remember the things that are important to you,' he asserts. The organic rhythmic sounds coming from the H+ dancers as they rehearsed and showed us the steps definitely made each move feel memorable and important. Soon the whole room was singing along with enthusiasm. All in all, the H+ experience was enlightening, invigorating and inviting, a whole lot more than I bargained for, a true community.
Hip Hop Conservatory

Day 3

2.00 pm – Samba & Brazilian Fusion, taught by Leticia Taylor @ Mark Morris
4.00 pm – POP UP SLAM / STREB Block Party @ Williamsburg Walks

First of all, it does not go unnoticed that Leticia is gorgeous and tall and fabulous. Second, the way she breaks down an extremely complicated step such as Samba into three distinct movement groups (the feet, the hips, and the arms) makes it seem like butter! She was also excellent at sensing when students got it and just wanted a chance to fly with the step. Having taken Samba with one of it's most regaled New York City queens, Quenia Ribeiro, at Alvin Ailey; I was truly appreciative for this return to basics with the step. Leticia broke it down to its most basic elements, giving everyone from first-timers to the more experienced a chance to access this wonderful dance style. And the choreo segment at the end with the music selection was like a big warm hug, straight from Brazil.
I decided to top the day off by visiting the STREB POP UP SLAM / Block Party which was a part of the last weekend of Williamsburg Walks.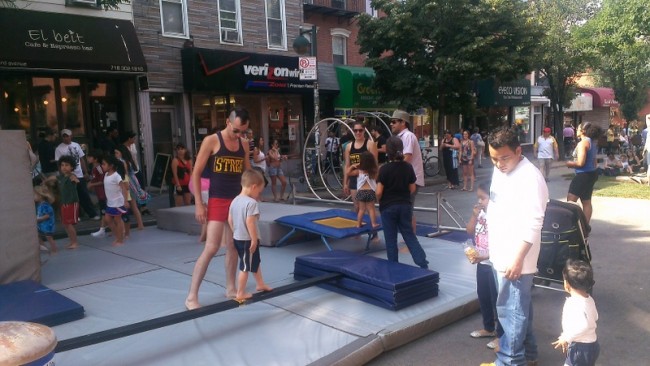 STREB POP UP SLAM Block Party

Day 4
1:30 pm – Afro-Cuban Folkloric Dance, taught by La Mora @ Cumbe Center for African and Diaspora Dance
Afro Cuban taught by Danys 'La Mora' Perez-Francisco @Cumbe

La Mora, who also teaches at Alvin Ailey, takes Afro-Cuban dance to a whole new level, bringing in the old dance styles and traditions from Cuba and making them accessible to modern day hustling bustling New Yorkers. Her class evokes the dominant presence of the Orishas — spirit kings, queens and warriors of Cuban Santería based on the traditional Yoruba pantheon of West Africa. The class begins easily enough, with stretches and rhythmic exercises to live drumming and singing. And then…. she shouts, to be heard above the drums: 'across the floor!' and all the dancers, led by those who have been there before, line up into rows of three, waiting for the moves that will take us across the floor diagonally. Whether you believe in Orishas or not, the power is in the movements themselves, with the cutting of sugar cane, the brandishing of machetes, the charging, the retreating, and the constant undulation of the back providing an ever-present undercurrent of the rolling sea. I walked into class expecting typical fare and walked out a princess warrior.

Day 5
6.30 pm – Advanced Beginner Modern Dance, taught by Mike Abbatiello for Dante Brown @ DNA
This evening, my choice of class was Modern dance with Dante Moore | Warehouse Dance at Dance New Amsterdam aka DNA. Taught by one of the Warehouse Dance company members, Mike Abbatiello, the class was full of pleasant surprises; not least of which was heavy use of improv as a warm up technique. Guiding us across the floor, initiated by various body parts, Mike encouraged us to find the space between the movements and see where they takes us. He, himself, was extremely light on his feet and agile as he spun, dipped and rebounded. The playlist was equally versatile, from Daft Punk disco beat to Kanye West and random songs in between.
Beginner Ballet taught by Teresa Anne Volgenau @ Joffrey School.

Day 6
7.00 – 8.30 pm – Beginner Ballet, taught by Teresa Anne Volgenau @ Joffrey Ballet School

Tonight's class was Beginner Ballet taught by a spicy redheaded instructor named Teresa Anne Volgenau, who also specializes in tango. Her teaching clearly expresses her passion for the art of movement. The class that I found myself in was full to the brim with eager dancers of all different levels and ages, from pretty experienced to no experience whatsoever. Teresa was able to accommodate all of the participants, always showing variations to allow beginners to catch on at their own speed
Harkness Center Dance Injury
Prevention Workshop @ Peridance
Day 7
4.30 pm – Harkness Center Dance Injury Prevention Workshop @ Peridance

As both a dancer and a person who is responsible for guiding others towards wellness through fitness and dance, I found the dance injury prevention workshop especially informative. I will certainly bring tips I learned from this seminar back to my classes. I also now have better tools to examine my own risk for injury and burnout and to catch early warning signs.

7.00 pm – Bollywood Funk, taught by Ayesha Khanna @ Ripley Grier Studios
Ayesha Khanna's tight moves and vibrant gestures definitely take some effort to keep up with. Right out the gate, she is a ball of energy. It's obvious that she's a pro and has been at it for some time. It's also obvious that she loves it and values each of the members, who she calls by first name. Taking inspiration from the amalgamation of 'East' and 'West' in contemporary Indian culture and cinema, Bollywood Funk is a culturally and technically diverse Bollywood-inspired dance style born in India, but raised in North America.
Bollywood Funk class @ Ripley Grier

Day 8
6.30 pm – Core Synergy Conditioning, taught by Allison Cook Beatty @ Joffrey Ballet School

Not to be fooled by her petite frame, Allison is a powerhouse. Not really knowing ahead of time what to expect, it was easy to imagine the routine crunches and leg raises that often comprise core-toning classes. But Allison takes it to a new level and offers a surprisingly creative core class with an aerobic and barre component as well. It is a serious workout and, at the same time, anyone can do it.
Core Synergy Conditioning taught by Allison Cook Beatty @ Joffrey School
Day 9
6.15 pm – Zumba, taught by Me! @ Ballet Academy East
Due to some confusion, the instructor did not actually make it to the class. Without even looking, I could see and feel the disappointment on the faces of the people gathered. My knee jerk response was to stand up and blurt out 'I'm a Zumba Instructor, I can teach class.' Up until that moment, I was just an excited and eager NYC Dance Week festival participant. Words cannot really describe how amazing it felt to now become a part of the instructional team, on the giving side instead of just the receiving side. A further reward for me was and is the way people's eyes light up when they connect their bodies with the music and ride the wave...and then let it all go and just dance.
Elana Aquino herself