DAY IN THE LIFE OF DANCE: Dance Grenada International Dance Festival 2021: How The 2nd Edition Embodies Afro-Futurism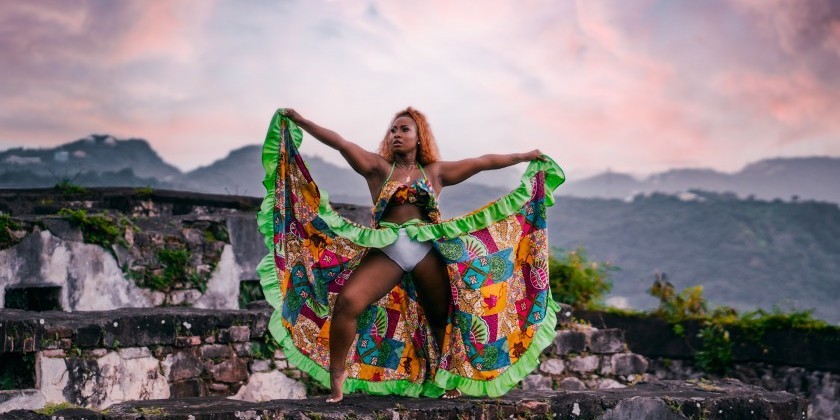 "Futurism & Our HeART: Reimagining Our Art Form" Marks This Year's Theme
Our dance correspondent interviews Shola K. Roberts, Founder and Executive Director of Dance Grenada, about the second Dance Grenada International Dance Festival. Taking place from Saturday, October 22 until Sunday, October 24, 2021, #DG2021 provides a platform for Grenadian and international dance artisans to share and increase their knowledge base of traditional and contemporary dance styles and techniques through dance workshops, performances and panel discussions, and symposiums while contributing to the larger Grenadian and dance community and the world around them. Click here to register for dance workshops (in person and virtual) and/or panel discussions.
---
"Futurism & Our HeART: Reimagining Our Art Form" is the theme of the second annual international dance festival produced by Dance Grenada. The festival will offer nine dance workshops, a hybrid of in-person and virtual classes, in traditional Grenadian folk dance, West African dance, hip hop, Afro-Haitian dance, modern and more.  
"I want to honor the Diasporic dance styles, such as traditional folk, which is something that is rooted and true to Grenadian culture," says Shola K. Roberts, Founder and Executive Director of Dance Grenada. "And with the offerings of other styles such as Afro-Haitian and West African dance, I am looking at how can we bring some of these other practices with an immense amount of connection to what's being done in Grenada, so that artists can see that connection and how the evolution of these dance styles influence modern and Caribbean contemporary movement."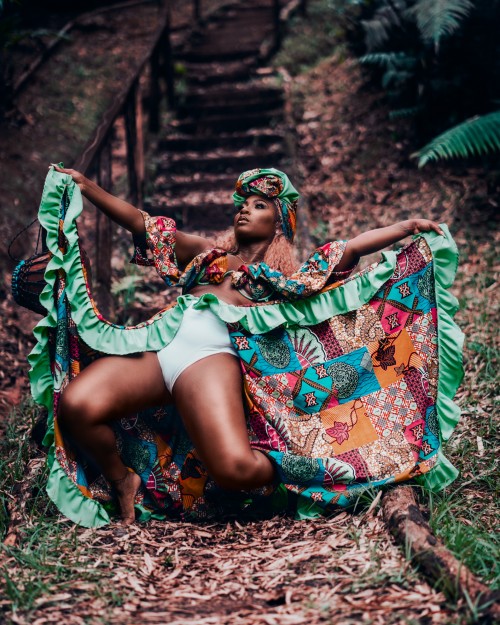 Shola K. Roberts, Founder of Dance Grenada. Photo by Kaiem Joseph
There will also be three panel discussions to further delve into topics centered around the theme.  "At first, afro-futurism was a thought," says Roberts.  "Originally I thought afro-futurism had something to do with technology. But then a friend clarified that it refers to ways for artists to propel their art forward — and that's Dance Grenada! Even now, amidst this pandemic, we still kept pushing for art."
Roberts adds, "Some of the panel discussions address the matter of whether what we are doing is evolution or ritual: How do we as practitioners keep [our art] going? Are we doing anything new?  Are we holding on to tradition?"
Shola K. Roberts, Founder of Dance Grenada. Photo by Kaiem Joseph
Roberts, who is Grenadian American, created Dance Grenada to not only train artists on the island and internationally in traditional and contemporary styles of movement, but to also help Grenada's dance artists expand their network in the dance world and to pursue careers of their own in the field.  The inaugural festival in 2020 was supposed to take place on the island, but the pandemic led to it being entirely virtual. Despite her initial reservations about producing the first festival, Roberts' dance community in Grenada as well as in Brooklyn encouraged her to move forward with it.
"We're used to socializing and physically interacting with one another, so my challenge was creating a similar space in the virtual realm while still finding ways for us to come together," she explains. "And it happened."
As for this year's festival, Roberts says, "My push in creating Dance Grenada was to bring people together and to showcase Grenada's beauty and offerings.  I want people to be intrigued and interested in us — as a people and as a nation — and to see similarities in themselves."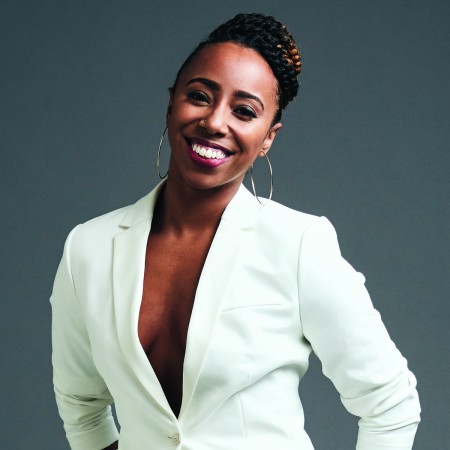 Chanel DaSilva, a teaching artist at Dance Grenada 2021. Photo by Stephanie Diani.
One of the guest artists in this year's festival is dance artist Chanel DaSilva, who will teach an Afro-Contemporary class.  "When I was asked to join the teaching artist roster of Dance Grenada, I immediately said yes because of its mission to connect, empower, and celebrate dance artists and creators from the diaspora who are impacting the world in a plethora of ways," says DaSilva.  "I am excited to share, but more importantly, I am excited to learn and be immersed in the culture that Dance Grenada will bring to the world."
With Grenada imposing a nationwide curfew due to a rise in COVID-19 cases, Roberts is not only eager to educate participants in the festival, but she is also interested in the healing aspects of dance in response to potential feelings of isolation. "Dance is what unites us, so while we may not be united right now, we will be. We are using dance as the connecting tool, the vehicle to heal, connect, engage and interact."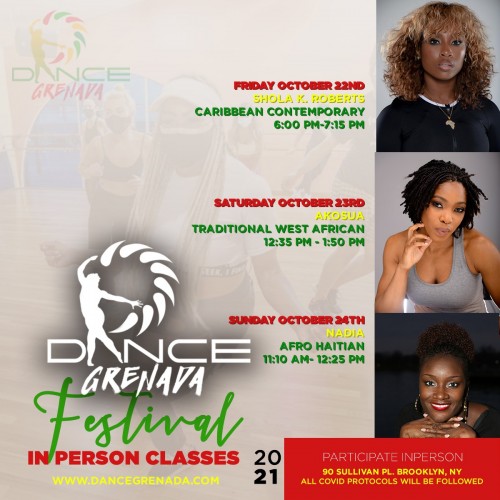 Dance Grenada Festival's schedule of in-person classes.
---
The Dance Enthusiast Asks questions and creates conversation.
For more of The Dance Enthusiast Asks, click here.
---
The Dance Enthusiast - News, Reviews, Interviews and an Open Invitation for YOU to join the Dance Conversation.