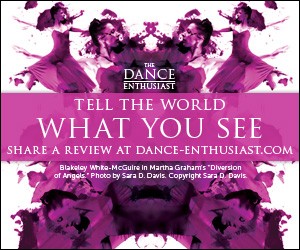 Related Features
Dance Up Close LEIMAY'S "Becoming-Corpus" premieres at BAM FISHER Sept 12th-15th, 2013
Ximena Garnica and Shige Moriya Create a Unique Performance Experience of Dance, Video, and Electronic Music
Dancing Up Close to LEIMAY's Interdisciplinary Environments in Brooklyn.
---
Christine Jowers for The Dance Enthusiast
Photos Courtesy of LEIMAY
---
Ximena Garnica on Coming to the United States and her Accidental Introduction to Butoh

Two years ago Shige Moriya and Ximena Garnica, LEIMAY'S founding couple, who conceived and designed Becoming-Corpus, created life-sized casts of their bodies. They then spent six hours a day for one week in a Manhattan art gallery taking part in a durational performance in which they painted latex on their body casts, peeled the latex off, and dried it.  "Like when you dry clean clothes (taken) outside from a stream," recalls Garnica in her melodic, Colombian-tinged English.

"We were dressing and undressing and creating these skins of ourselves, it was a small ritual between us called 'Uncovering.' In a way, that is part of becoming. You 'become' when you uncover, when you peel something away."
Ximena Garnica on Light Being Music
For Becoming-Corpus, which is not only a stage production to premiere at BAM FISHER this September 12th-15th, but also a book, and a visual arts exhibition, Moriya and Garnica are creating a series of photographs printed on the latex skins that were stripped from their "bodies." They are also making heads.

"I wanted to have something that was personal to the dancers and the performers being part of this stage piece, so, I wanted to make their heads," explains Garnica.
Butoh Values

I listen intently while visiting LEIMAY'S Williamsburg, Brooklyn home, CAVE, where I'm surrounded by papier mâché faces and boxes of neatly arranged art supplies in a stunningly clean work room. (Garnica's "Papito" (father), from Colombia, is visiting Brooklyn for three months and part of his mission is to keep everything organized to help his daughter and her partner out during their hectic pre-performance time.)

"I have six heads more to go," Garnica admits with a huge smile, "I think they (the performers) need some rest, and the heads will be a good thing to do during these (last series of) rehearsals; they can pretend they are in a spa having a facial."

The Value of Struggle in Art

Becoming-Corpus was conceived and designed by Ximena Garnica and Shige Moriya.
Choreographed by Garnica with an international ensemble of performers and dancers: Masanori Asahara, Andrew Braddock, Andrea Jones, Liz McAuliffe, Denisa Musilova, Eija Ranta Tommy Schell and Savina Theodoru. Video as lighting design by Shige Moriya. Sound by Roland Toldedo and additional featured music by Laddio Bolocko and Christopher Loar.

Becoming-Corpus plays September 12-15th, 2013  as follows:
Thursday thru Saturday at 8pm and Sunday at 7pm

Tickets can be purchased thru www.bam.org or www.leimay.org or  by calling LEIMAY'S office at 718.388.6780
---
The Dance Enthusiast Asks Questions and Creates Conversation.
For more Dance Up Close Videos, click to Day In the Life Section or Search Dance Up Close on our site