Dance Up Close to Arturo Vidich at Abron's Art Center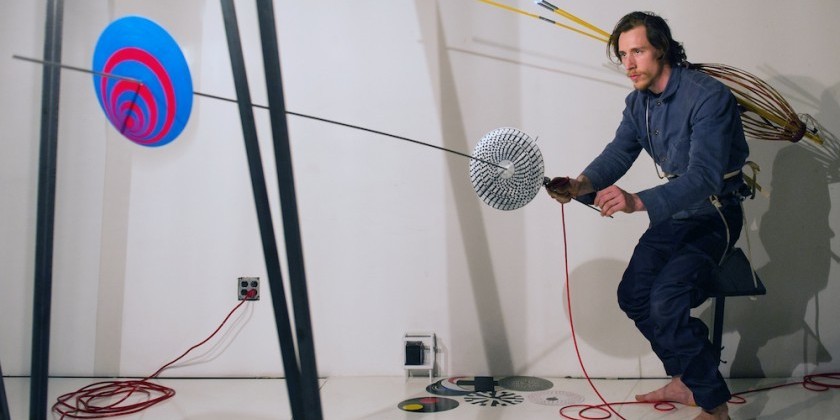 Vidich's World Premiere "142241" Highlights The Artist's Creative Wizardry
Arturo Vidich with Massimiliano Balduzzi
November 14-16, 2013 at 8pm
Abrons Arts Center
466 Grand Street (at Pitt Street, Lower East Side)
---
Choreographer and performer Arturo Vidich has been showing work in New York City since 2003. Investigative and multidimensional, his pieces have appeared at institutions as varied as The Chocolate Factory, the New Museum, Movement Research, and Danspace Project at St. Mark's Church. In 2010, he won a Bessie (New York Dance and Performance Award) in connection with Yvonne Meier's Stolen. This November, he returns to Abrons Arts Center to premiere 142241, a work fusing together movement, vocalizations, props, and an electro-acoustic score, all products of Vidich's inquisitive personality. 
Arturo Vidich on Working, Stealing From Himself, and His Objects in 142241
---
He discovered an attraction to dance as a theater major at Wesleyan University. Dance afforded him the opportunity to make his own work, which was Vidich's overarching desire. A philosopher as much as a choreographer, Vidich freely admits that he would go crazy if he couldn't make art.  In addition to dance, he stokes his creative urges in visual arts studios, sometimes creating the props that appear in his works.
Elements — anything that ranges from physical objects to mental preoccupations — from his past works influence his current pieces. 142241 will feature a variety of spinning props last seen in 2013's The Daedalus Effect and other dilemmas, which was presented at The Invisible Dog by New York Live Arts.
Arturo Vidich on Improvisation and Conversation 
---
Vidich manipulates the flexible structure of improvisation to create his movement scores. Working with this medium enables him to create elastic models that alter slightly from performance to performance, thus connecting his experience to show-goers, who all perceive a performance differently.
142241 encompasses a variety of concerns such as emotive telepathy, the influences of real and/or imagined worlds, and the experience of time, including how time can be experienced both backwards and forwards.  Actor Massimiliano Balduzzi will reprise his role as Vidich's body double. Video will capture each performance, and then be presented independently after the show as a time-reversed artwork.  Hypnotic and haunting, 142241 will transform Abrons Arts Center's underground theater into a flickering otherworld.
Is It Opera? Or ? A Dance Enthusiast Minute of Experimentation with Arturo Vidich
Follow Erin Bomboy @ErinBomboy on Twitter