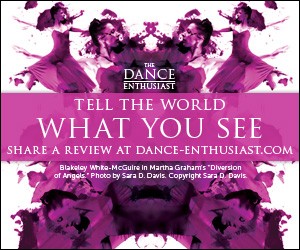 Related Features
Dance Up Close to Dance Heginbotham
A Look Into the Creation of "Dark Theater" with John Heginbotham and Company
Dark Theater  will play at the Fishman Space, Brooklyn Academy of Music 321 Ashland Place, Brooklyn
on October 29- November 2 @ 7:30pm
---
When John Heginbotham established his company Dance Heginbotham in 2011, it was truly the product of a life-long interest in making dances. "I've loved choreography, watching choreography, since I was a kid," he said during a Friday afternoon rehearsal at the Brooklyn Academy of Music studios. "It was not a total out of the blue idea to pursue this after my dance career." 
Heginbotham's gift for creating coupled with his highly articulate, rhythmic movement has meant much success for his young troupe. In barely two years of existence, the company has already enjoyed commissions from major venues--Jacob's Pillow Dance Festival and Lincoln Center Out of Doors, to name a few—and the group has pursued collaborations with some of the edgiest musicians and composers working today— Brooklyn Rider and Tyondai Braxton, for example. 
John Eirich Gives Us The Scoop About Dance Heginbotham From The Inside
---
Dance Heginbotham's performances at the Brooklyn Academy of Music's Next Wave Festival will mark the intrepid company's BAM debut, just a stone's throw away from a more familiar and established company's home, the Mark Morris Dance Group (where Heginbotham was a dancer for 15 years).
Many elements of Heginbotham's work are reminiscent of Morris, including his adept musicality and use of highly formalized movement. However, there is no denying that the theatricality in this artist's dances is something all his own.
John Heginbotham On Why He Loves His Job
---
In Dark Theater, Heginbotham takes his attraction to the dramatic to a new level, incorporating surrealist elements inspired by Dada artist, Francis Picabia. It's an idea that came, quite unexpectedly, from the musician Pete Yarrow, member of the classic American folk-singing trio Peter, Paul, and Mary.
Last summer when his company was performing at Jacob's Pillow, Heginbotham was introduced to Yarrow at a post-show party. Yarrow was there to see the Trey McIntyre Project perform Free to Be…  You and Me, a piece set to his music. But the composer of Puff, the Magic Dragon approached Heginbotham with a non-musical sort of input.
"He said this wonderful thing to me," recalls the dance-maker, "he said, 'Oh, I love all the Dada elements of your choreography.' And, I took that as a very great compliment."
A Dance Enthusiast Minute of Wacky Waltz with Dance Heginbotham
---
When it came time to start this newest work, Yarrow's words echoed in Heginbotham's mind. While never planning to draw heavily on the work of surrealist artists, Heginbotham admits he has always felt his choreographic ideas align closely with Surrealism's strange creatures and non sequitur displays. For his BAM season, he has decided to explore these ideas in a more explicit manner and it's clear the choreographer is excited about what will come of it.
"I still sometimes actually wake up and think, 'So, this thing that you wanted to have happen at some point in your life is actually happening. It's actually happening.' "
Follow Tara Sheena on Twitter @tarasheena
---
FOOTNOTES - For More Info :
Tickets to Dark Theater at the Fishman Space, Brooklyn Academy of Music can be purchased by clicking BAM -
The show runs October 29- November 2 @ 7:30pm
For More about John Heginbotham's Dance Heginbotham click Dance Heginbotham
Performers: Winston Dynamite Brown, John Eirich, Kristen Foote, Lindsey Jones, Courtney Lopes, Weaver Rhodes, Sarah Stanley
Choreographer: John Heginbotham