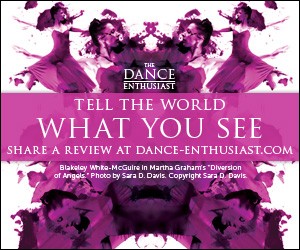 Related Features
Dance Up Close to Gibney Dance in "Dividing Line"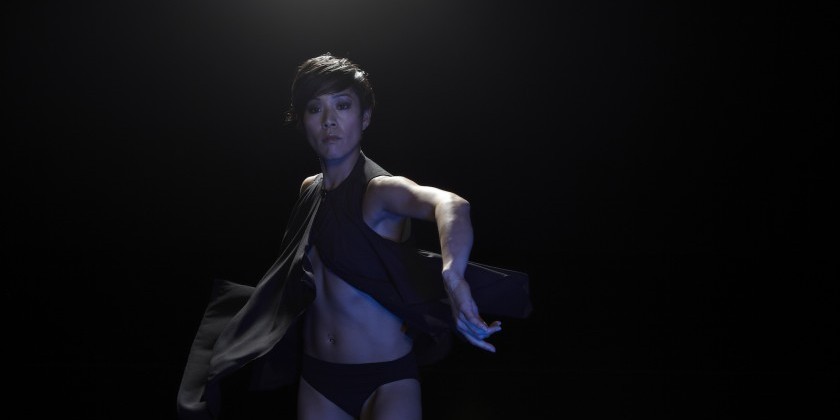 Gina Gibney and Company Get Ready for Their Premiere
Gibney Dance Company presents
A Premiere of a New Evening-Length Work, Dividing Line
November 14th -November 16th, 2013 at 7:30 pm  
Florence Gould Hall in New York City
---
Gina Gibney is revered by dance artists and cultural groups in New York City for her action orientiaton.
This powerhouse artist is a community builder and problem solver. Recently she created a progam called "DanCentricity" designed to engage young students in the process of dance creation. Her "Sorry, I Missed Your Show" program addresses the dilemma of audiences and artists challenged by New York City's jam-packed, super-short performance seasons. Here viewers and creators revisit and discuss "old" shows, supporting the ephemeral art of dance by keeping the conversation about it crackling.
Dividing Lines and Duets: Gina Gibney Describes Shifts , Turning Points, and Relationships  in her new work Dividing Line
---
Gibney also champions women and stands with them by creating empowering movement workshops especially geared towards those affected by domestic abuse. During the latter part of this year and into next, Gibney and her company will lead 500 community movement workshops at partner organizations throughout New York City and internationally. It is all part of Gibney's Global Community Action Residency program.
And, did I mention the Gibney Dance Center, replete with eight beautiful studios that hold classes, workshops and rehearsals to support the New York City performance community?
After a disconcerting bankruptcy led Dance New Amsterdam, a beloved city studio and presenter to close its doors, Gibney jumped into the fray and offered several highly regarded DNA teachers a place to share their work. It's a wonder that Gibney has energy to create anything else.
But here comes Dividing Line an evening length premiere, her first in a three years.
Dancers and Dramatic Flow: Gina Gibney discusses her admiration for her dancing collaborators in Dividing Line
---
"It has been a rather complex time for us," admits Gibney in a recent interview. "The expansion of the center and our community work pressed pause on Dividing Line which I have been thinking about for a couple years, and intended to premiere last year. I had to put the work on hold to allow the center the bloom. It was difficult to make that decision, but I had to focus and then get back to work."  
Gibney speaks of dividing lines as being points in life where one decides to stay on a path or chooses to cross over to another way of thinking. She is fascinated by how vastly different people can be depending upon which "side" of a question they choose.
A Dance Enthusiast Minute of Defying Lines
---
"I don't think my work is biographical," Gibney maintains, "but the images have a residence in my life. There was a moment when I thought that my life could go many different ways: I could become a dance champion or supporter; or, I could concentrate on the center... But, there was a line I drew. I said, 'I want to be on the other side of that.' "
"This is what I want to do," asserts the choreographer after finishing a day in the studio collaborating with her dancers. "I am very passionate about this center; I am very passionate about our community work; but, I am an artist first and if I am not in the studio creating work, I am not fully myself."
Dividing Line challenges Gibney's talented six-member company to test the extremes of their dance powers as they play with intricate lines of identity, time, place and emotion. The dynamically textured score, created by Gibney's longtime genius collaborator, musician and composer Son Lux, unforgettably defines their efforts.  Lux's glorious music will be played live by the American Contemporary Music Ensemble every night of the run.
A Dance Enthusiast Minute: A Minute of Negotiation
Gibney Dance Company
Dividing Line November 14–16, 2013 at 7:30 p.m.
Florence Gould Hall 55 East 59th Street
Info: (212) 677-8560, or Click Gibney Dance Center
Tickets: Click Ticket Master - Gibney
 
Choreography by Gina Gibney
Performed by Natsuki Arai, Javier Baca, Jake Bone, Zachary Denison, Jennifer McQuiston Lott and Amy Miller
 
Score by Son Lux, performed live by American Contemporary Music Ensemble (ACME): Caroline Shaw and Ben Russell, violins; Isabel Hagen, viola; Clarice Jensen cellist & artistic director (www.acmemusic.org)
Lighting design by Kathy Kaufmann, costume design by David C. Woolard.