Dance Up Close to "House of Dance" by Tina Satter at Abrons Arts Center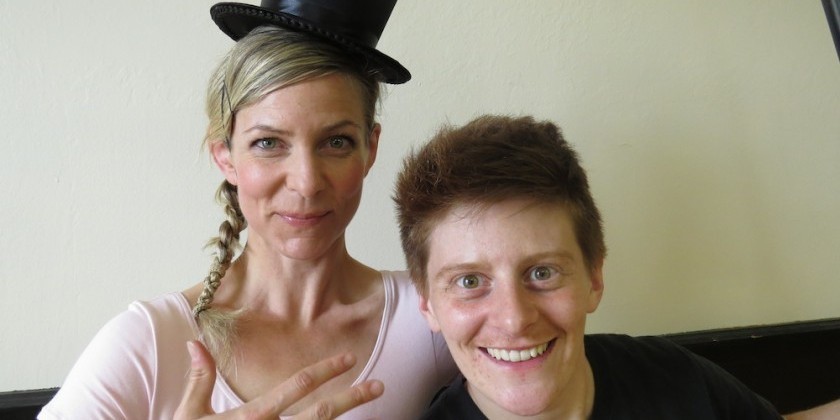 New York City Players & Half Straddle Reveal the Dramatic with Tap Dance.
House of Dance at Abrons Arts Center
466 Grand St (at Pitt St)
October 23 – November 9, 8pm
---
Though it may not be immediately apparent, a dance class provides an excellent setting for a play. Many elements of a great drama are there: competition, passion, big dreams, and sometimes, disappointment. And of course, every dance class is full of memorable characters. This is the fertile ground from which writer and director Tina Satter created her newest play, House of Dance.
A Play Moved By Tap
---
This play about dance was inspired in part by its setting: a downstairs dance studio at Abrons Arts Center. Satter said that something about the space reminded her of a tap dance studio, and she was drawn to the mirrors on the walls. So, instead of presenting the play in a theater space, Satter chose to stage it in a dance studio.
None of the four House of Dance cast members had experience in tap dance prior to the start of rehearsals. Dancer Hannah Heller acted as teacher, choreographer, and a sort of dramaturge, helping to familiarize the cast with the basics of tap dance and stage dance numbers.
Meet the Characters in House of Dance
---
Satter's artistic experience has been almost exclusively in theater, although she did dance ballet seriously as a child. At age 14, her ballet teacher sat her down and explained to her that she would never make it as a ballerina. Though that experience was disappointing, it didn't turn Satter off of dance forever. In fact, she still finds that her early dance training has an influence on her work.
"The most formative thing I saw, at age 7, was The Nutcracker," Satter said. "I think that still lurks over me to this day. That isn't tap, but I have this vague impressionistic draw toward the idioms of dance. I don't want to try to make a dance, but I do always sort of infuse things with weird ballet details. And this one moved toward tap."
A Minute of House of Dance
In House of Dance, a complex story unfolds over the course of one dance class, done in real time. The characters reveal themselves through their interactions with others. Dreams come to life, and at times, tension run high. Throughout, the rhythmic click of tap shoes brings the focus back to movement.
Follow Garnet Henderson @garnethenderson on Twitter
For More About House of Dance
House of Dance at Abrons Arts Center for Tickets Click Abrons Arts Center
466 Grand St (at Pitt St)
October 23 – November 9, 8pm
Written and directed by Tina Satter
Presented by New York City Players & Half Straddle (Tina's company)
Performers: Jess Barbagallo, Jim Fletcher, Elizabeth DeMent, Paul Pontrelli
Choreographer: Hannah Heller
Music: Chris Giarmo