Dance Up Close to Patricia Hoffbauer and "Para-Dice (Stage 2)"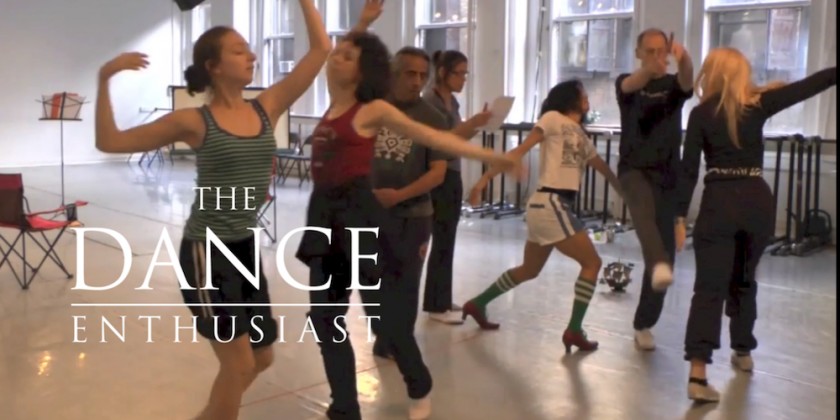 at Danspace Project
Patricia Hoffbauer's upcoming performance of Para-Dice (Stage 2) at Danspace Project will explore her lifelong preoccupation with displacement. Born in Brazil, Hoffbauer has lived in New York for over three decades, and her work confronts the tension she experiences navigating between two disparate geopolitical entities.
Patricia Hoffbauer, A Brazilian in New York
---
In 2009, she and longtime collaborator Peggy Gould rented rehearsal space with no performance date in sight. The first incarnation of Para-Dice appeared as an interdisciplinary, multilingual, fourth-wall-breaking spectacle for four dancers in 2010. Hoffbauer returned to the studio in 2013, adding several performers to the mix. Employing the structure of an academic lecture, Para-Dice (Stage 2) is spiced with dance sequences, ad-lib improvisations, and a plethora of props.
Hoffbauer, as much a scholar as a choreographer, presents an interest in researching the history of bodies in motion, which ground themselves in specific cultural landscapes. She also introduces, along with her co-writer George Emilio Sanchez, the post-colonial critique to contemporary performance practices.
Paradise and Academic Lecture in Para-Dice (Stage 2)
---
Para-Dice (Stage 2) engages with  the concepts of race, gender, and cultural identity to revisit the notion of South America as a paradise for gringos abounding with umbrella-topped cocktails, Latin lovers, and endless sunshine. Dancers utilize a performance language brimming with parody, mimicry, and carnavalesque humor.
At the heart of Para-Dice (Stage 2) is the framework of an academic lecture. Hoffbauer, as the professor, elucidates on various theories while cracking jokes. Her "students" sometimes hang on her every word while at other times they challenge her discourse and correct her pronunciation.
Hoffbauer defines the stage space to highlight a divide between white, rational  performance in the downstage area and racialized bodies reenacting scenes from pop culture in the upstage zone. This division into contrasting performative hemispheres further reinforces the notion that paradise, a third world realm of recreation and profiteering, exists simply to provide clueless vacationers with easy entertainment.
The Process and Inspiration in "Para-Dice (Stage 2)"
---
A video score by Peter Richards unfolds during the piece, augmenting the many references to South American cultural figures (many little known in North America) that Hoffbauer weaves into her dialogue. Para-dice (Stage 2) presents a feeling of unfolding in real time as the performers challenge the notion of a fixed performance.
A Dance Enthusiast Minute of Contrasting Hemispheres
Follow Erin Bomboy @ErinBomboy on Twitter
For More Information About Para-Dice
Danspace presents "Para-Dice (Stage 2)" — For tickets and more information click Danspace Projects
Patricia Hoffbauer
November 21-23, 2013 at 8pm
Choreography by Patricia Hoffbauer
Text by Patricia Hoffbauer and George Emilio Sanchez
Video by Peter Richards
Performers: Alyssa Alpine, Laura Gilbert, Peggy Gould, Patricia Hoffbauer, Elisa Osborne, Tom Rawe, George Emilio Sanchez