Related Features
Contribute
Your support helps us cover dance in New York City and beyond! Donate now.
Dance Up Close to Regina Nejman & Company Behind the Scenes in "...and this is the story thus far"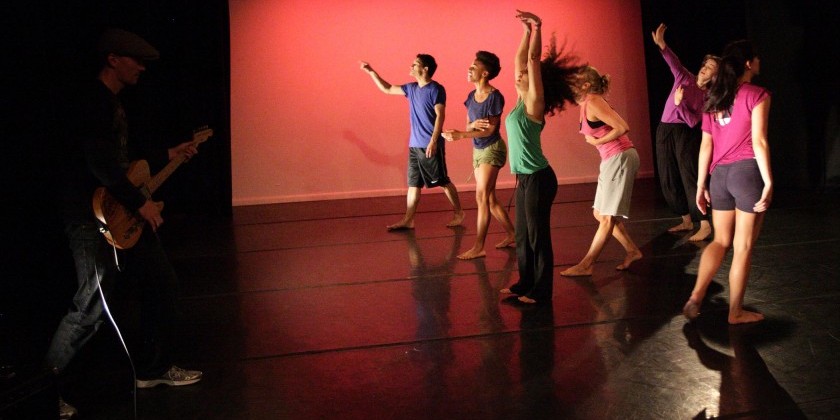 Premiering at Dixon Place
…and this is the story thus far
Regina Nejman & Company
Dixon Place, 161 Chrystie Street (between Rivington and Delancey streets), Lower Manhattan
December 11 and 12, 7:30pm
Choreography: Regina Nejman
Music: Britt Reagan
Dancers: Alicia Delimore, Kristin Licata, Lindsey Mandolini, Julie Miller, Regina Nejman, Oscar Santana
Film projections: Regina Nejman
Lighting design: Rob Lariviere
---
Choreographer Regina Nejman's new work began with an idea for a title: …and this is the story thus far. Once that title was in place, explains Nejman, it was time for her to figure out how to build a dance.
A Brazilian native, Nejman knew that she wanted to incorporate her country's music into the piece. She also wanted to utilize the exposed rear wall in the Dixon Place theater, where …and this is the story thus far will have its premiere. These elements motivated her movement creation and inspired her to approach her material in new ways.
Regina Nejman on Why a New Piece? The Beginnings...
---
In searching for a thread to tie together the various sections, Nejman began collaborating with guitarist Britt Reagan. Portions of the piece set to Reagan's live guitar playing alternate with sections set to Brazilian and other recorded music, creating a dance driven by dynamic musical shifts.
Nejman works collaboratively with her dancers. She begins by teaching them movement phrases she has prepared, and as the dancers become more familiar with the movement, Nejman works with them to tweak  phrases and add individual touches. There are six dancers in all, and solos and duets regularly spring out of group dances.
Regina Nejman on Music Being a Connector
---
Nejman also created a video that will be projected onto the rear wall of the theater as the dancers move across it. Though the movement is often expansive and geometric, with groups of dancers cutting deliberate paths across the stage, they frequently return to the wall, using it as a support and springboard. Occasionally, they also venture out into the audience's territory.

…and this is the story thus far, while propelled by constant surges of energy, is full of compelling pivots. The turbulence, juxtaposed with the dancers' clear focus and purpose, creates a work that straddles the seemingly opposite states of spontaneity and logic.
A Minute of Pickups from ...and this is the story thus far