The Dance Enthusiast Hits the Streets "The Christmas Spectacular Starring the Radio City Rockettes"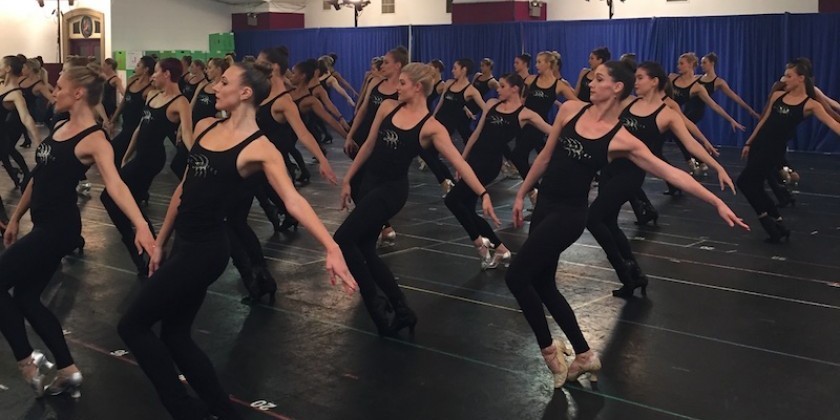 Featuring The Radio City Rockettes and Julie Branam, director and choreographer of The Christmas Spectacular 
October 13th at St Paul the Apostle Church 
The show will run from November 11th, 2016-January 2nd, 2017. Tickets are on sale now at www.rockettes.com/christmas and the Radio City box office 
---
More than fifty long-legged women in heels, black leggings, and rhinestoned tank tops crowd the vast space of St. Paul the Apostle Church. The air vibrates with earnest energy as choreographer Julie Branam and her rehearsal directors walk the dancers through phrases, pose by pose. They navigate mathematically precise angles and lines, right down to the tilt of a chin and the focus of an eyeball.
Is this an open call for A Chorus Line? No, it's a rehearsal for the 2016 production of The Christmas Spectacular Starring the Radio City Rockettes, open to the press for a one-day sneak preview. 
For some families, The Christmas Spectacular is even more sacred than The Nutcracker. It epitomizes what New York City at Christmastime has to offer: classic music, flashy dance moves, shiny toys, and beautiful women, all wrapped up in the majestic, red-velvet package of Radio City Music Hall. The 90-minute show, starring women's precision dance troupe The Rockettes, features more than 140 performers and an original musical score. Since 1933, the show has mesmerized audiences by transporting them from the city's hustle and bustle to a magical land of holiday cheer.
Photo: Theo Boguszewski
Today, The Rockettes are rehearsing the piece "New York at Christmas," set to a seductively jazzy piano number that sounds a little like "Baby, It's Cold Outside." The women are smiles and graceful arm gestures from the waist up, and spritely feet and sky-high kicks from the waist down. They're like perfectly wrapped Christmas presents perched atop roaring steam trains. The Rockettes are still beaming in awe when Branam claps them out after only five seconds to offer corrections. Some have dreamed about this their entire life.
After the rehearsal, reporters can chat with select Rockettes, who are clearly experienced in speaking with the press. The snippets of conversation — effusive stories of dreams coming true, the joys of being on stage, the thrill of New York City at Christmastime — prove that the ladies can sell the show, both onstage and off. 
Brooke Averi, who joined the company last year, says, "I grew up in Southern California, and my parents run a dance studio out there, so I was kind of born into it." As with many Rockettes, she attended several "Rockettes Summer Intensives" as a kid.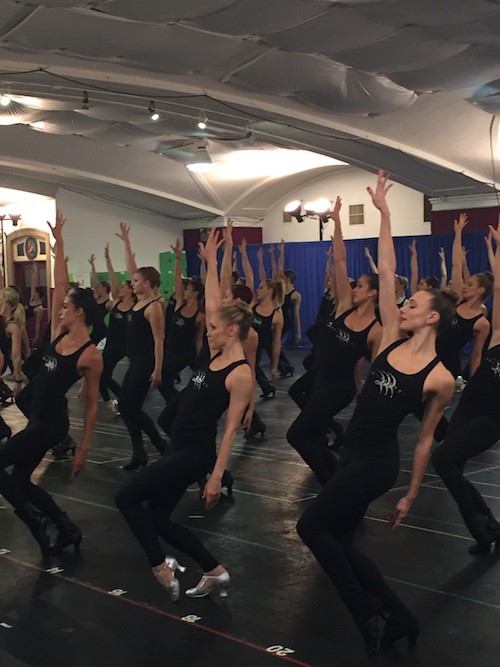 Photo: Theo Boguszewski
For as long as she can remember, Averi has wanted to be a Rockette, even though it's no easy feat. "The style is different than anything else you will ever do," she explains. "You have to follow your track on the floor. You have to be sharp and precise while also being glamorous. There are lots of things to think about! So much work goes into making it look easy!" She's probably not lying, but said through a huge smile, her answer feels almost as rehearsed as The Rockettes' "The Parade of the Wooden Soldiers" number.
The Christmas Spectacular was born out of the Great Depression, a time when people needed an easy escape from ordinary life. Since 1933, it has served as just that — an enchanted vacation into a glistening holiday wonderland. Run like a well-oiled machine, The Rockettes deliver top quality entertainment with astonishing consistency, year after year. The show is a tradition that is woven into the fabric of New York City. Life here can be tough; sometimes, we just need a little glamour and glitz.  
---