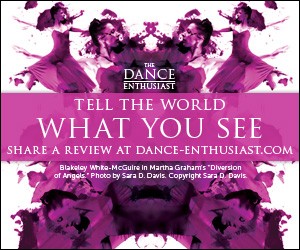 Related Features
Dance on Camera Festival 2016 Kicks Off its 44th Season at Lincoln Center
Trapeze Artists, Cuban Ballerinas and a Young African and his Horse Grace the Screen
Co-produced by Dance Films Association & The Film Society of Lincoln Center
Friday

-

Tuesday, 2/12/16, 1:30pm

–

2/16/16 8:00pm
Walter Reade Theatre, 165 West 65th Street
---
The opening night (
The Flight Fantastic)
and closing night documentaries (
Feelings Are Facts: The Life of Yvonne Rainer)
and all the dance film shorts couldn't be more different; they exemplify the breadth of the Dance on Camera Festival; none are to be missed.
This Friday
night, The Flying Gaonas, one of the greatest trapeze acts of all time, who performed with the Ringling Bros. and Barnum & Bailey Circus and Big Apple Circus, will attend the New York premiere of Tom Moore's documentary,
The Flight Fantastic.
Paul Binder, the founder of the 34 year old Big Apple Circus, testifies to the fact that this big-hearted Mexican family had it all - charisma, virtuosity, and incredible tricks. If only the other dance films this year could make you grin and laugh as much as The
Flight Fantastic.
 The Flight Fantastic
Change and politics are underlying themes in many of the documentaries. Merrill Ashley, who retired from New York City Ballet in 1997, gives us a touching account of leaving the stage in The Dance Goodbye, directed and produced by Ron Steinman and Eileen Douglas, with the support of DFA. Choreographer Nacho Duato was stunned by his dismissal from Ballet Nacional after twenty years creating brilliant dances in Spain. In Alejandro Alvarez and Ulrik Wivel's Disportrait, we see him grappling with cultural differences as he leads the Mikhailovsky Ballet in St. Petersburg. Duato says in despair "I didn't even want to dance, I wanted to be a horse." He could relate to the marvelous short Je suis un Cheval made by Esther Baker-Tarpaga, about a young African who is one with his horse.
Je Suis Un Cheval
Emelie Mahdavian's After the Curtain makes us empathize with four women who try to dance, despite male resistance and apathetic audiences in the predominantly Muslim nation of Tajikistan. Deirdre Mulrooney's documentary, Dance Emergency shows the struggles of Erina Brady, an Irish-German dancer, rumored to be a spy,  as she introduces modern dance to a repressive society shortly before World War II.  In Our Last Tango, Maria Nieves Rego lets us know she never forgave Juan Carlos Copes for many things, but all that emotional turmoil made her a better artist. Copes found in her his Stradivarius, a statement that explains so much about this famous couple and the male/female dynamic in tango.
Bajarí
Happily, some sun does burst through other documentaries in this year's DOCF. In Enter the Faun, NYC based Tamar Rogoff and Daisy Wright report on how a young actor with cerebral palsy blossoms through creative collaboration. In They Are We, Emma Christopher shares her dance footage shot in Cuba and Sierra Leone to let the two cultures discover how much they have in common. We learn that Alicia Alonso gains her sight with her fourth eye operation in Horizons  directed by Eileen Hofer about the determination of three Cuban ballerinas. In Eva Vila's Bajari, we see a gypsy child respond to a film of Los Tarantos, in which his relative Carmen Amaya dances and sings. He sings and dances flamenco with such prowess, it is uncanny. 

In 1956, Susan Braun founded her non-profit Dance Films Association (DFA) and soon after began to produce the Dance on Camera Festival, presenting it at the Natural History Museum, Donnell Library, and Anthology Film Archives. In 1998, Joanna Ney, who had presented many popular dance programs for the Film Society of Lincoln Center, invited DFA to join forces with FSLC to present The Dance on Camera Festival, which subsequently toured internationally, and spawned sister dance film festivals around the world. Happy Birthday DFA! Hats off to Joanna Ney for her unflagging energy, as she continues to produce this important event.