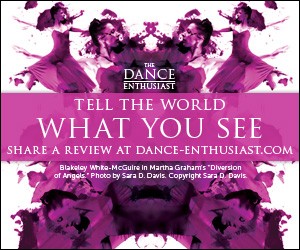 Related Features
Dance Up Close to David Dorfman Dance
Lightbulb Theory and Impending Joy STRIPPED/DRESSED at the 92Y Harkness Dance Festival
Event: 2014 Harkness Dance Festival: STRIPPED/DRESSED
Venue: 92nd Street Y, 1395 Lexington Ave, New York, NY 10128
David Dorfman Dance performs on Friday, Mar 21 @ 8PM, Saturday, Mar 22 @ 8pm & Sunday, Mar 23 @ 3pmA€
---
Sammi Lim for The Dance Enthusiast: I'd like to ask you about the dances being shown at the Harkness Dance Festival. From my understanding, Impending Joy and Lightbulb Theory are sort of 'humorous' pieces. What's the story behind them?
David Dorfman: Before you called, I was watching them on video. [laughs] I just rehearsed my solo and wanted to see how I was doing. They are humorous at moments, but I wouldn't call them comedy pieces; they just have a lighter feel from some of the stuff we've done recently.
In Lightbulb Theory, there's this section where out of the blue, the dance company starts cheering like crazy, portraying an almost bizarre need that we all have to be happy and to celebrate. It also addresses what happens when that moment of celebration is over and you're back to your everyday life.

 
David Dorfman Dance-  In Rehearsal Moments from Lightbulb Theory
---

That's one thing I think about a lot – the need to communally celebrate versus the silences of the more 'every day moments.' Some of that, because it's exaggerated so much, ends up to me, being kind of funny. There are also some brushes with harsh behavior. There's this part where two guys are jumping on each other and you hear them saying, "Oww!" It's taking the seams of joy and harshness, poking fun at them, and hopefully getting this common ground where you say, "Oh my god. I've done that."
We're all human. We can get into bad moods and be mean to each other, but in the end, we all have the same foibles and make the same mistakes, we really want to just laugh at ourselves and then work towards intimacy. Lightbulb Theory is also about loss and sadness - it was choreographed when my dad was dying. It's also about the happiness that I found my wife, my partner for life. It's about Sam, my son who's now 12. It's about generations. I was celebrating and mourning at the same time.
That's kind of the theme of the piece: celebration and mourning and how they're part of the life cycle. The theory that gets stated is… Have you heard the one about the two different types of lightbulbs? The first flickers before it goes out. The second just goes out. Which do you think is better? The idea of the lightbulb is a metaphor – an illuminating force that sometimes just goes away and sometimes kind of hangs in there, but uncomfortably so. There are pros and cons to both.
 
A Dance Enthusiast Minute with Impending Joy
---

Impending Joy has more of a forceful movement vocabulary and harder lines in the body – more straight lines and not as curvaceous. The music is computer-driven and has more of a harsh feel. It's a little more war-like. Right after this really beautiful kinetic, energized section ends, one of the characters is given white pickets from a picket fence. They kind of look like swords or sticks. And the rest of the company is humorously giving them to this person and saying, "Here you go. These are for you. You're gonna be great. You go over there, and we'll stay over here." The metaphor concerns going off to war.
I've always investigated war, even from the early 80s when I started making dances – the notion of why we need it, why we hate it, and why some people love it. Also, whose responsibility is war, and is it so facile for us citizens in a country to say, "Okay, you young guys just go and fight. We'll be right here. We're fine, but you guys go"? I respect and honor soldiers and I appreciate them protecting us, but at the same time, it's such a weird ritual that country after country has certain people, usually the more wealthy, who stay at home, while it's usually the disadvantaged who go and get killed. The word 'impending' in the title is usually used in the phrase "impending doom." So my twist on that is, what if we suspected that joy was around the corner at every moment? It's gonna happen. It's gonna happen! That sort of becomes my mantra or my motto; if given the choice between happy or sad, just choose happy. You know like, whatever! Just try it! That's the redux: Can we find the playfulness in this really complex and sometimes very harsh world?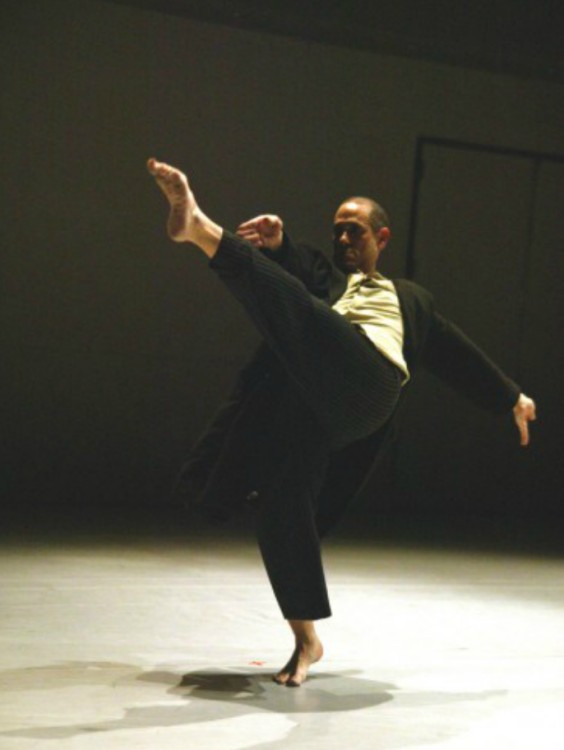 David Dorfman; Lightbulb Theory  Photo © Julie Lemberger

TDE: I love that! It comes down to us basically.

DD: Exactly!
TDE: It's important for dancers to take a step back from dance once in a while so they can come back refocused. In your case, you dedicate a chunk of your creative energy to playing the baritone saxophone. Tell me about  this passion.

DD: You're catching me at a good baritone sax time! I don't do it that often, but this last weekend, I played in a bar with a local band in New London and that was really fun. Lately, I recorded on a couple of albums with local artists. On Sunday, I played at a benefit for a friend. I do believe that the older you get, you've gotta have cool or fun hobbies to take your mind off your work, to keep your mind young on another level, and to keep your brain and your body coordinated in a different way from what you're used to. Moving and playing musical instruments, playing saxophone and accordion in particular, are very important to me. They ride between professional and hobby.
TDE: So I know I brought up playing the saxophone as an example of stepping away from dance, so this next question is kind of paradoxical. Could you name some similarities between playing the saxophone and dancing?
DD: You know how people say, "I don't know how you remember all those steps," to dancers? When I get in front of music, I ask that same question, because it takes me so long to memorize musical passages. I feel that I can do similar stuff in music as I do in dance where it comes down to improvising. What I think I love about it reminds me of my athletic training - the teamwork involved. You're not solo all the time. You may have a bit of a solo, but it's like an African drumming ensemble - everyone has their own part and without all the parts, it doesn't sound right. It's complicated and polyrhythmic.