Related Features
Contribute
Your support helps us cover dance in New York City and beyond! Donate now.
DAY IN THE LIFE OF DANCE: David Parker and The Bang Group in "Nut/Cracked" at The Flea Theater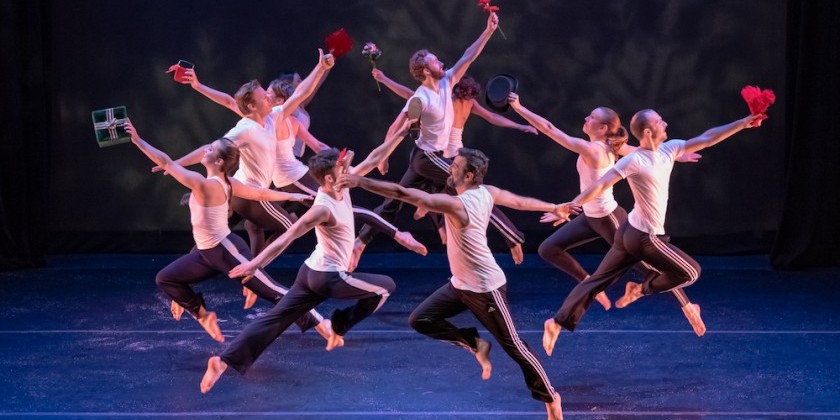 The Bang Groups Beloved, Witty Response to "The Nutcracker" Celebrates Two Decades!
*Dancers in Title Photo: (L to R) Louise Benkelman, Nic Petry,Deborah Lohse, Stephanie Grover, Dylan Baker, Isaac Lerner, Chelsea Ainsworth, Jeffrey Kazin, Amber Sloan, Tommy Seibold
---
Venue: The Flea Theater, 20 Thomas Street, between Broadway and Church Street, New York, NY
Dates: Thursday, December 15th through Saturday, December 17th 
Showtimes: Thursday, Friday, Saturday @ 7 PM; Saturday Matinee @ 3 PM
---
David Parker managed to escape performing in The Nutcracker as a child, but the choreographer of Nut/Cracked, the irreverent riff on the holiday classic, which returns to The Flea Theater, December 15 - 17, found his reprieve was only temporary.
Everyone's favorite Christmas show is not so easy to brush off, and, as it turned out, The Nutcracker had plans for him. The wily spectacle bided its time, waiting to strike until Parker was 43 years old. Then, to his surprise, he found himself in pointe shoes, "like a dog on its hind legs," he says, performing to a jazz version of Tchaikovsky's score.
That was in 2002, when Parker's company, The Bang Group, gave the first performances of Nut/Cracked, at the Carlo Felice opera house in Genoa, Italy. Parker's queer-friendly, Pop version made its American debut the following year at Dance Theater Workshop, and since then Nut/Cracked has come back each season, winning the hearts of hip, downtown audiences and touring the college circuit. "The Nutcracker was sort of hovering around, waiting to drop — and it did," Parker says.
Clarence Brooks in Nut/Cracked; photo via artandimages photography.com
Parker wasn't immediately convinced, however, when Italian presenter Giovanni Bruno suggested he expand Suck, a duet for two men set to the music of The Nutcracker's Grand Pas de Deux, into an evening-length production. "At first I was daunted," Parker says. "I thought, do I really want to take this on?" What changed his mind was hearing a 1947 recording of Fred Waring and the Pennsylvanians singing an arrangement of the Nutcracker Suite for mixed chorus. "Somebody wrote lyrics, really stupid lyrics, and they sing them," Parker explains. The campy recording was a treasured memento that Parker's life-partner and fellow choreographer Keith Michael had saved from childhood. "He showed [it] to me, and I thought, 'Oh, my God, I think I can do this.'" Parker says. Jazz interpretations of the score by Duke Ellington and Glenn Miller also served as a bridge to Tchaikovsky for this post-modern choreographer, who trained as a tap dancer.
Chelsea Ainsworth, Amber Sloan, Nic Petry, Dylan Baker, and Jeffrey Kazin; photo via artandimagesphotography.com
The Mark Morris Dance Group had premiered the satirical Hard Nut at the Théâtre de la Monnaie in Brussels, in 1991, but in contrast to The Hard Nut's lavish production values, Parker would downscale the show. In Nut/Cracked,the dancers are clad in Tee-shirts, while humble items like bubble wrap, a flashlight, sunglasses, and a takeout container of Chinese noodles become elements of the mise-en-scène. Some viewers may be reminded of the do-it-yourself aesthetic of Stomp, which arrived in New York in 1994, but Parker says he was paying homage to the values of the downtown dance scene. "That kind of scrappiness and resourcefulness is something I loved, and still love, about the downtown dance world. It's making the most of very little. The movement is so much that you don't need sets, and costumes, and extravagance. I think that [attitude] has its own moral, and political dimension."
The Bang Group in Nut/Cracked; photo via Sally Cohn
By freeing his production from The Nutcracker's fanciful story-line, Parker says his show also reflects today's obstreperous holiday traditions. "It's a kaleidoscope of things that strike me about the holiday season like greed and competition, drunkenness and lust, excess and celebration," Parker says.
Nut/Cracked's queer sensibility was also there from the beginning, in Suck, the male duet which was the kernel of the show. "It sounds paradoxical, but it's a pretty serious, classically oriented pas de deux for two men, who, while they're partnering each other, suck each other's thumbs; and the thumb-sucking actually facilitates all this partnering," Parker explains. Other gender-bending elements of Nut/Cracked include both men and women dancing on pointe, and women lifting men. Parker is pleased to note that while the thumb-sucking initially shocked people, audiences 20 years later have come to accept it as wholesome fun.
Clarence Brooks in Nut/Cracked; photo via artandimages.com
The production has expanded since its premiere, now featuring a cast of 19 performers (instead of the original five), including middle-schoolers from the Steffi Nossen Dance school in White Plains, and e.g. Dance in Brooklyn. The youngsters perform a number called "Russian Disco," a version of the New York Hustle set to the Nutcracker's Trepak (Danse Russe); and they mix ballet, hip hop, tap, and improvisation in Parker's staging of the Danse des mirlitons. Parker himself makes cameo appearances, performing a tap dance and wielding a bouquet in the "Waltz of the Flowers" (a scrap of mime inspired by Frederick Ashton's ballet La Fille Mal Gardée).
Although the choreographer in him is tempted every year to make adjustments, Parker says that after 20 winter seasons Nut/Cracked resists his meddling. "If I try to change it, which I do sometimes, it tends to snap back into place," he says. In its own zany way, Nut/Cracked has become canonical.
---
The Dance Enthusiast's DAY IN THE LIFE covers the stories behind dance/performance and creates conversation. For more behind-the-scenes stories from NYC and beyond, click here.
---
The Dance Enthusiast - News, Reviews, Interviews and an Open Invitation for YOU to join the Dance Conversation.