Dance Up Close to David Parker and The Bang Group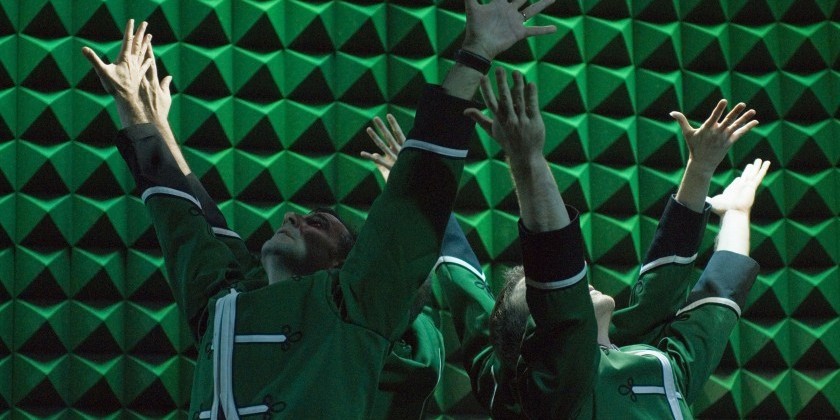 Rehearsing for the Premiere of "Head Over Heels" at Joe's Pub -Commissioned by DanceNow/NYC
Showtimes:February 14, 2014 and  February 15, 2014 7pm - 8pm Click Joe's Pub for Tickets
---
What do Burt Bacharach, Steve Reich, Pytor Ilyich Tchaikovsky, and Gioachino Rossini have in common with post-1960 musical theater?
The answer is David Parker, choreographer of The Bang Group. 
If this response seems odd, you're probably not familiar with Parker, the contemporary choreographer who has a penchant for turning musical theater, dance and rhythm topsy-turvy, offering fresh, witty observations to his audiences as he does so.
David Parker on Rhythm, Musicals, and Joe's Pub
---
Head Over Heels is his third full-length commission from DanceNow/NYC for Joe's Pub instigated by the visionary producer Robin Staff.  It unites the composers, previously mentioned (and more) with the antics and misadventures of the principal dancers of Parker's Company, The Bang Group. These extremely talented people are: Jeffrey Kazin, Amber Sloan, Nic Petry and Parker, and in Head Over Heels they valiantly search for love in many variations while singing, dancing, tapping, clapping, slapping, and even meowing for our pleasure.
David Parker On Head Over Heels
---
"I don't remember when I didn't like Fred Astaire or Gene Kelly," laughs Parker, who desperately wanted to dance at an early age but whose parents wouldn't let him. " That was in the early 60's, and I think they feared that I was going to be a sissy and that if I danced that would just make it worse.  So they said, 'No.' "
This forced Parker to dance on his own, in his room, trying to re- create what he saw on TV, in old movies and variety shows. "Nureyev and Fonteyn used to be on TV," he reminds me. "I loved dancing, it never seemed foreign to me, and it never was something I didn't understand. Suddenly people were speaking my language. Until I was about 16, I just did it all by myself, in my room or when nobody was around."
Parker's parents came around to his passion. His father, Robert Parker, dissatisfied with a career as an advertising copyrighter for Prudential Life Insurance in Boston, went back to school and became a detective novelist, "which was his dream," Parker remarks.
The senior Parker's career flourished and eventually he became well known for his bestselling detective novels, (especially those featuring the private detective Spenser). Parker was highly regarded for reviving his genre. Parker's mother, Joan, who hated being a housewife, also went back to school, where she received Masters in Childhood Growth and Development and became a teacher.  By the time he was teenager, Parkers parents let go of, as he calls it, "The bourgeois ideals of the 1950's."
They felt that they had followed their dreams; so, when David, as an older teen, announced he wanted to dance, they voiced support. "They said,' OK great you can do what ever you want. We did what we wanted. We were wrong to hold you back.' " 
Since that time, Parker's parents (both deceased) supported his career, eagerly attending his performances. Later, his mother, turning more towards philanthropy, worked tirelessly for charities that focused on theater, dance and AIDs in Boston. "That was a way she felt she could improve the lot of gay people. (David, a dancer, and his brother ,an actor, are both gay) and, "She wished to make Boston the kind of place that, I had I grown up there now, I wouldn't have had to have left to have a career."
A Dance Enthusiast Minute of Minimalism with The Bang Group
---
Perhaps one of the reasons we easily delight in Parker's juxtapositions and inventions is he that he embraces and respects so many dance and music forms. While he first studied tap in Boston and then was introduced to post-modern experimental dance at Bard, he  never experienced these schools of dance as being remote from one another.
Parker recalls of his early days, "In my naïveté or whatever you'd like to call it, I saw no break, I saw no distinction between what I was doing in the Cunningham classes and what I was doing in the tap dancing. It just was like, 'Well, we weren't wearing shoes but it was still rhythmic.' For me, they were all together, and they made sense together. I had to learn that people thought of them as different."  
In 2008, after Robin Staff commissioned The Bang Group to create ShowDown, a dancing, musical response to Annie Get Your Gun in which Parker had free reign to re-imagine Annie, look at love, play with homo-eroticism (all those cowboys), and reexamine gender roles - all while singing, dancing, and tapping- he recognized he had "found" something.
"I realized that performing in cabaret was an opportunity for me to reassemble the elements of musical theatre and create shows that used of all of those elements but in my terms… it released me to do whatever I wanted to.  I felt no particular constraints.  I was defending the forms when I was doing them on concert stages, but at Joe's Pub, I feel like I can revel in them."
And Just For Fun: A Dance Enthusiast Minute with Millie, The Bang Group's Best Friend
Follow @ChristineJowers on Twitter
---
FootNotes: For More Information Pertaining to This Story
The Bang Group is touring
Head Over Heels
and Other Shows: More Dates/ New Cabaret Venues - for more info Click
The Bang Group