Related Features
Contribute
Your support helps us cover dance in New York City and beyond! Donate now.
Demilitarized Zone? In rehearsal with Motley Dance
A Look at "Drill Piece"
Cory Nakasue for The Dance Enthusiast
---
Drill Piece
Directed and Choreographed by Elisabeth Motley
Sound and Music by Colonna Sonora
Animations by Aleta Lanier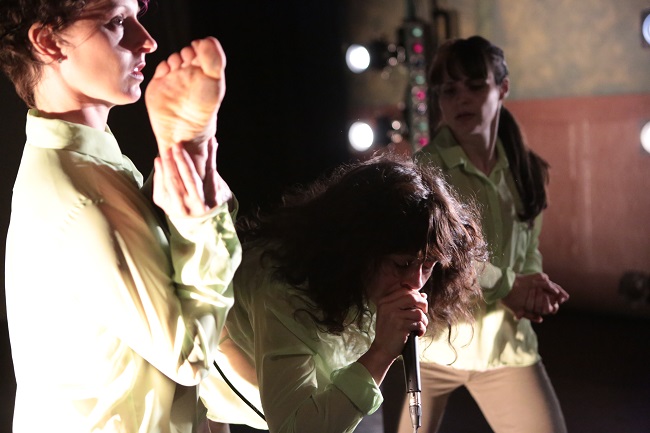 Motley Dance in Drill Piece. Photography by Steven Schreiber.
Motley Dance will premiere Drill Piece at Center for Performance Research, September 20th and 21st at 7:30PM

Upon opening the door to Elisabeth Motley's rehearsal I step over a veritable minefield of musical instruments, projectors, props, and people to make my way to a seat she has reserved for me in the corner. Glowing, gracious, and seven- and-a -half months pregnant, she explains where the art projections will go, where the live musicians will be and that things will exist in this very cramped in this rehearsal room.
Motley Dance rehearsing Drill Piece. Photo by Cory Nakasue.
Indeed, Motley's new work, Drill Piece is bursting at the seams with movement, sound, and light from the word "go." True to her mission statement, this is a "total art environment." Even more impressive is that it feels like a total artist environment—performers are involved in making sound, musicians leave their posts and are brought into the performance area, and much to my delight the projection design seems to be an integral part of the event. A true sense of community, and openness permeates the space. A sense of flexibility and interchangeability is at the moveable core of Drill Piece—ironically, a piece about military custom.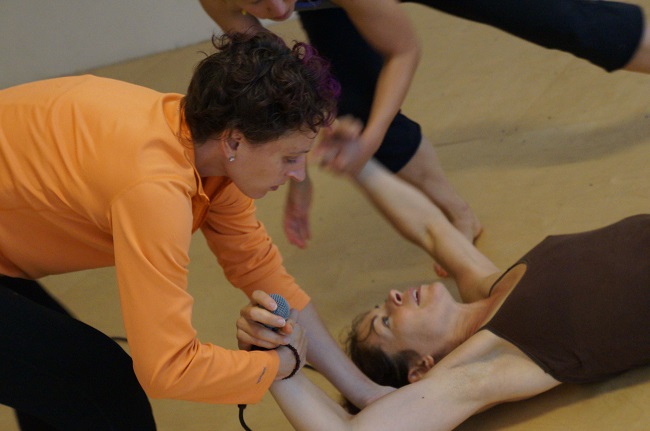 Motley Dance rehearsing Drill Piece. Photo by Cory Nakasue.
Raised in a military family, Motley began to notice how that culture had infiltrated not only how she led her life, but the way she communicated, and even created dances. When asked for examples of these manifestations, "control!" immediately springs from her mouth with a loud laugh. "I'm realizing things need to be very ordered for me. I need to have a structure. The control thing has been really interesting for me because my process has shifted so much more into the collaborative. This has been really challenging for me as a director who grew up with a very regimented lifestyle. We talk about control quite a bit in the piece. As far as the process is concerned, I'm really enjoying leaning into the discomfort of letting go—being vulnerable, which is not what the military is about."
Throughout rehearsal I'm definitely aware that the movement material, the soundscape, and text are all drawn from military tropes that civilians like me can recognize. What's most striking to witness is the tension between the content and this very antithetical handling of it—a reflection of the transformation that Motley is making as she challenges her upbringing.