Eliot Feld on Ballet Tech and the Annual "Kids Dance" Program at The Joyce
Ballet Tech
The Joyce Theater
June 8-11 at 7 p.m.; June 10 and 11 at 2 p.m.
Pictured above: Ballet Tech students in Eliot Feld's UPSIDE D∀NƆE
---
The noise, which is deafening, is only eclipsed by the enthusiasm. Dozens of reed-thin middle schoolers in ballet attire joyously walk through choreography in anticipation of taking the stage at The Joyce Theater.
These fresh-faced dancers are just some of the 162 students enrolled in choreographer Eliot Feld's tuition-free Ballet Tech, located next to a movie theater in the Flatiron district. Since its inception in 1978, Ballet Tech has served over 20,000 students; most come from lower-income minority families.
In addition to a rigorous academic schedule, students take classes in ballet and modern. Their proficiency, however, extends beyond mastering pliés and tendus. Pupils develop creativity, responsiveness, and learn how to work both independently and in a group — the bullet points of many job listings. While some have continued on to professional careers with Alvin Ailey American Dance Theater or New York City Ballet, plenty are just as likely to attend Ivy League universities and become doctors or lawyers.
In the '70s, a subway ride with a carful of children sparked Feld's imagination. "They were on a field trip, and they were vibrant, vital." He suspected some might have an aptitude for ballet, which requires its practitioners to start young. Thus, he founded a school that would create classical ballet dancers that reflected the diversity of the United States.
Ballet Tech students in Laura Careless' The Wild Current; Photo: Russell Murphy
Ballet Tech auditions children at schools throughout New York City in their quest to identify youngsters with physical facility. "We want the ones who might never have known that they have a passion or talent. That's why we go to them." In almost four decades, over 800,000 children have auditioned.
Spry with a penetrating gaze, Feld punctuates his observations with peals of laughter. When asked about the difference between choreographing for children rather than adults, he jokes, "They're smaller." To him, the dance-making process is no different than choreographing for Baryshnikov or any other dancer. "I hear the music and see the children," he says. "It evolves from there."
The children at Ballet Tech may still be polishing their technique, but the staff demands professionalism and positivity. During a rehearsal for Feld's UPSIDE D∀NƆE, a romp for thirty-six dancers to Scandinavian folk music, Director of Faculty Patrice Hemsworth calls out corrections and emphasizes the specificity of each action. While the steps — gestures, jumps, stylized walking — aren't complicated, the spacing and trajectories are. With exquisite precision, the three-dozen dancers travel from arcs to lines.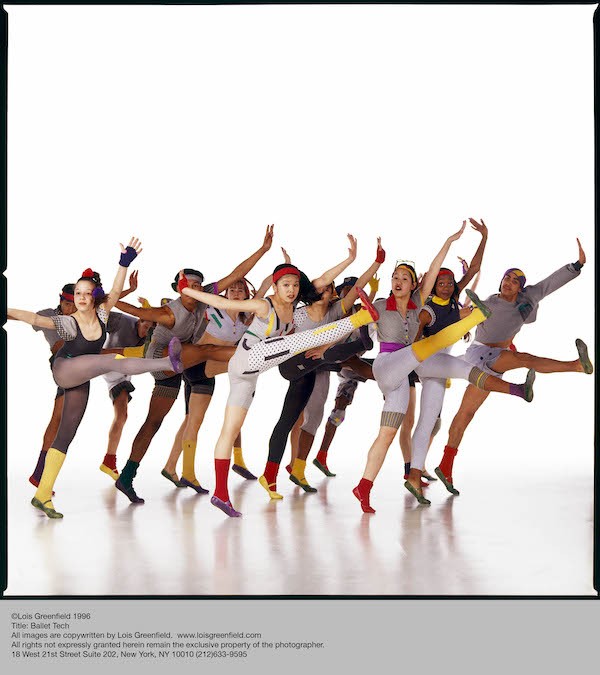 Ballet Tech students in Eliot Feld's Meshugana Dance; Photo: Lois Greenfield
The upcoming show at The Joyce Theater, which will run June 8-11, features choreography by Feld: The Jig is Up, Meshugana Dance, and the premiere of Pointing, a piece for four girls on pointe to composer Julia Wolfe's "Reeling." For the latter, it took the dancers time to adjust to being in pointe shoes. "They were dying," Feld says. But, as they come to end of their rehearsal process, he says, "They've begun to gain control over the ends of their legs."
As part of Ballet Tech's initiative to create repertory for young dancers, commissioned works will be shown. Laura Careless, a modern dance teacher at Ballet Tech and a founding member of Company XIV, will premiere The Wild Current, set to what Feld describes as "somber" music. A trio (by recently graduated or current Juilliard students Stephanie Terasaki, Conner Bormann, and Riley O'Flynn) entitled It's the Effort that Counts caught Feld's eye last year. He describes it as "youthful, contemporary, and smart, but not saccharine."
While there's plenty for everyone to enjoy, children might experience the biggest thrills of all by seeing their peers on stage. Feld encourages performative ownership from his students. "Dance in the first-person possessive," he says.
---
The Dance Enthusiast Hits The Streets to see what is happening in our dance world, and Create Conversation.
For more Dance Enthusiast Day in the Life pieces, which connect audiences to the behind-the-scenes of dance click here.