Emily Johnson/Catalyst Dance Group's SHORE Extends Beyond Peformance Into Community Making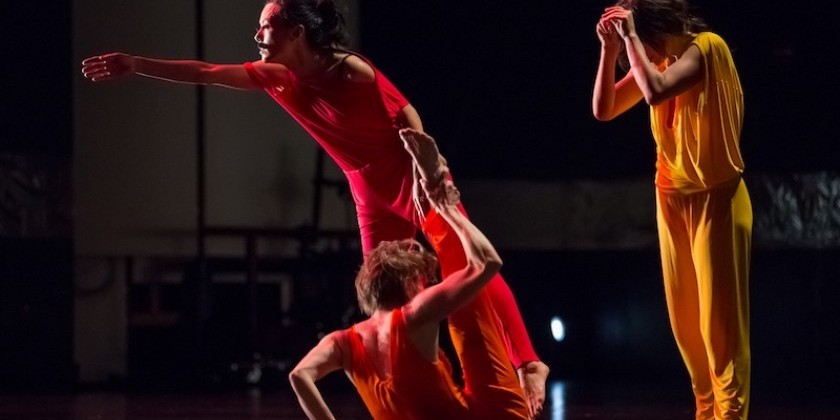 The Minneapolis-based Company Moves In and Out of the Theater, Creating and Caring
SHORE
Emily Johnson/Catalyst Dance
April 19 - 26, 2015
For a complete list of SHORE's performances and events, click here.
For more information and to register for events, visit the New York Live Arts website.
---
Minneapolis-based dancemaker Emily Johnson brings her latest performance installation, SHORE, to New York City in a week of events that began on April 19 and runs through April 26. SHORE extends beyond the theater and the usual temporal confines of performance and is comprised of four elements: performance, story, volunteerism, and feast.
SHORE began with a day of volunteerism in the Rockaways on April 19, followed later that evening by a curated story reading at the Two Bridges Neighborhood Council. The performance will take place April 23 through 25. It begins outside at PS 11, in what Johnson calls a "very subtle fashion," and then the audience and performers walk together to the theater at New York Live Arts. There will be another day of service on Governor's Island on April 24, and then SHORE concludes with a group bike ride and later a potluck feast at the North Brooklyn Boat Club on April 26.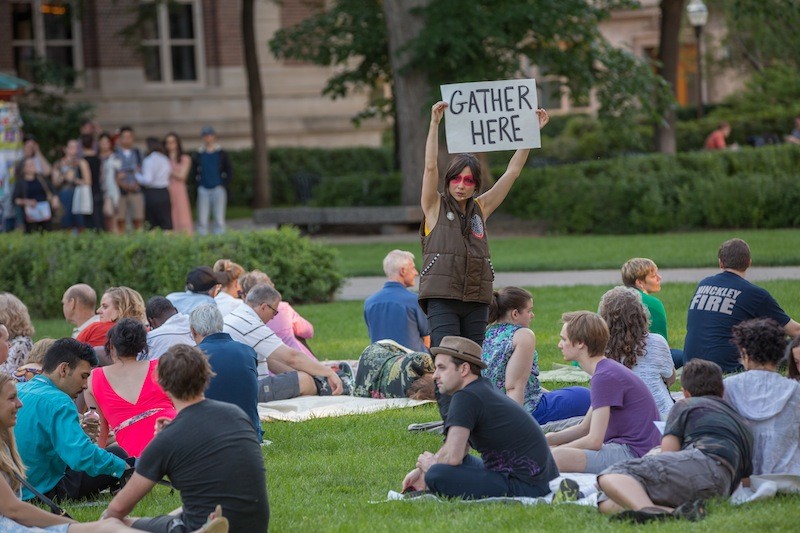 Pictured: Emily Johnson (gather here) as part of SHORE; Photo: Erin Westover
Johnson describes SHORE as the third in a trilogy of works that began with her Bessie-award winning piece The Thank-You Bar and continued with Niicugni.
"It's a kind of concentric ring structure. Thank-You Bar is in the middle, both because it was first, and because it was also very personal, very intimate. It was small, designed for 30 people on stage. And then Niicugni was structurally and thematically like the second ring. It holds some of Thank-You Bar in it, and expands out from there, and then each part of SHORE expands further," said Johnson.
The impetus for the four pillars of SHORE grew out of the creative process for Niicugni. Johnson, who grew up in Alaska and is of Yu'pik descent, taught people how to make Yu'pik fish skin lanterns in workshops around the country. Those lanterns became the set for Niicugni.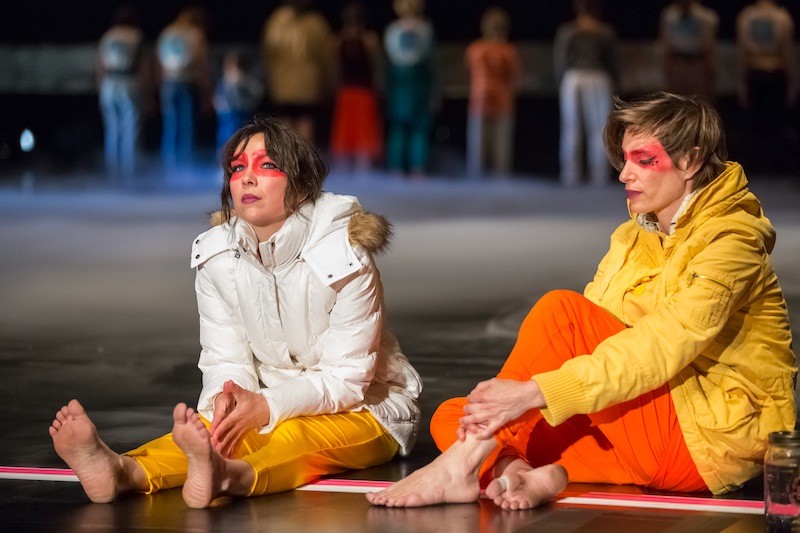 Pictured: Emily Johnson and Krista Langberg as part of SHORE; Photo: Erin Westover
"Feasting and volunteering were really part of making that work," said Johnson. "The lanterns are made from wild salmon skins from Alaska, so first we'd eat the fish. And at those workshops, I was floored that they were happening, that people were volunteering, that they were becoming so invested in this performance work."
SHORE premiered in Minneapolis in June 2014, but Johnson said the New York incarnation will be unique because of the local organizations she has partnered with. As part of her teaching practice, Johnson holds Community Visioning workshops that encourage people to think about their "wants" for their neighborhoods, cities, and lives. She held one of these workshops at Gibney Dance in November, and said that this is where the seeds were planted for SHORE's New York volunteer projects.
"That's part of the joy of it for me, is I really get to know a place based on what bubbles up in the workshops," she said. "It's really quite amazing how specific people get. As an outsider, I get such a pulse about what is wanted in a city."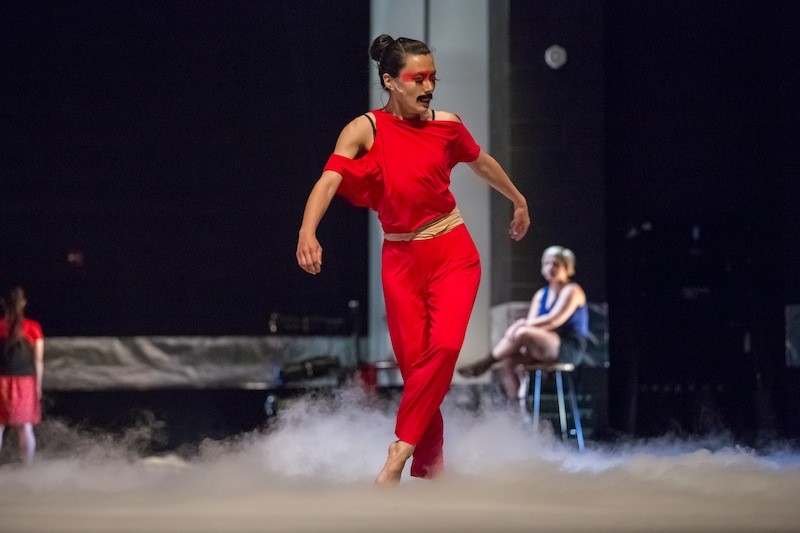 Pictured: Aretha Aoki as part of SHORE; Photo: Erin Westover
Performing arts organizations are always searching for new and larger audiences, and the community-oriented structure of SHORE is an innovative approach to audience building. Johnson said that many Minneapolis audience members came to several of the SHORE events, and that there were plenty "new faces" at the performance. However, she emphasized that the SHORE performance is one equal part of four, and that building an audience does not just have to mean getting people into the theater.
Ultimately, said Johnson, SHORE is about creating opportunities for participation and caretaking. "I care for my audience and the people who participate and work with me very, very much. And I also want to provide situations where we care for each other and work things out together," she said. "To do actual work in the world is not easy. To make a good future is not easy. So we have to be active in that process always. It's absolutely an effort to be part of each element of SHORE. That's conscious on our part."
SHORE PEROFORMANCES AND EVENTS:
SHORE: COMMUNITY ACTION (volunteerism) in the Rockaways
Apr 19 11am- 3pm
Meet at Firehouse 59 located at 5803 Rockaway Beach Blvd, Rockaway, NY 11692
SHORE: COMMUNITY ACTION (volunteerism) on Governors Island
Apr 24 11am-4:30pm
On Governors Island. Meet at 10:45am at 10 South St/ Battery Maritime Building.
Space is LIMITED to 30 participants.
SHORE: STORY (curated reading) at Two Bridges Neighborhood Council
Apr 19 at 6pm
In the Community Room, 82 Rutgers Slip, New York, NY 10002
Features Ben Weaver, Sahar Muradi, Chris Moore, Emmanuel Iduma, Tim Carrier and Live Lines, a youth poetry group from Two Bridges.
SHORE: PERFORMANCE at New York Live Arts*
Apr 23-25 at 7:30pm
at New York Live Arts (219 W 19th Street, Between 7th and 8th avenues, New York, NY)
*The performance will begin at PS 11: The William T. Harris School, 320 W 21st Street (between 8th & 9th Ave.). Patrons should arrive here, not at New York Live Arts.
SHORE: FEAST Group Bike Ride*
Apr 26 at 12:30pm
Red Lantern Bicycles, 345 Myrtle Ave, Brooklyn, NY
Bicycling songwriter, poet, and SHORE cast member Ben Weaver, will lead a group bike ride starting at Red Lantern Bicycles in Brooklyn and ending 6 miles later at the North Brooklyn Boat Club where SHORE: FEAST will take place.
Free, registration requested.
SHORE: FEAST (potluck celebration) at North Brooklyn Boat Club
Apr 26 2pm - 6pm
North Brooklyn Boat Club, 49 Ash Street, Brooklyn, NY
Under Pulaski Bridge, on Newtown Creek
Outdoor event, please dress for the weather
Free, registration requested.