Erik Abbott-Main on Boy Friday's "Cowboy" at Prime Produce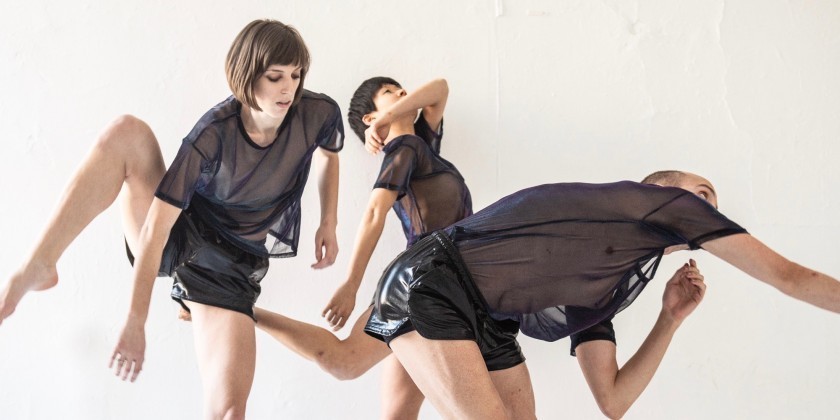 Boy Friday's "Cowboy" at Prime Produce
424 West 54th Street
June 6th and 7th, 8 p.m.
For more information and tickets, please go HERE
---
Have you ever felt an all-encompassing desire that vanished as soon as you possess the thing you were longing for?
This phenomenon captivates choreographer Erik Abbott-Main. Cowboy, his latest work premiering at Prime Produce, springs from a deep dive into the romanticism of the unattainable. For the past year, Abbott-Main and the four dancers of Boy Friday have been indulging in yearning in all its forms, exploring everything from private bedroom singalongs, dream dates, Courtney Love's badassery, and confetti cannons.

"I wanted to create a fantasy world," Abbott-Main explains. The glitzy world of Cowboy — complete with toy ponies, drag queens, and body paint — is just that.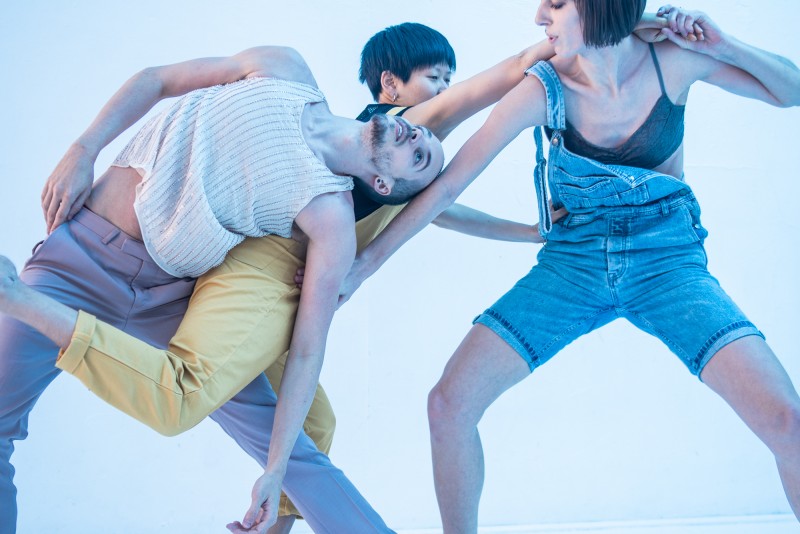 Boy Friday's Cowboy; Photo by Umi Akiyoshi
A year ago, while reading Maggie Nelson's Bluets, Abbott-Main was fascinated by the author's vivid descriptions of a specific color of blue that existed only in her mind. Her fixation on the infinite variations of blue revealed a vast potential for human longing.
"People kept giving [her] blue things, but it was never what she wanted," Abbott-Main describes. "She feels like: the blue is uniquely mine — just let me dream about it. You don't have to supply it to me."
Bluets became a jumping off point to explore other things possible only in fantasy. For Abbott-Main, the cowboy was the perfect archetype. Strong and self-reliant, the classic lone wolf's independence is precisely what makes him desirable and unattainable. "If you actually had a cowboy, he wouldn't be a cowboy anymore," Abbott-Main asserts. "He would be innately changed. So then do you just move on to long for something different?"
Boy Friday's Cowboy; Photo by Miguel Anaya

Last month, in residency at the Kaatsbaan International Dance Center, the company explored desire from the other side of the coin. "We talked about women being the object of desire for men and the experience of catcalling." Rooted in desire without possession, catcalling is a loaded cultural practice that exposes a complicated blend of wanting, and being wanted. "I didn't set out to be political," Abbott-Main says, "but I did want to bump up against things that are culturally experienced right now."
To transform the environment from everyday to extraordinary, the company brushes up against glam. The three-sided space of Prime Produce will be brought to life by flashy bodysuits, silver mylar flooring, and live painting of the performers.

"The environment of the piece is as important to me as the concepts," Abbott-Main adds.  "I want to invite the audience to come closer, meet us halfway. I want to invite people to dream. It has become a bit of a taboo in personal life."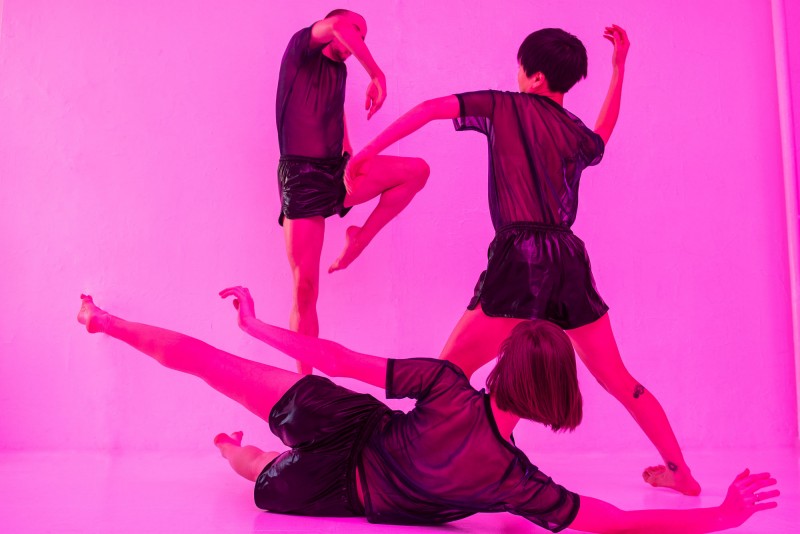 Boy Friday's Cowboy; Photo by Umi Akiyoshi
Exploring both individual and collective dream space, Cowboy's vignettes feel like a string of prose poems. In driving unison sections, the dancers remain keenly aware of the voyeur. They perform presentational jazz squares and strike smiley poses. "Unison has always fascinated me," Abbott-Main confides. "I have been thinking about how at times it borders propaganda. But coming together is inevitable."

In contrast, four solos expose each performer's uniqueness and vulnerability. Alone, they express shared movement motifs with new personality. Suzie Rzecznik hits sharp isolations that whisper at her aggression, while Mei Yamanaka extends her long limbs, confidently filling the space. Lindsey Harwell perches motionless on tip-toe then stomps forward valiantly, almost leaving a wake of dust. Watching Maddie Irmen spinning in abandon, I remember spinning as a girl until I fell down dizzy. I wonder: What is my unique inner life? Who am I in my daydreams that I cannot be in connection with others?
This private life, ever-present in each of us, is the one we're often the most guarded to share. Cowboy seems to ask: what's inside of you when you aren't being cool?
---
The Dance Enthusiast Covers The Stories Behind Dance Performance and Creates Conversation
For more Behind-the-Scenes Stories of the NYC Dance World Click on our Day In The Life of Dance Section.