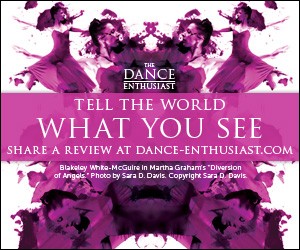 Related Features
The Dance Enthusiast Hits the Streets: FAB x TCS Dance Block Salon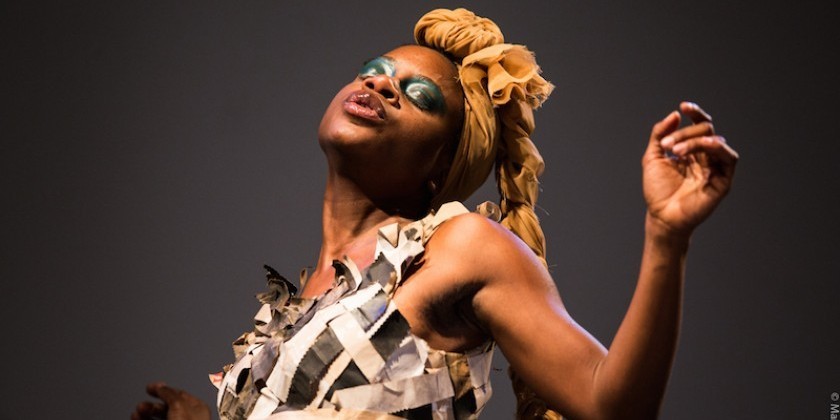 Fourth Arts Block Pairs up with the Current Sessions to Establish New Connections
Fourth Arts Block (FABnyc) is described as a "neighborhood switchboard operator" by Executive Director Risa Shoup, who, along with her staff, organizes The Dance Block Salon four times per year. Pairing with a different arts organization each time during this part social-get- together and part-showing event, FABnyc initiates new and unexpected connections between participating artists, institutions, and attendees.
The salon includes a works-in-progress component for emerging dance-makers, some of whom participate in another FABnyc program called simply Dance Block. The Dance Block initiative works with companies and theaters on East 4th Street between 2nd Avenue and the Bowery to make low-cost rehearsal space available to dancers.
During the first salon of 2016 held on March 2, the FABnyc teamed up with the budding presenting series the Current Sessions at the eco-friendly, Alphabet City venue (complete with rooftop garden) the wild project.
While formal presentations are necessary and wonderful opportunities for artists, work-in-process showings are equally vital. Dance Block Salon invites choreographers to share their their work even at the earliest stages of development, thereby encouraging adventurous choices and playful experimentation. Katrina Reid, a choreographer who performed a solo that evening, said, "What is especially inviting about the Dance Salon is its emphasis on works-in-process. I just finished a project that involved a dress rehearsal and tech. After that, I wanted to experiment and, for a lack of a better term, 'fuck things up.' The FAB staff kept reminding us that this [time] is for us."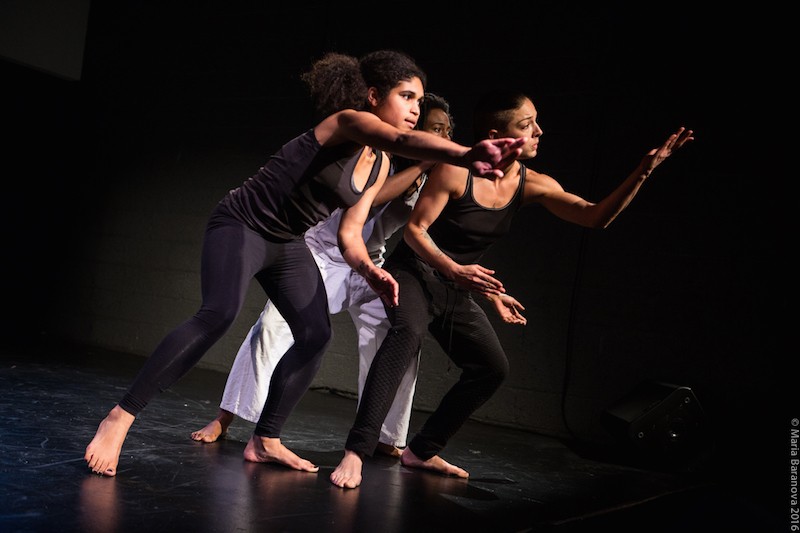 Alicia Raquel and performers during the works-in-process portion of the evening. Photo: Maria Baranova
Nadia Tykulsker, FABnyc's Director of Programming, emphasized that her role isn't to judge a work's merit but to give a platform to choreographers. She and the staff find great joy in being connecting and supporting such a breadth of artists and organizations.
This joy and dedication to creating an artistically engaging creative environment pervaded the evening. Spirited chatter ensued as performers and viewers casually commingled in the gallery space and theater drinking wine and craft beer. "Artists are willing to talk during these events," Tykulsker said, noting the infectious energy. "And we really want to get to know them, as well as the audiences in attendance to find out what brought them here."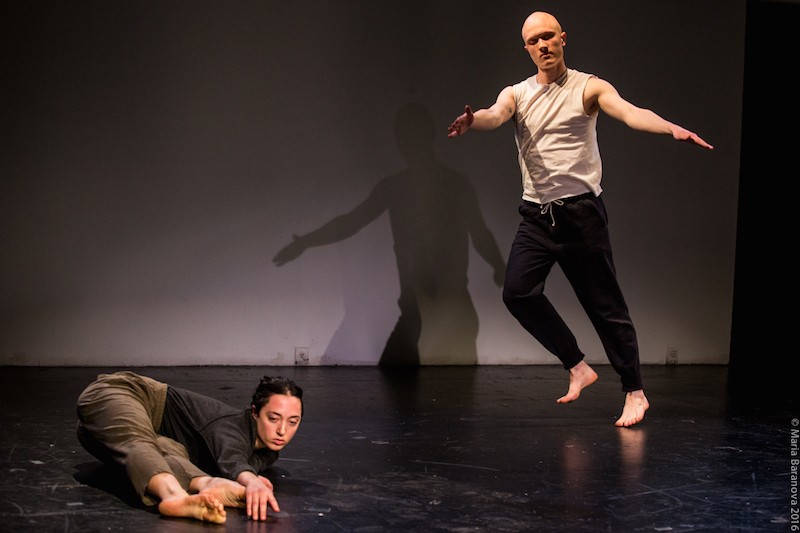 Lydia Mokdessi and collaborator during the works-in-process portion of the evening. Photo: Maria Baranova
What distinguishes FABnyc from many other cultural institutions is its commitment to the local community. Their ARTUP program, for example, commissions Lower East Side artists to paint murals on underutilized spaces. Workshops on land use, website building, and, a bi-annual reuse & repurposing event, Load OUT!, are only a few of the ways that FABnyc gets neighbors to interact.
"Deeply rooted in our history is the ability to create space, in a very literal way," said Shoup. "We were founded to coordinate the purchasing process for eight city owned properties [now serving as participating Dance Block spaces], and to ensure that they remain permanently affordable spaces for arts and culture. I think that notion of making space within collaboration is inside everything we do."
For information on FABnyc's history and various programs go to: http://fabnyc.org