The Dance Enthusiast Hits the Streets: A Tour of the Museum at FIT's "Dance & Fashion" Exhibit
DANCE & FASHION
EXHIBITION DATES: September 13, 2014 – January 3, 2015
The Museum at FIT, Seventh Avenue @ 27th Street
---
Meet Valerie Steele, Chief Curator of the Museum of the Fashion Institute of Technology
at The Dance Enthusiast's November 12th Enthusiastic Event!
For a link to purchase tickets and information clic
k here
When I entered FIT's stunning new exhibit "DANCE & FASHION" Friday morning for a press preview, Dr. Valerie Steele, the director and chief curator of the museum, excitedly told me about her most prized possessions.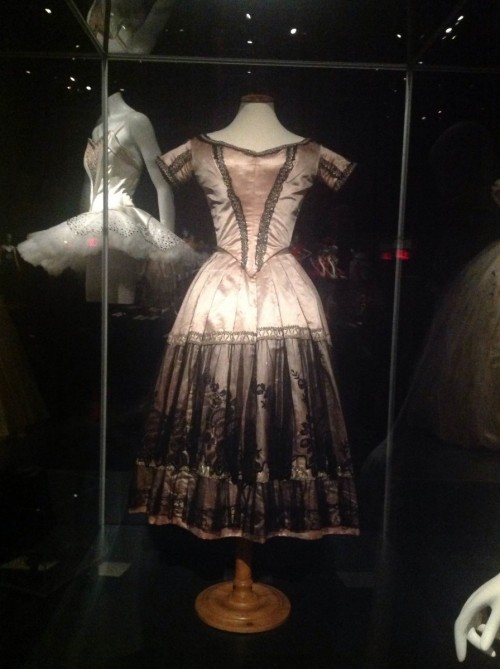 The Great Romantic Dancer Fannie Elssler's costume from one of her most famous roles in the ballet Le Diable Boiteux (1836).
"I am proud we got a dress that ballerina Fanny Elssler wore in 1830, and look at the shoes that she danced in. They are very much like the fashionable shoes of her time that are next to them.  Oh, and look over there: isn't that Yves Saint-Laurent dress for Roland Petit's Notre Dame de Paris (from 1965) just wonderful?"
Elssler's shoes (left) and fashionable shoes influenced by Elssler from the 1830s (right)
As my eyes scanned the room, my heart raced with anticipation of a closer look. Even better, Steele pointed Christian Bérard's design for Léonide Massine's Symphonie Fantastique and then reminded me of Bérard's influence on fashion icon, Dior, and costume legend, Karinska.
"How long did you work on this exhibit, Valerie?," I asked.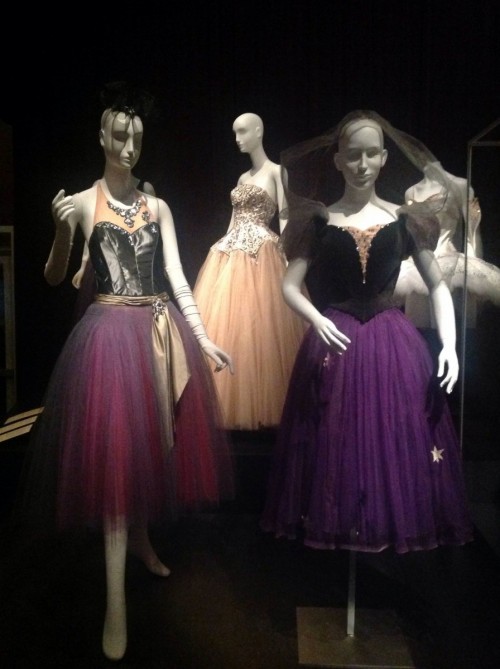 La Valse costume by Karinska (left), A dress with a jeweled bodice by Balenciaga (center back), Symphonie Fantastique costume by Christian Bérard (right)
"It took a year and a half and a staff of about 30 people. I could not be happier. Marc Happel at New York City Ballet was a tremendous help, but we were able to pull from so many different epochs and places: Ballets Russes costumes and the fashion they inspired; Serge Lifar's and Anna Pavlova's shoes; contemporary New York choreographers and designers, as well as Lacroix and Gaultier. I think you will enjoy it."
And ENJOY I did.  In the anteroom, one finds video and photo installations including this year's seven-minute film Metamorphosis by Ann Ray, starring Paris Opera Ballet dancers Aurelie Dupont and Jeremie Belingard. The two wear costumes from thirteen different ballets, including Alexandre Benois' design for Fokine's Pétrouchka (Petrushka).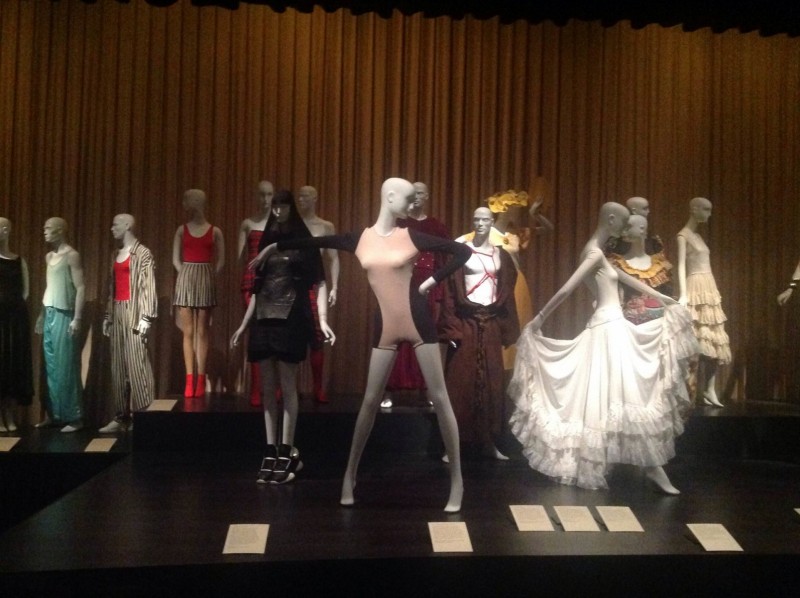 Narciso Rodriguez costume for Stephen Petronio Dance Company's Locomotor (center); The white dress was worn by Judith Jamison in Alvin Ailey's Cry (right)
The sound score that accompanies the exhibit is carefully chosen. I felt as if the music changed just for me upon hearing Laura Nyro's voice sing her "Been on a Train" in the very moment when I looked at the costume Judith Jamison wore in Alvin Ailey's CRY. (Ailey set one of the work's sections to that particular Nyro-penned song).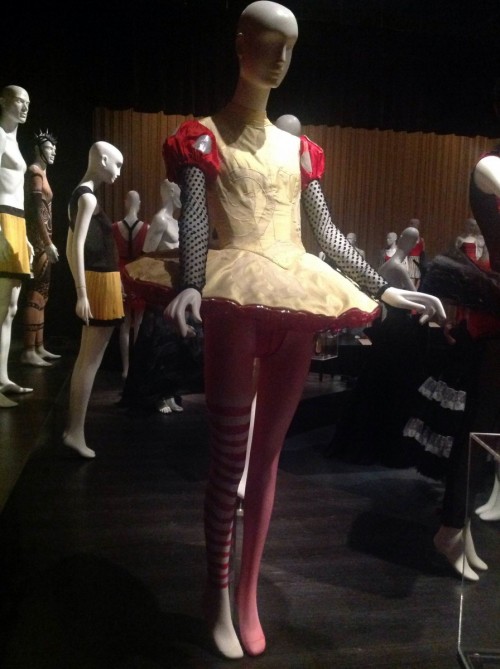 Christian Lacroix costume for Karole Armitage's Les Anges Ternis (1987)
Many costumes reminded me of the first time I saw the dances they were designed for. But more than a personal walk down memory lane, I received an amazing education in the cross pollination of dance and fashion since 1830.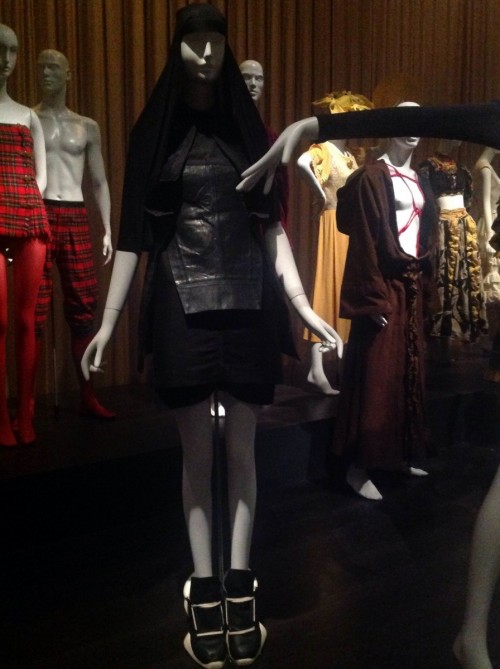 A Rick Owens design
A live performance concluded my experience. Designer Rick Owens employed a cast of step dancers for his latest show. FIT invited four members of 'Team Vicious'  to assert that Owen's dresses allow for ample movement.
The exhibit will be on view through January 3, 2015. Do not miss it!
A special treat will be the FASHION SYMPOSIUM on October 23 & 24 with many participants from the dance world.