Dance Up Close to Faye Driscoll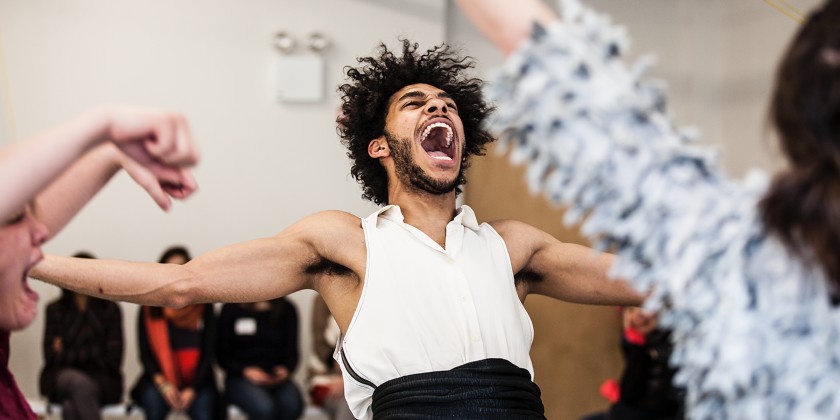 Thank You For Coming Premieres at Danspace Project
Thank You For Coming
March 6-8, 11, & 13-15 at 8:00pm
Danspace Project, 131 E 10th Street, Manhattan
---
Choreographer: Faye Driscoll
Performers: Giulia Carotenuto, Sean Donovan, Alicia Ohs, Brandon Washington, and Nikki Zialcita Visual Design: Nick Vaughan & Jake Margolin; Lighting Design: Amanda K. Ringger ; Sound Design: Michael Kiley; Artistic Advisor: Jesse Zaritt; Choreographic Assistant: Nadia Tykulsker Producer: Alexandra Rosenberg
---
In Faye Driscoll's new work Thank You For Coming, the performers will create not just a dance but a landscape, shaping their performance space with props, sounds, and bodies. The audience will also find itself playing a larger role than simply that of spectator.
Faye Driscoll on Thank You For Coming
---
Thank You For Coming is the first in a series of works that Driscoll plans to create over the next few years, examining group dynamics and how we all participate in the co-creation of our reality. This concept extends to the role of the audience members, who Driscoll sees as co-creators and participants in many aspects of the work.
Some of the ideas at play in Thank You For Coming are a continuation of concepts from Driscoll's last work, You're Me. The heightened awareness of the audience and the way that it can act as a mirror for the performers, and vice versa, is one of these. Driscoll also traces her use of props back to the creative process for You're Me.
Relationship to The Audience
---
"I'm often trying to find objects that have multiple meanings in them, that are kind of talismanic. Like these pieces of latex, where it's hard to tell what they are until someone drapes them on their head and becomes this other character. Objects that have a certain mystery to them, but also an everydayness," said Driscoll.
Much of the sound in the piece will be generated by the performers themselves. "We're trying to build a world where the sound feels like it really comes from the show, literally out of the bodies of the performers, out of the set that we're using," Driscoll said. "There is some singing and a lot of vocal work in the piece."
A Minute of Interconnectedness with Faye Driscoll
The performers in Thank You For Coming spend much of the dance physically connected to one another, intertwined in complex puzzles. This design interested Driscoll formally, but it also reflects the way we constantly influence one another in everyday life.
"If one person moves, it affects the whole chain of people. It's an architectural structure of multiplicity," said Driscoll. "Like a crowded subway car… negotiating space with others."