Related Features
Contribute
Your support helps us cover dance in New York City and beyond! Donate now.
Flying With Grounded Aerial's Karen Fuhrman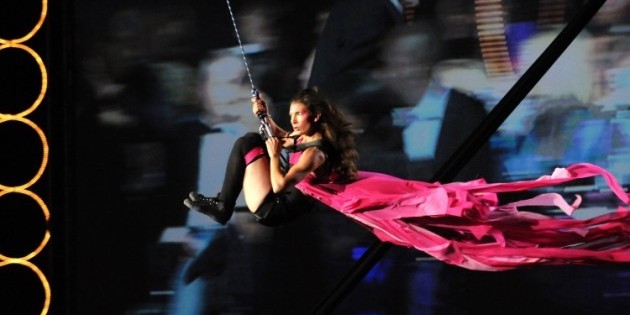 The Dance Enthusiasts Wonders What It's Like to Fly.

Sammi Lim for The Dance Enthusiast
with Christine Jowers (transcribing/film editor)
---
See Grounded Aerial at The House of Yes on Sunday May 19th at 7pm or Monday May 20th at 8pm. For tickets and info click here.

Sammi Lim for The Dance Enthusiast: How did you get tangled up in these bungee chords?

Karen Furhman: First, I am a dancer. I was taught to FLY in the show De La Guarda, an aerial Off -Broadway show that closed. What's playing now is Fuerza Bruta, but De La Guarda was the original.

Once I got in the air I found out about many types of apparatus: silk, rope, bungee and with that just came more exploration and experimentation.

Grounded Aerial isn't only involved with bungee ( though the piece that you saw today was bungee oriented). We do harness work, static lines and pendulums. We also work with apparatus that our technical director Aaron Verdery has created for us. For example, silks that are in a suede sculpture.

Grounded Aerial in Rehearsal
 

TDE: Have you ever gotten vertigo?

KF: No, I never have. I've gotten dizzy after I had my baby. Before my baby girl, Phoenix, I never got dizzy, then I had her and I didn't spin for 10 months or so. Afterwards I got on the equipment and started spinning just like I had before, thinking it would be like "all fine," but I I got dizzy, and my ego was damaged. I had to get back in the swing of things. I am never scared of the height though. I am always exhilarated by it.

TDE: What does it feel like up there?

KF: It feels like how you dream when you fly. You forget that your wearing a harness. You forget that there's some dude holding on to your equipment making you go higher or lower, you forget all that and you feel like you can fly.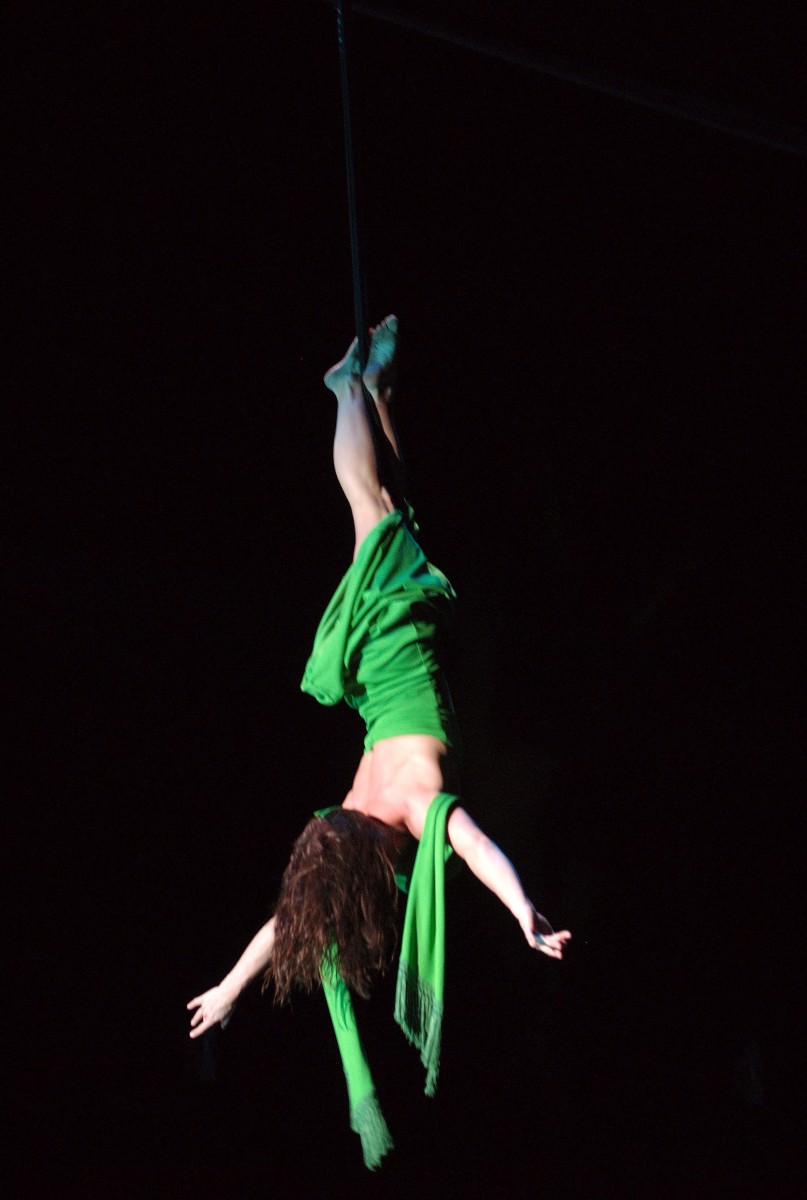 Photo Courtesy of Grounded Aerial
TDE: I notice there are roles and characters in this work, is that true for all your pieces?

KF: Grounded Aerial is very much about dancers who happen to fly. We're not trained circus performers (not that anything's wrong with that). Our background is as technically trained dancers with a ballet core. There is always a theatrical base. We never are presentational only to create a "wow" factor. My work is character driven and that is essential There is not one piece where a performer doesn't have a character. Why we are doing what we do is all based on character. The character levitates for a reason, not for presentational purposes. Of course, I don't have anything against that. When there is "wow" factor, like if we jump 20 feet into the air, I am all for it and I love it! But, there has to be a reason for it. That theatrical base is very relevant. It's the purpose. It's what pulls us in to the performance.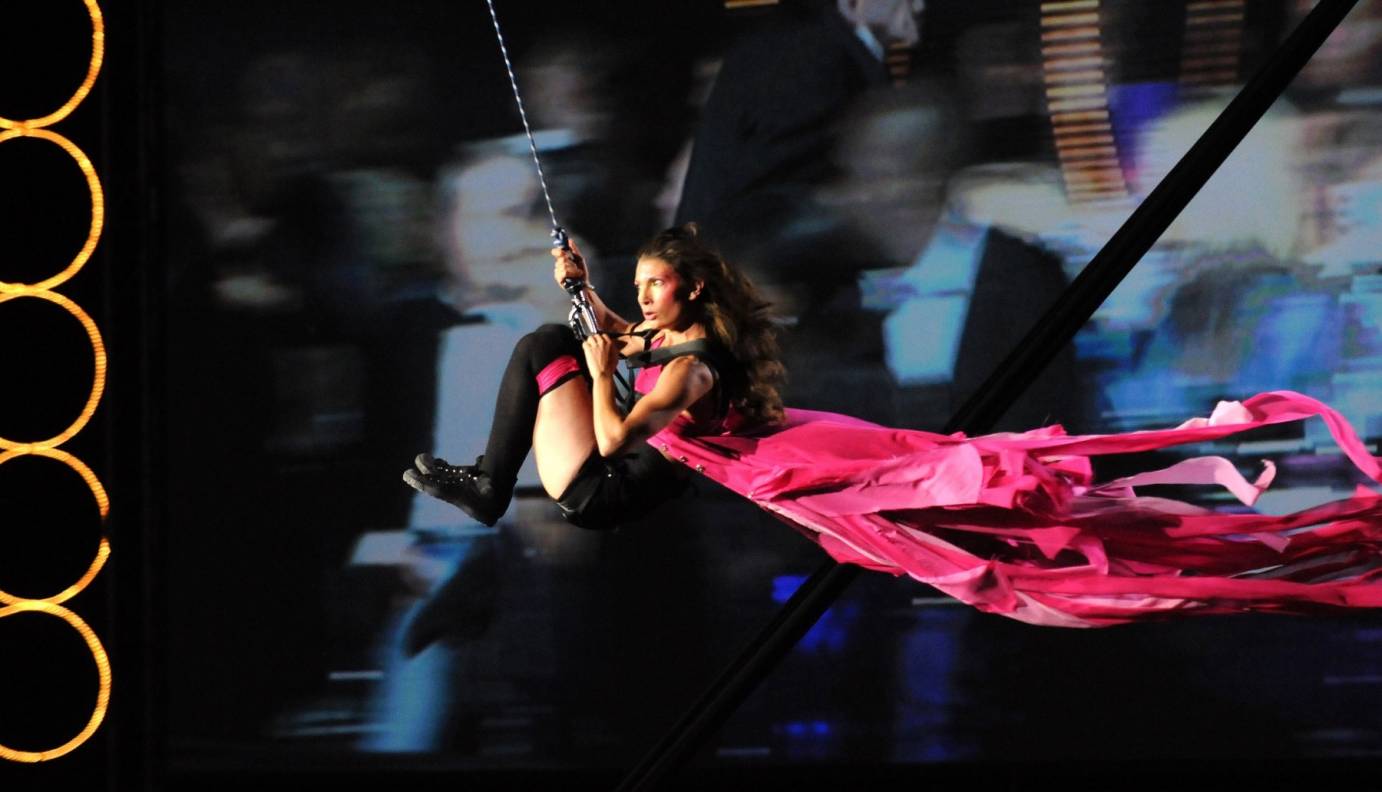 Photo Courtesy of Grounded Aerial
TDE: Tell us about the piece I just filmed and what Sunday and Monday nights' shows will be like.

KF: The piece you filmed is called Twilight and it is very fantasy oriented; however, there are eight other pieces with totally different ideas, characters, music, costumes and apparatus. Each piece stands on its own and all of them are totally unrelated.

Twilight is very fantastical. You are entering a world of an enchanted forest filled with mystery and excitement, but Recoil, for example, is performed to Baroque music and is a duet for two very proper women wearing lace ruffles that cover their necks. They are greeting each other but they just happen to be upside down and spinning!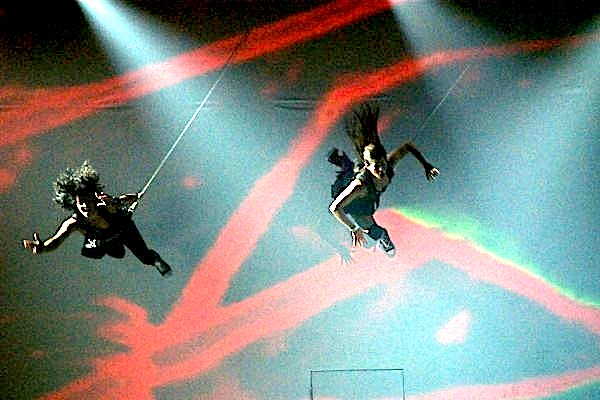 Photo Courtesy of Grounded Aerial

There is another piece called Chance Encounters, where we see two people up on a wall whose reality is horizontal. Then there are dancers on the floor whose reality is vertical. The artists interact on two different planes. This kind of movement reflects all the crazy realities we experience in this chaotic world we live in where we are constantly running about to the airport, on trains, etc. Here, a chance encounter can result in nothing, or in a marriage and a family and a lineage. These moments and this dance are very current day.

TDE: Is there anything else you would like to share with The Dance Enthusiast readers ?

KF: I'd like to tell them that this show and Grounded Aerial aren't BORING. (Laughs). Really though, I mean I get bored very easily. I want the viewers to know that this is theatrical and that you will get invested. You really care what happens to our characters, just like in a good movie. And our artists aren't dancing just for themselves (that the dancers can do in their own bedrooms when no one else is watching ) When they are performing here they are flying and dancing and feeling and emoting to stir the audience.