Related Features
Contribute
Your support helps us cover dance in New York City and beyond! Donate now.
Full Disclosure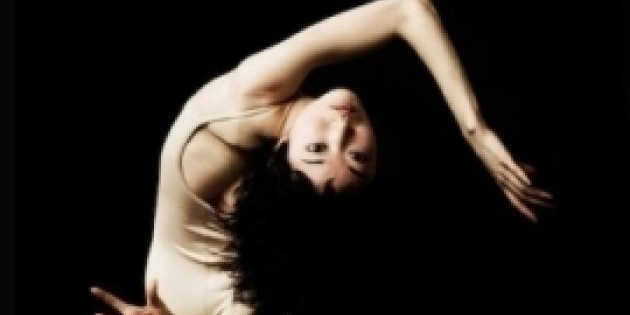 Gallim Dance Premieres Sit, Kneel, Stand
Gallim Dance Premieres Sit, Kneel, Stand 
part of the Gotham Arts Festival at The Joyce Theater. June 8th, 9th, and 10th For Tickets Click Here
Artistic Director/Choreographer: Andrea Miller
Dancers: Francesca Romo, Caroline Fermin, Troy Ogilvie, Dan Walczak, Jonathan Royse Windham, Arika Yamada, Mario Bermudez Gil
---
May 29th, 2012
Written by Cory Nakasue, Associate Editor of The Dance Enthusiast
It's a rainy day in Brooklyn and I duck into the Church of St. Luke and St. Matthew to catch a sneak preview of Gallim Dance's Sit, Kneel, Stand.  The Gallim Dance family: their publicist, executive director, and the artistic director/choreographer Andrea Miller, warmly greet me. I leave my wet things to dry by the door, and I'm handed wine and escorted to my seat. The gray day makes the church feel like a refuge—a home.
It is the new home of Gallim Dance. Though beautiful in all of the obvious ecclesiastical ways—lovely stained glass windows, vaulted ceilings, etc., the real beauty of the space is contained in its humility. The company has created a makeshift lounge on the church stage with stoop sale finds and they are slowly kitting out the balcony with fitness equipment.

Gallim Dance is a young company, formed in 2007. Today, the group of 20-somethings, and maybe 30-somethings, roll around, wrestle and play as they warm up - giddy at the prospect of movement, nervous energy spilling out of their bodies .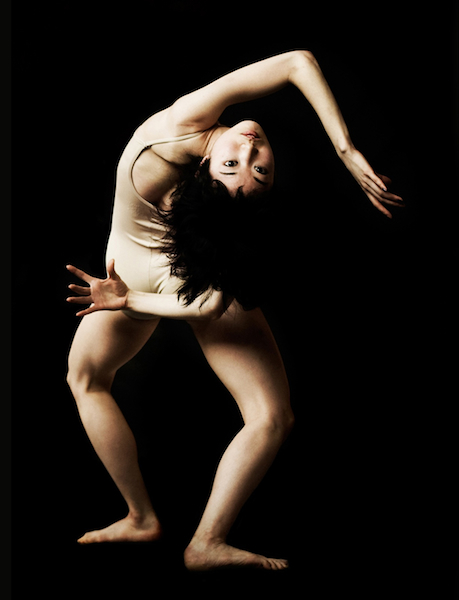 Dancer: Arika Yamada; Photo by Franziska Strauss

Also nervous, but in a disarming way, is Andrea Miller as she addresses us, "I'm so nervous. I'm not a talkative person. Maybe that's why I dance ." 

The modesty in her presence is reflected in her new work, their first full evening presentation. Miller takes a seat behind me and utters barely perceptible gasps and murmurs that coincide with the performance. The dancers move with an angular fragility that reminds me of eager fledglings on the brink flight—always in danger of not quite catching themselves before they fall. The live accompaniment no doubt, is supporting my imagination with sounds of birds in a forest. The sample of the ensemble piece that I viewed displayed a lot of the outrageously full-bodied commitment of Batsheva Dance Company where Miller danced for a couple of years, though Miller's artistry is graced with something more intimate: full disclosure. Some movement exchanges are like watching twins share a unique language or two lovers sharing a private joke. I was a bit surprised to see work of this emotional depth and technical maturity from such a young company and choreographer--young, but not inexperienced. Miller has been busy setting work on prestigious companies and winning awards for a while now.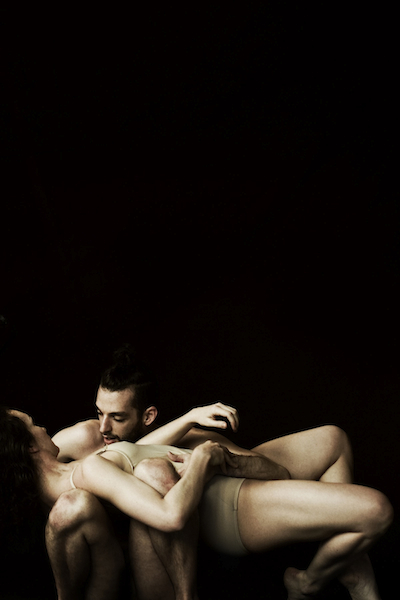 Troy Ogilvie and Dan Walczak; Photo by Franziska Strauss
After a break between sections Miller has this to say:
"This space is something that I've wished for the company since we started. I felt instinctively that I wanted to have a dance company that was a family of artists, of collaborators who would develop a language and learn lessons with each other- each step of the way... With each performance, with each piece, I hope we can  take our language, our questions, the things that go unanswered and develop them into our next work."
She then speaks about how intimidated she was to approach some of the talented dancers who are part of her company now. Here again, Miller exposes her soft underbelly, just as her performers have done in the showing.

How apt that Gallim's new work, based on the myth of Sisyphus, was made in  a church - a place where movement from the soul is worshiped and vulnerability is a religion.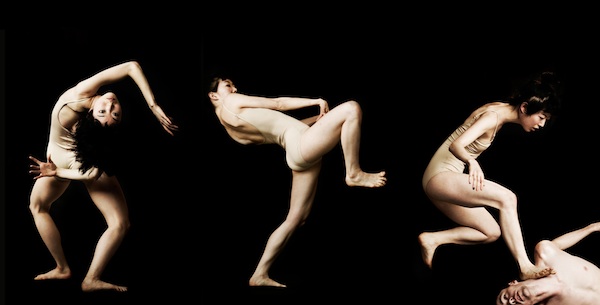 Arika Yamada and Jonathan Royse Windham ;Photo by Franziska Strauss
---
The Dance Enthusiast's DAY IN THE LIFE covers the stories behind dance/performance and creates conversation. For more behind-the-scenes stories from NYC and beyond, click here.
---
The Dance Enthusiast - News, Reviews, Interviews and an Open Invitation for YOU to join the Dance Conversation.