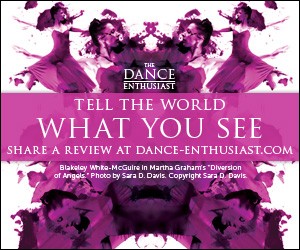 Related Features
The Dance Enthusiast Hits the Streets and Checks out Gibney Dance's bash BASH
Since 1991, Gibney Dance has grown from being a performing company to including two dance centers and a community action program that serves to give greater visibility to the issue of domestic violence.
Most recently, the organization has opened a second location, Gibney 280 (located downtown Manhattan at 280 Broadway) -- the same building that housed former Dance New Amsterdam (DNA).
---
Artistic Director and CEO Gina Gibney and a host of employees, friends and dance supporters gathered for bash BASH on Tuesday, June 17. Celebrating Gibney 280's impressive renovation, they physically broke down the wall between two studios, which will become a 50" X 50" white box studio theater.  
 bash Bash at Gibney 280
"What excites me most about this is that we will finally be able to offer public performances," Associate Director of Operations Michele Wilson said, noting that Gibney 890 can only present invite-only events. "There is more of an opportunity to engage with a wider audience this way."
Board Chair Thomas Scott with the help of his two sons made the first "bash" as The Doors' "Break on through" appropriately blared. Members of the community were also given the opportunity to give the wall a whack, including Gibney dancers, Javier Baca, Jake Bone and Jennifer McQuiston Lott.
"It feels really powerful to be right across from the steps of City Hall and to know that dance matters here," McQuiston Lott said.
Gibney Dance Artists: Jennifer McQuiston Lott, Javier Baca and Jake Bone.
In addition to the political presence across the street, Gibney 280's neighbor is the New York City Department of Cultural Affairs. Over the years, DCA Deputy Commissioner Margaret Morton has watched Gibney successfully lead her company and grow Gibney 890. "We were consistently impressed with the love and smarts she [used to] expand and nurture that space," Morton said. "We thought she was the perfect person and leader to take over 280."
Board Chair Thomas Scott with his two sons
Gibney also shared the latest plans for 280 (the renovation will be completed in October).  Attendees were given a tour and a glimpse into a dance class occurring in studio H. They also noshed on wraps and smoothies made by Impromptu Café's Annie Duffy. The center plans to open the café on the second floor in the fall.
"I feel like there is a lot of symbolism at play today as we use our might to break through all of retractable problems in the dance world," Gibney said during her opening speech. "We want to make this space a symbol of a shift in that dynamic. It just takes little steps every day…I view this as a beginning."
Follow Trina Mannino on Twitter @TrinaMannino