The Dance Enthusiast Hits The Streets To Find GroundWorks Dance Theater + Gibney Dance in Residency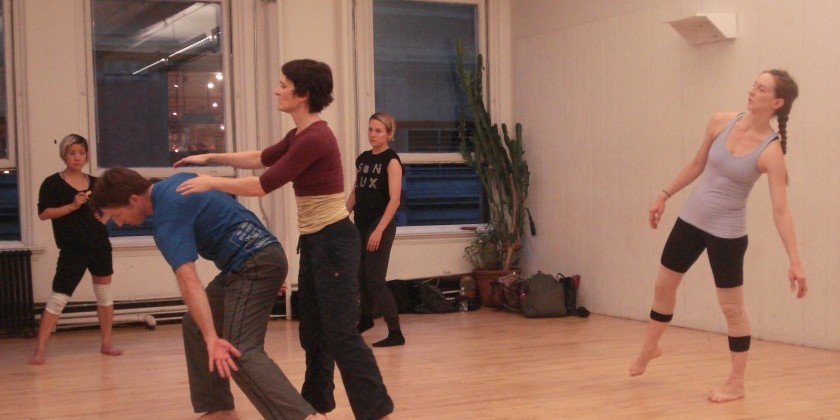 Ever Inventive, Gina Gibney Revisits and Cross Pollinates "Always"
October 30th was the grand opening of Gibney Dance at 280 Broadway.  The celebration included a free class with Julia Burrer (performer with Doug Varone and Dancers), refreshments (because dancers are always hungry), and the unveiling of the new Center and Performance Lab.
Concurrent to their expansion, Gibney Dance is selecting choreographers for their Dance in Process (DiP) program, which provides mid-career New York City-based artists with residency support, including rehearsal studio space, a stipend, and technical and administrative support.  The 2014-2015 DiP artists will be announced by November's end.
Recently, Gibney Dance completed a collaborative creative residency with the Cleveland-based contemporary company GroundWorks DanceTheater. The two companies learned and re-built Gina Gibney's Always, a piece first set on GroundWorks in 2003.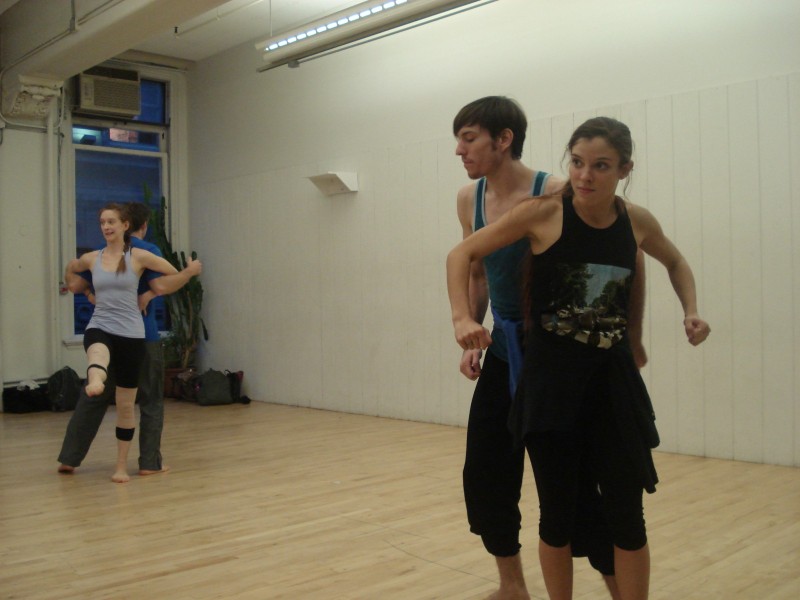 GroundWorks and Gibney Dance rehearsing Gina Gibney's Always
When GroundWorks' Founder and Executive Artistic Director David Shimotakahara contacted Gibney about re-setting Always, he thought she would come to Cleveland. Instead, Gibney invited GroundWorks to work with her company in New York City.  "I figured it would be an exciting time [for GroundWorks] to come to New York City to coincide with the grand opening of Gibney Dance's new studios," she says.  Gibney wanted the piece as part of her company's dance-mobile program, which features free outdoor park performances throughout the city during the summer.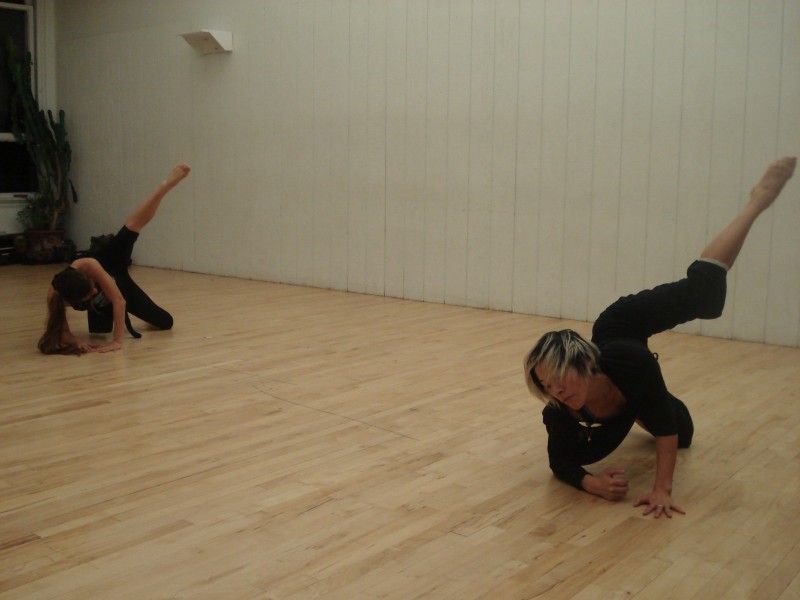 GroundWorks and Gibney Dance rehearsing Gina Gibney's Always
"What a great opportunity to come and see what she's doing with the center," says Shimotakahara.  "And for my dancers, it's a wonderful opportunity to take classes, get some input [on Always], in addition to working with her company members, and cross-pollinating that information. On the first day, it was Gina's idea to have the dancers [from both companies] partner with one another.  There was so much beyond the steps that was being communicated and learned, just through the process of dancing together."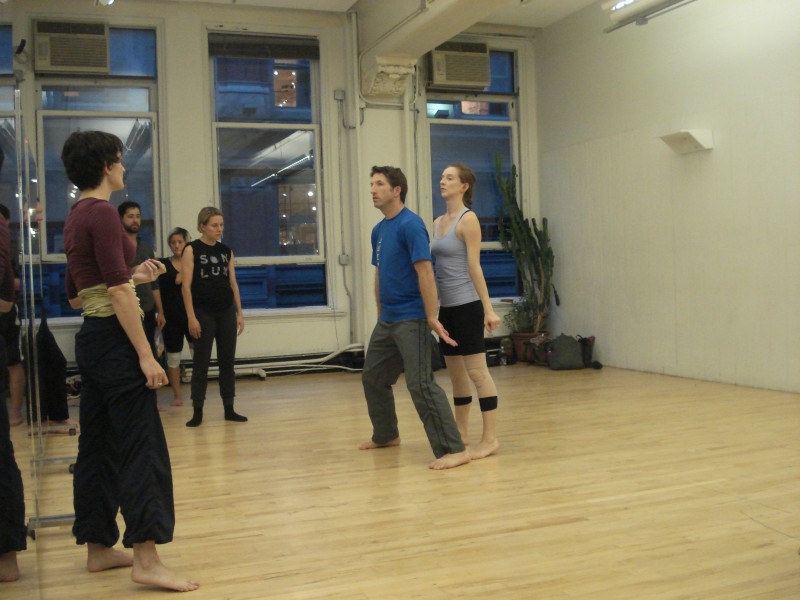 GroundWorks and Gibney Dance rehearsing Gina Gibney's Always
Always, set to selections from Patsy Cline's The Last Sessions album, is a piece "about human interaction, young love, commitment over time to a person, the comedy and the entanglement of a youthful love," says Gibney.  While not a narrative piece, Always evolved as the two companies worked together.  She elaborates, "It goes from a youthful struggle and delight, to a maturing quality of a relationship, with emotions and textures added to the piece."
Shimotakahara, who met Gibney in 1998 while working with her in Ohio's Food for Thought give-back program, says that although there are no plans yet for further collaborations, "We'll always be in touch with Gina.  We're colleagues, and I am very honored that she takes an interest in the company, and that she wants to continue to try to find ways to get together and work."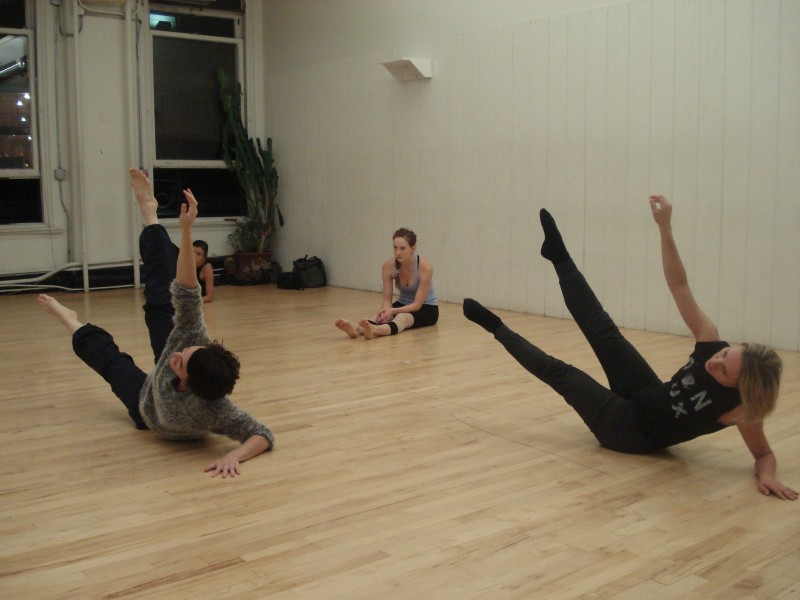 GroundWorks and Gibney Dance rehearsing Gina Gibney's Always
Residencies of this nature interest Gibney. "The ability to bring companies to work with us, and have meaningful artistic/repertory exchanges with other companies does interest me.  In fact, one of the things I want to do with the company is reconstruct works by underrepresented female choreographers." Stay tuned for what happens next!