Chatting about Harlem Stage's Upcoming "E-Moves" with FLUXX, Omari Mizrahi/ Les Ballet Afrik, and Director of Programming Monique Martin
Program A: 5/2-5/4 at 7:30 p.m.: FLUXX, Joseph Webb and Barédu Ahmed aka Long Arms (L.A.) and pop-up performers Sun Kim and Cein Lockefeller
Program B: 5/9- 5/11 at 7:30 p.m.: Omari Mizrahi/ Les Ballet Afrik, It's Showtime NYC and pop-up performer Soraya Lundy (5/9)
Tickets and Information HERE
---
"They say 'where fresh water flowed, now creativity flows,'" says Monique Martin, Director of Programming at Harlem Stage, a performing arts center that honors the artistic legacy of its vibrant neighborhood home. When the hub of creative innovation outgrew its space at Aaron Davis Hall, a massive campaign was launched to restore The Gate House, a landmark building across the street that originally supplied fresh drinking water to New York City. The rebranded Harlem Stage, which opened in 2006, offers nurturing opportunities for artists of color and shares art with the Harlem community as a whole.
Over the first two weekends in May, Harlem Stage will present the 20th Anniversary of E-Moves, four evenings of new work, which celebrate and uplift hip-hop culture. The series is divided into two programs that feature commissioned works by FLUXX and Omari Mizrahi/Les Ballet Afrik, It's Showtime NYC, Joseph Webb and Baredu Ahmed aka Long Arms (L.A.). E-Moves 2019 also includes a series of pop-up performances, curated by Adesola Osakalumi. These are shorter than 10 minutes and offer opportunities for emerging artists who don't have a fully developed piece.
It's Showtime; Photo by Lauren M
"The show isn't so much about hip-hop dance, as it is about hip-hop culture. If you're under the age of 60, you've been impacted by hip hop culture in some way," explains Martin.
The metaphor of water flowing mirrors how the festival has evolved and changed in response to the needs within Harlem's arts community and beyond. Former Director of Programming Brad Learmonth conceived E-Moves 20 years ago as a platform for artists on three levels of development: emerging, established, and evolved. Many once-emerging artists, including Kyle Abraham and Camille A. Brown, are now flourishing.
Martin, who took over the role as Director of Programming in 2017, explains that, as the festival has grown and adapted, it has found a niche in the emerging and established tiers and has implemented robust mechanisms to provide support, including a mentorship program for commissioned artists to continue their artistic development beyond the festival. In 2019, Martin is spearheading a cohort-type system, where E-moves and other Harlem Stage artists of various disciplines get together to share ideas and build a network.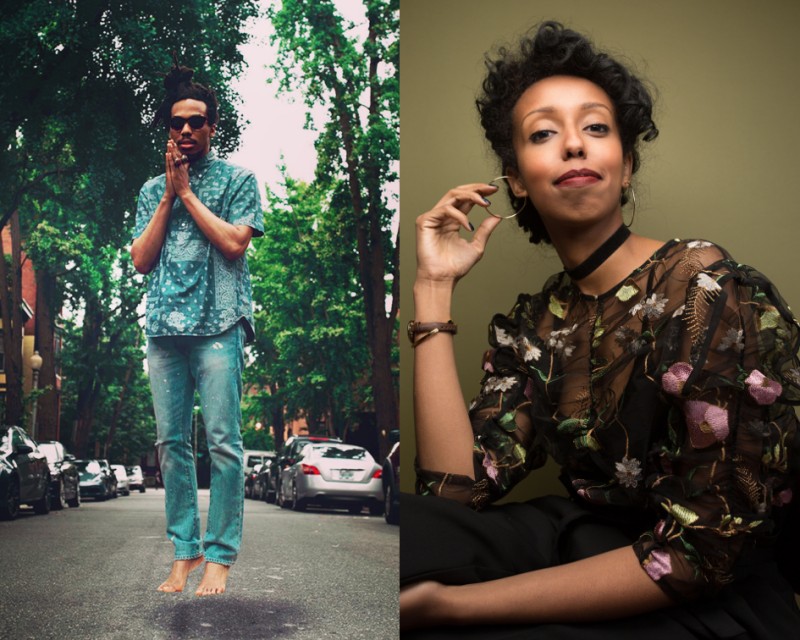 On the left: Joseph Webb; Photo by Daniel Nathan; On the right: Barédu Ahmed; Photo courtesy Harlem Stage
Both FLUXX and Les Ballet Afrik are less than a year old and will benefit from support as they work to streamline an artistic vision and create a company structure. This involves everything from building out a digital presence to creating a fundraising plan. Martin hopes that artists can start to understand the dynamic two-way relationship between artist and presenter.
FLUXX, an emerging collective consisting of close friends Courtney J. Cook, Tendayi Kuumba, and Greg Purnell, will present She'sus, a more robust iteration of a work previously performed at work-in-progress showcases throughout Brooklyn. She'sus began when Kuumba, who was working on a one-woman show, saw an entry for collaboration in Cook's latest investigation. "We got into the studio and guerilla-styled it," Kuumba says of merging the two pieces.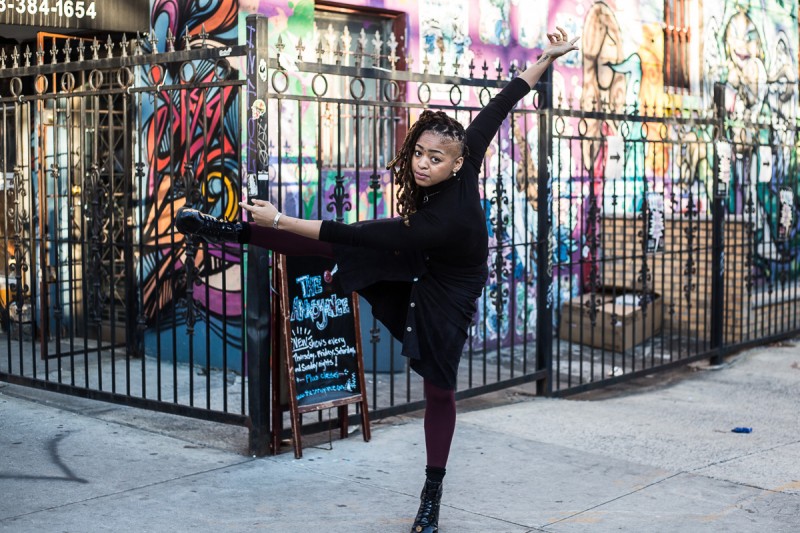 Tendayi Kuumba; Photo by Michal Hančovský
In addition to her diverse movement background, which includes ballet, modern, contemporary, West African, and hip-hop, Kuumba weaves in her experience as a jazz vocalist. Cook has an equally rich dance vocabulary and also a history with liturgical dance that helps outline the underlying theme of spirituality in the work, which celebrates the God-like power of black women. Martin was struck by the work when she serendipitously came across it at a jazz club in Williamsburg.
Omari Mizrahi's Les Ballet Afrik will present Sila Djiguba and Crossroads, two parts of the same piece. Sila Djiguba captures the communal nature of social dance and the energy of bodies moving together, while Crossroads examines the complex nature of relationships. As part of the partnership, Harlem Stages helped Mizrahi partner with Gibney, who offered support for him to complete his work.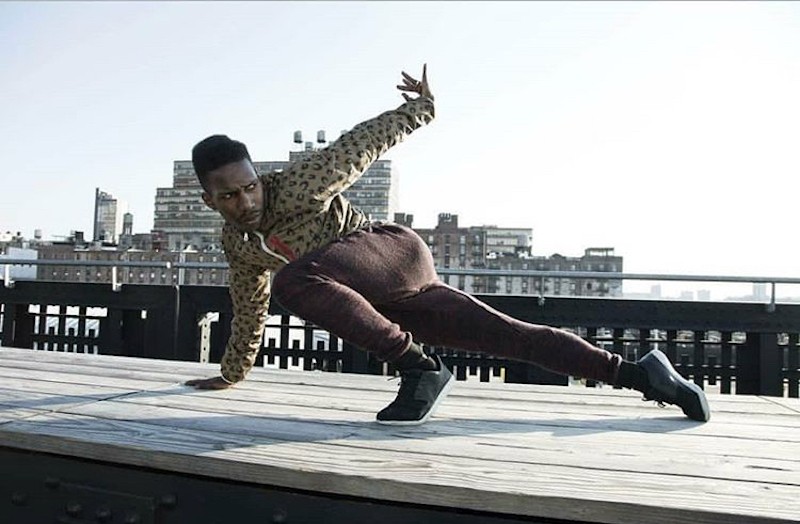 Omari Mizrahi; Photo courtesy Harlem Stage
The evening focuses on hip-hop culture's ability to inspire and move people — and how this translates to a proscenium stage. Mizrahi, who comes from Senegal, explains that Sila Djiguba reflects the circular patterns often seen in both House and African Dance. "I hope that the audience can feel the energy being shared between the dancers. It should make them want to get up and dance," Mizrahi comments.
---
The Dance Enthusiast Covers The Stories Behind Dance Performance and Creates Conversation
For more Behind-the-Scenes Stories of the NYC Dance World Click on our Day In The Life of Dance Section.