DANCE AT A GLANCE: Know Your HIPLET HISTORY as Chicago's Hiplet Ballerinas Debut at Queens Theatre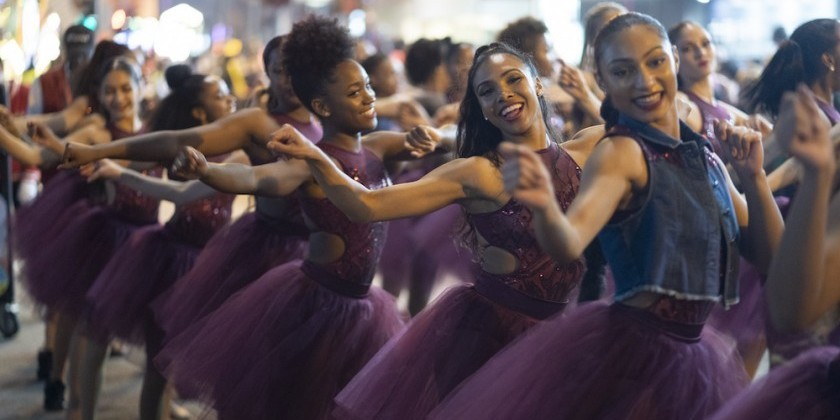 10 (+ 1) Fun Facts About Hiplet and Its Creator, Homer Bryant
This weekend Queens Theatre will proudly present, for the first time, Chicago Multicultural Dance Center's  exclusive Hiplet Ballerinas.  The run is three shows only on Saturday, April 30th at 2pm and 8pm, and Sunday, May 1st at 3pm. Here is a brief history of the company that we think will enrich your enjoyment of HIPLET before you dance on down to Queens to experience the one-of-a-kind dance group.
---
Hiplet pronounced "Hip-lay," rhymes with ballet.
Its name evolved from "Rap Ballet" or Rap+Ballet to "Hip Hop Rap Ballet" to "Hip Hop Ballet" and now voila,  Hiplet! The term was trademarked in 2009.
Hiplet is the brainchild of former Dance Theatre of Harlem super-star danseur, Homer Hans Bryant.
Mr. Homer, as he is known by his students, is the founder, artistic director, and lead teacher at the Chicago Multi-Cultural Dance Center.  CMDC is the official home of The Hiplet Ballerinas and currently the only place in the world where Hiplet is taught.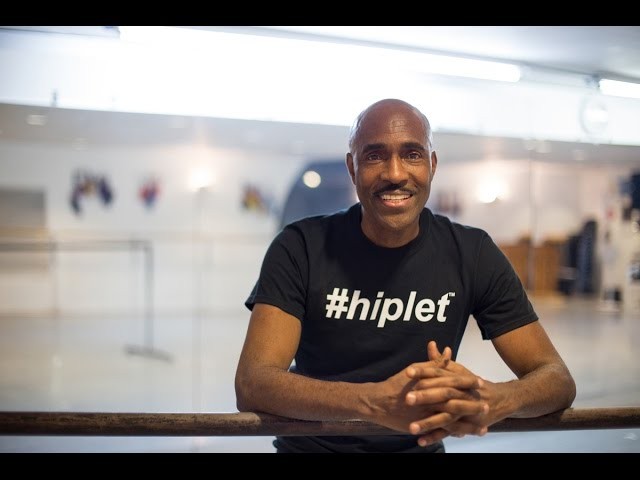 Homer Bryant, creator of Hiplet and artistic director of the Hiplet Ballerinas
 The idea for Hiplet was born in 1990.
Bryant was in British Columbia teaching master classes when he attended a rap music concert. Forty-five minutes into the show he noticed that all the kids in the audience knew every single word of each song, including the profanity. " I walked away with this, if a could put ballet and rap together, I would have a hit on my hands"
In 1991 Bryant created "The Rap Ballet" which included many popular social dance moves of the time like "the running man".
The ballet toured schools in Chicago and inspired students to travel to CMDC in downtown Chicago to learn what it was all about.  Bryant used rap to teach his ballet classes.  "Ballet puts your body in touch with your mind, the rap beat keeps you steppin' in time."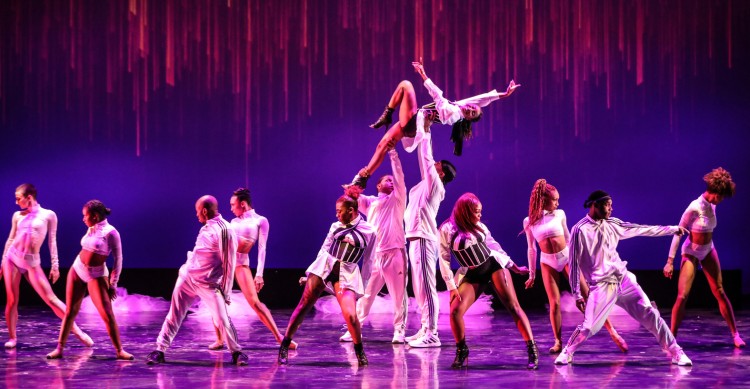 The Hiplet Ballerinas; photo courtesy of the company
Little known dance fact: Bryant's love of dance almost got him 'arrested'
 Bryant hails from St. Thomas, Virgin Islands and loved moving around the house to Fred Astaire and Ginger Roger movies when he was young, but never took dance classes until he "got to the eighth grade and my friend and I would stop at a dance school on the way to basketball practice and watch the girls through the window. After a couple of months of doing that, the teacher came outside and said she was going to call the police. I said, 'But I really want to dance!'" Soon, Bryant was on full scholarship at the local dance school. Then off to Jacob's Pillow on scholarship. As they say, the rest is history.
 
Homer Bryant "the Ballet Disruptor"? 
Yep. Bryant has grown used to being called "the Ballet Disruptor."  He acknowledges that some people are "freaked out" by the combination of classical dance with hip hop and pop culture. "Of course, we have our critics. Anything new, people are going to be upset by it."  But, he believes that dance needs thinkers and innovators who help the arts stay relevant. "If we can't stay relevant with kids, and they are our future, we're not doing so well."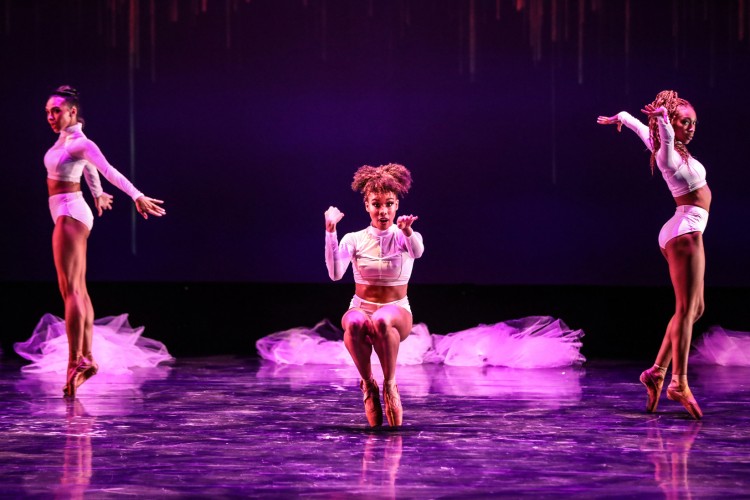 The Hiplet Ballerinas; photo courtesy of the company
Speaking of innovators and thinkers, Bryant is and has always been inspired by Arthur Mitchell.
He tells the story of ​the founder of The Dance Theatre Harlem using tea bags and Ritz Dye to create 15 different shades of brown for the tights and shoes of his ballerinas. Mitchell wanted the dancers' legs and pointe shoes to reflect the beauty of the brown and black skin on their faces and arms. Like, his mentor, Bryant, wants his dancers to find themselves and see themselves reflected in their art form.
 
In 2016, when his students turned him on to Instagram, Hiplet went viral.
Suddenly "everybody" wanted the company to perform.  But, the group, comprised of 12- to-18 year olds, couldn't take all the gigs because they were in school.  It was then that Bryant realized he had to create a professional company.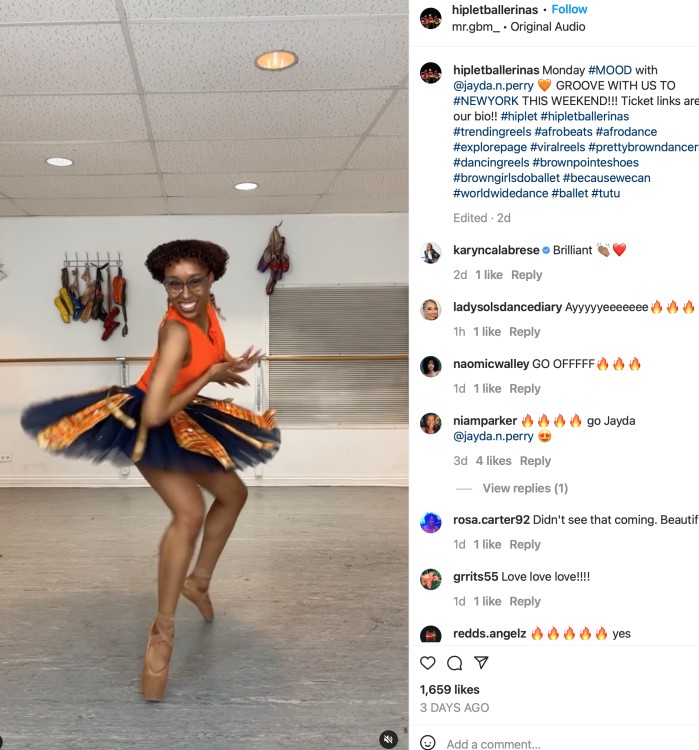 Screenshot from a post on @hipletballerinas' Instagram. Note the Tutu with African print fabric!
Social media sensation with over a BILLION views.
The Hiplet Ballerinas are known all over the world for their signature dancing style and glamour. The company has performed for  Mercedes Benz, Vogue's Anna Wintour, W Magazine, Versace, and Old Navy, as well as in New York and Paris Fashion Week.
 
The Hiplet Ballerinas; photo courtesy of the company
Homer Bryant was featured in the National Museum of American History's The American Scene: A National Culture Collecting Project.
The historical event in 2020 serves as a testament to his influence on the dance scene and credits the Hiplet Ballerinas with entertaining millions worldwide.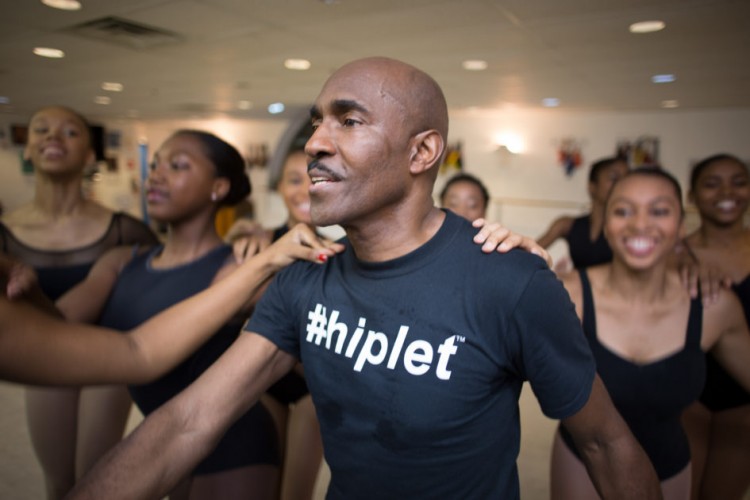 Homer Bryant and his students; photo courtesy of the Chicago Multi-Cultural Dance Center
Hiplet has opened up traditional ballet to more people by fusing it with rap, hip-hop, jazz, and other styles rooted in communities of color. 
The genre welcomes dancers of all shades and body types, yet it is rigorous. Students love Hiplet, because it reflects who they are or, as Bryant likes to say in rhyme: "It's Hiplet, hip-hop and ballet, it requires concentration, great love and dedication." 
Oh and another rhyme : Hiplet is here to stay.
 
---
The Dance Enthusiast's DAY IN THE LIFE covers the stories behind dance/performance and creates conversation. For more behind-the-scenes stories from NYC and beyond, click here.
---
The Dance Enthusiast - News, Reviews, Interviews and an Open Invitation for YOU to join the Dance Conversation.