JANET PANETTA, BALLET MISTRESS TO PINA BAUSCH, SPEAKS: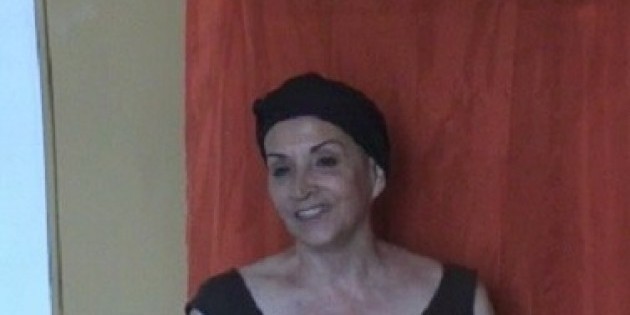 Panetta, Ballet Mistress to Pina Bausch, Respected NYC Teacher, and Owner of Panetta Movement Center-On Technique, Mystery, Money and European Dialogues...
Written by Christine Jowers ©2008
Interview with Christine Jowers ©2008
Training with Margaret Craske, Alfredo Corvino,
and Anthony Tudor
Technique, Teaching, and Mystery
Panetta with American Ballet Theater


"I love ballet. I still love ballet.... but I became a modern dancer. That was it. What was so nice about coming downtown and doing the downtown work was that they liked you for your personality, not in spite of it."



"That's too slow, I just feel too kindly disposed to you today," chuckles Janet Panetta to her class, as she scrolls her Ipod for appropriate musical fare for the center floor adagio.
As I sit parked against the mirror savoring the sweaty hard work smell of the studio, while trying to avoid being stomped on by dancers, I note, "Panetta doesn't remind me of any ballet teacher I've ever had." Maybe that's because she's so cool --part ballet exquisite--with the most gorgeously arched feet you have ever seen, olive skin, regal cheek bones, wide open dark eyes, and a chic black turban spun round her head (she is doing chemotherapy and lost her hair)--and part something else entirely--a down to earth and slightly sassy presence-sort of like the smarter older sister you always wanted to show you the ropes.
"
This
is what it is," she clarifies as she instructs the class that lifting your leg in front of you when your body is facing another direction is just as easy as when your body and leg are
devant
or directly in front of you. In fact, she points out, "The opposition should make you more comfortable."
Panetta has gift of making ballet translatable to all interested students. Her class consists of strong men and women of varying ages, body types, and nationalities (I can hear different languages as they whisper when hashing out a combination) representing all walks of professional dance life from Burlesque to Ballet to Trisha Brown. What they have in common seems to be the passion to learn and an appreciation of Panetta's mastery.
"I chose to teach this technique because it's teachable. Technique is teachable. Mystery is not teachable." Panetta sees ballet technique, specifically the Cechetti technique, as a tool to create a healthy functional dancer. Careful technique gives dancers a strong base from which to begin to discover the mysteries of choreography, performance and the greater mystery of becoming an artist.
A native New Yorker, Panetta is not pleased with the New York Dance Scene. "First of all," she says, " We were the center of modern dance, contemporary dance, and we are no longer. It is finished. We are kind of like a third world country now. We're far away from the rest of the international performance community."
To play a part in changing this situation Panetta feels it is
vital to create dialogues between New York and the international dance community: therefore, Panetta Movement Center offers International Workshops throughout the year with artists from the companies of Pina Bausch, Ballet Prejlocaj, William Forsythe, ROSAS and others.
Panetta keeps the workshops small and affordable and is proud to note that because of her workshops in Manhattan, many students have gone on to create a life in dance for themselves abroad.
"Information you want, of course. IF there is information you want it. But the other stuff that you want in today's atmosphere is a connection that you can call upon-- friends and a network."
Panetta connects dancers to artistry and to each other, sort of a one woman Facebook.
For more info re classes and workshops contact :
www.panettamovementcenter.com
214 W. 29th St., 10th fl. - (212) 239-0831
office@panettamovementcenter.com


---
"I love ballet. I still love ballet.... but I became a modern dancer. That was it. What was so nice about coming downtown and doing the downtown work was that they liked you for your personality, not in spite of it."
Janet Panetta Speaks To Christine Jowers- The Dance Enthusiast- Four Part Interview:
PART I - PANETTA ON NEW YORK
"We were the center of modern dance, we are no longer..." - more

PARTII - PANETTA ON HER TRAINING AND TEACHING
"We were never supposed to go to Tudor's class because Craske and Tudor had a fight..." - more

PART III - PANETTA ON ABT, BALLET TECHNIQUE, AND DOWNTOWN DANCE
"Ballet has become so uniform right now. There is not much difference between Ballet Theatre and New York City Ballet." - more

PART IV - PANETTA ON THE FUTURE OF DANCE, THE ECONOMY, AND OTHER WORK
"I needed more money (so) I went and worked for a financial institution, and was really impressed with how much money I made so fast. Bonuses.It was just amazing to me how little people actually work." - more
---

PART I – PANETTA ON NEW YORK
Christine Jowers (CJ)
YOU TEACH ALL AROUND THE WORLD. WHAT IS YOUR FAVORITE PLACE?

Janet Panetta (JP)
I am very fond of Pina Bausch's Company I love them ...I am pretty much their primary teacher --Ballet Mistress. I was until I got sick...

CJ
DO THEY ALL SPEAK ENGLISH?

JP
English is the language of contemporary dance, you know.

CJ
NO I DIDN'T

JP
It is, it may change... it is just beginning to change now.

CJ
TO WHAT?

JP
That 's their biggest problem they don't know what to change it to but.... English is the Universal Language for Contemporary Dance, they all do their work in English – their text work.

I speak Spanish fluently, I speak some French I can certainly conduct my class in French. It's not worth it. They study English in school.... so even if they are shy about speaking it their English is comparable to my French.

I love my New York dancers.... I think it is hardest for them actually.

CJ
WHY IS THAT?

JP
Because...first of all we were the center of modern dance, contemporary dance, we are no longer. It is finished. We are kind of like a third world country now. We're far away from the rest of the international performance community.

If you are in France and you want to go to Spain, it's no problem. It's a hop skip and a jump. Germany, they go all over. They go all over and they don't come here. Why?

New York doesn't have the money to bring them. I'm talking even big places...They have to be supported, if they are French they have to get money from the French Council and the Americans to bring them here...

We are a huge cultural center. How is it possible we can't bring a French dance company here and pay for it? But we can't.

The theaters are the wrong size because we only have major ones... like Brooklyn Academy of Music where ...someone has to know you ... (for you to be presented).

Used to be Next Wave brought people who were unknown ...They're not unknown anymore. They want to fill that house.

You know, when I saw Pina (Bausch) at Next Wave Festival there were 60 people in that audience...Next Wave has changed its priority.

If you are an unknown here you are not going to fill that big house: however, if you are in Europe you can be considered unknown "here" and go to some place like Théâtre de la Ville where there are 1,000 seats ... you have an audience, and you have a production that is not going into a small place...not going to fit in DTW, that's not going to fit in The Kitchen, it's not even going to fit even at The Joyce...cause it's big. And we just don't know it 'cause we are the impoverished little cousins. It's criminal...

(The dancers today)...just don't even realize the sacrifices (they) are making cause (they) just want to dance you know... You can be "successful" but you're never going to afford an apartment; you're not going to have anything to age and retire with and you've got to figure something out, your social life is going to be thwarted 'cause lets face it ...its not a great place for heterosexual people...If you have that in your future then ok you can take off and have babies, but you are not going to have a job when you get back...In Europe you can have a life, you can go away and have your children. They have crèche's attached to the dance companies so you can bring your child there. You can have a life...

You are payed. You can make a living. Everyone who I know in Europe ...I know dancers as young as 25 and 26 that own their own apartments.

PART II- PANETTA ON HER TRAINING AND TEACHING
Janet Panetta on Downtown Dance:

I love ballet. I still love ballet.... but I became a modern dancer. That was it. What was sooo nice about coming downtown and doing the downtown work was that they liked you for your personality, not in spite of it.
CJ
HOW DID YOU START TEACHING?
HOW DID YOU FIND DANCE?

JP
I had polio when I was 5... I had polio and that was the tail end of polio, but polio killed an enormous amount of children. It was an epidemic.

It left my left side weak, ... had it in my lungs...and... Basically I was in the hospital on an iron lung for a while ... I came out of there and they thought the best thing for me to rebuild my left side was some kind of activity dancing or something. So that was why at 5 years old I was in some ...little class. And remained there until I was 8 or 9...

(One of my teachers)... took me to the Met (saying) your daughter is really talented, she needs to study with my teacher... It was luck I fell into one of the best teaching institutions that ever existed for dance...Metropolitan Opera House.

CJ
AND YOU HAD THERE MARGARET CRASKE?

JP
And Alfredo Corvino, later Anthony Tudor ...You couldn't have put three people together and formed something that was so intelligent to cover every aspect of movement the way they did ...the three of them.

And if you only had one of them you'd probably suffer. You probably wouldn't have the same education...
She was a technical wizard She was brilliant woman, and kind of cold and kind of hard.

CJ
HOW WAS THAT FOR A LITTLE KID?

JP
We didn't mind. (She laughs) When you're really little I don't think you are affected by that. It's when you're older that that kind of power is more dangerous. And by then we had Alfredo who was very kind and gentle and all about moving and rhythm and breath. That was great. He was our fun teacher.

And then we went to Tudor- (she lifts her arm to indicate a high level) that was really dealing with a master. Someone that achieved genius, and you knew you were in the company of a genius. Where suddenly like movement, you know, ronds de jambe wasn't ronds de jambe. Ronds de jambe could mean many things depending on your musicality, what your intention was...

CJ
YOU DIDN'T HAVE ALL THE TEACHERS SIMULTANEOUSLY? YOU HAD CRASKE FIRST?

JP
No no, I had Margaret and Corvino both at the same time from the time I was 8. And it remained that way for a while there. And as you became more serious you came out of Alfredo's class. But if you were devoted, you found a way to go. It was a fun class so we did. . We were NEVER supposed to go to Tudor's class because Tudor and Craske had a fight.

CJ
WHAT ABOUT?

JP
I don't know. It was this sort of fight, and we were Craske's babies and she didn't want us to go. She was sort of possessive and she would say, " If that bald headed man ever comes to ask you to take class with him, say no. Say you are in school and you can't go."
And we did. We would say, oh were in school and we can't go.

Then I went to Ballet Theater.... Craske would go off on sabbaticals Sallie Wilson would come and teach ...I didn't know who she was; I knew she was sort of fantastic.

I had no idea...she was a dancer at Ballet Theater...but again I was 14. I hadn't seen the Tudor stuff. I went to see a performance and it was "Dark Elegies" and suddenly these people had seen in class were on stage...and then at the end, the bald headed man came out and took a bow...and I said (incredulously) that's the bald headed man that I am not supposed to take class with?!?

I went ...the next day. I went like, " I'm going there."...

CJ
HOW DID HE CONDUCT HIS CLASS?

JP
It was ballet ...super ballet. He didn't have her technical knowledge, but you had to have technique before you went in there because you had to throw it away. That technique was there for you to use, you are not supposed to dwell on it (but) you had to have it in order to do what he asked.

CJ
DID HE HAVE YOU WORK ON DRAMATIC SCENARIOS OR SOMETHING?

JP
There was something called production class...in production class you would actually do some of the choreography. How you project certain stuff for class...

CJ
WHAT DID YOU LIKE THE BEST AS YOUNG STUDENT?

JP
If you are a ballet student and you are young, like 10 years old, you think you can learn it.
It's learnable. And if you are studying with a technical teacher it is learnable. So the goal is to learn as much as you can.

Craske- she was older- I was scared of her when I walked in there. She was British, she was severe...She would throw you out...

The old Met had a balcony around it and she would throw you out to the balcony, or sometimes, in the other studio you would be thrown out to the dressing room. You had to go and practice, you had to go and practice whatever it was you did wrong. Depending on when you got thrown out you had to practice for the REST of the class.

CJ
Well did you get thrown out?

JP
All the time (laughs) we all did...
I got thrown out for releve on pointe ... made my pointe work fantastic, I was doing hundreds of releve's on point.... so I really learned...
Yeah got thrown out all the time...
But you do spend some time learning it, analyzing it -why you were wrong.

CJ
How did you help her (Margaret Craske) as a teacher?

JP
I came from a middle class family, and you know I loved dancing... so of course you had 3 classes a week then we go to 4 classes then 5. My parents didn't have that kind of money. So I was on scholarship. So my job, I was like 14, my job, luckily, was to assist her. Wasn't cleaning the studio it was to assist her!

I mean that's a great job.

CJ
WHAT EXACTLY DID SHE TELL YOU TO DO, GO WORK WITH THE KIDS THAT GOT THROWN OUT?

JP
I would demonstrate...cause she was old and it is very hard to teach children if you can't demonstrate. You have to have somebody show you how. So I would demonstrate and then if somebody did it wrong I would take them...and she loved my teaching. I was a good teacher.... And I learned a lot and I realized that that was an opportunity to learn. I understood that relationship.

CJ
RIGHT AWAY.

JP
Right away...

CJ
THAT'S AMAZING, THAT'S REAL MATURE.

JP
Actually, I don't know if it is maturity. I mean I know people come to that and they understand it and they learn it when they teach and they all say it. But it's a letting go of your ego.

See, I didn't really think I was superior to them, I was just older ...if I went in their not thinking I was superior, there was no power. She was superior, not me- I knew that if I went in there and got something wrong I would be yelled at just like that 10 year old. So I just knew I was older...

At that age and in a technique class you think if you learn it all then you'll know how to dance, and there is some truth to that in so far as it is an accomplishment if you actually learn.

(If) you learn how to do demi plie you are going to learn how to jump. You gather what you learn.

If you learn your weight in your arabesque and your shoulder, you have an arabesque (and then she motions as if to put that knowledge into a basket)

It's later that you realize that you have these other things to learn that are not as concrete as technique...There is mystery involved. There's intention. There is talent but talent is the least of the mysteries evolved around an art form...

Yes there's talent... but we all have talent in some way.... maybe you're a jumper maybe your not ...or you have beautiful lines of movement or you understand rhythm or you understand weight or you understand like something conceptual. Everybody's got a talent
And nobody's got all the talent or rarely does it all come together...but the other stuff around it is more mysterious and more philosophical and more about the art form that makes it such an enormous study an enormous discipline and of course you can't possibly learn as a child. You start to learn that as you mature and as you recognize –

As a child you don't recognize what it means to study an art form, your just having fun. You just realize you like it for whatever reason. You don't understand that this is something way bigger...that comes later

The thing about Margaret Craske that was amazing was as incredibly technical as it was, and Cechetti is incredibly technical ...It looks simple and it is incredibly hard...but she made it perfectly clear that you HAD to dance it, it wasn't enough to be technically correct. So that was pretty good. The Cechetti adagios can be 32 counts on one leg and they're slow...painfully slow and there is no dancing involved in them. They are about placement.... taking care of your weight and your placement... They go on forever. There is no filler, like, there's no port de bra... no filler and you've got to dance it...It was a goal that was almost insurmountable....

As I say, Alfredo was the fun one. There was always breath. And Alfredo understood and taught the idea between this (she points down) and going to the floor and getting there...and how fast you had to get there. ...Plus he was kind and sweet. He was Spanish so had this little Spanish accent.

In her class everything had to be correct. In his class you didn't have to be correct, you could actually try to do 5 pirouettes. In her class you do one and do it right. If you tried to do more and you were wrong you had to go outside and practice pirouettes for an hour and a half...(although she would tell you to try more)...

And then in Tudor's class you understood it was an art form. And that actually it was so much bigger than you thought.

PART III –PANETTA ON ABT, DOWNTOWN DANCE AND BALLET TECHNIQUE
Janet Panetta on Ballet Today.

Ballet has become really very uniform right now. There is not that much of a difference between Ballet Theatre and New York City Ballet. There used to be radical amount of difference.
CJ
HOW DID YOU GET INTO AMERICAN BALLET THEATRE?

JP
I just auditioned. I auditioned several times. The third time I auditioned I had the backing of a choreographer who had just risen to power at Ballet Theatre. You needed someone,
You needed someone always to make sure that the director of the company was looking at you cause everyone knew I could dance, it was a given. She took me into the company, Lucia Chase, and she was proud she whispered, " Everyone thinks I don't know a good dancer from a horse, but wait till they see you." That was her comment about me.

But I wasn't the kind of person she liked. She liked redheads and she liked blondes. So my first 2 auditions it didn't matter what I was doing...she was following some blonde girl walking around the room ...she didn't really like dark heads very much and it was her company. So someone had to say to her, " Look what Janet is doing there." Michael Smuin was the person who had just risen to power at Ballet Theatre and so he was doing work and he wanted to use me in some of his work.

I wasn't there for very long. At that time Ballet Theatre would only contract you (they didn't have year long contracts) they would contract you per engagement... so this was on and off ...Ballet Theatre was a part time job... it went on for a year, a year and a half 2 years and that was it.

I loved Ballet Theatre but it became very clear to me that she (Lucia Chase) wasn't going to let me go on to a higher career...I was in the corps. Choreographers asked me to learn a lot of parts, soloist parts. The way it was done was that you would perform them outside of NY and then you would come back to NY and they would discuss who would perform it in NY.

I would go away and never be given a performance. We'd come back to NY and anyone who was injured I was put in for, and I had not rehearsed the work sometimes for several months.

CJ
HOW DID YOU MANAGE?

JP
Well it was rough...and then I would be sort of in trouble with some of the choreographers because they would say it was better when we were rehearsing it...y'know in those big companies you really need someone to watch out for you. I didn't have anyone. Like people are protective of their... people, whoever their person is. I didn't have anybody I was really an independent. Nobody was looking out for me, and I was young, I was like...20 if I was 20 I think ...I was about 20 so I was pretty naive about politics of a big company. I don't know how well I would have managed anyway, but I had nobody. It became very clear after awhile that it was going to be a struggle. I could have made that struggle probably. Certainly other people did...I would have somehow... figured out that I had to keep rehearsing those parts and demanded it or something... but I didn't know.
And you know what, it was at a time when there was other stuff going on.

CJ
AND WHAT ATTRACTED YOU?

JP
I went downtown and saw a lot of modern stuff going on, and I thought to myself...
I love ballet. I still love ballet.... But I became a modern dancer. That was it.

I left Ballet Theater and came downtown and started to work. I did post Cunningham stuff, postmodern stuff.

I was just was like you know, if I m not going to be a principal dancer...(interrupts herself)

And I had problems with being a " fairy princess"

Like I was always hiding my personality a little bit, because I was funny, and that wasn't so good there... If that is not going to work out, what else is interesting out there and what was sooo nice about coming downtown and doing the downtown work was that they liked you for your personality not in spite of it.

CJ
SO IN BALLET THEATRE YOU KIND OF HAD TO HIDE WHO YOU WERE?

JP
Yahh, I had to hide it. I wasn't a little blonde princess. Actually those people don't appeal to me...Now there were other kinds. When I was at Ballet Theatre it was a pretty good company and there were other kinds of dancers there. I don't think frankly that they are there now. I think there all a bit stunted in there (drifts off) I don't know if I should even say that. It's a certain type of person who wants to remain like that, you know, it's not really such an experimental person... When I was at Ballet Theatre there were a lot of dramatic dancers there were really a lot of personalities...strong personalities

CJ
I THOUGHT THAT WAS WHAT BALLET THEATRE WAS KNOWN FOR KIND OF A STAR PERSONALITY?

JP
Well I don't know if it was a star personality, it was a collection of different kinds of dancers and personalities. Ballet has become really very uniform right now. There is not that much of a difference between Ballet Theatre and New York City Ballet. There used to be radical amount of difference. They come from the same training there can't be that much of a difference.

So although I still have somewhat of a preference for Ballet Theatre because of the repertory that they do, in all honesty there is not much of a difference in the dancers doing that rep.

CJ
AND THAT'S BECAUSE OF THEIR SYSTEM OF TRAINING?

JP
Yahh. They're all being trained in the same place. All trained at SAB or if not trained at SAB some NYC ballet satellite (in) Boston, Philadelphia...

It's this watered down Balanchine technique that is not really classical.

CJ
I WANTED TO ASK YOU ABOUT THE DIFFERENT TECHNIQUES.. . YES... CECHETTI, VAGONOVA, FRENCH, DANISH (BOURNONVILLE)...

JP
Royal Ballet. These are strong techniques, strong codified techniques.
Janet Panetta on Ballet Technique:

Technique is teachable. Mystery is not teachable...
What they are getting at SAB and what they get mostly around is not really technical work that's correct: that is functional. It is why ballet has a bad reputation in the dance world of how much it can injure you.

Like, there are things in there if you do THAT way it will injure you. What I'm teaching won't injure you. What I am teaching actually is pretty logical...For instance in Cechetti you never over cross 5th position. You cross to your big toe joint...It's actually considered wrong if you go any further...it puts you on the wrong place on your leg...

...In Cechetti you are in a place where you are on both legs. It doesn't matter if you pick up your front leg or your back leg. You are on both legs...

CJ
SO IT'S BALANCED AND HEALTHY?

JP
It's healthy and functional. I chose to teach this technique because it's teachable. Technique is teachable. Mystery is not teachable. You can point people in directions but the mystery ...even being a choreographer, that 's a mystery. It has some skill involved but you can't teach it otherwise everyone would be a successful choreographer. People can't even replicate their own work that works, you know. So that's not teachable. I chose to teach technique because it was teachable.

CJ
YOU GET A REAL SENSE OF THAT IN YOUR CLASS. WHAT I NOTICE IS THAT YOU TRY TO MAKE IT LOGICAL, TRANSLATABLE.
IT HELPS YOU IF YOU CAN BE COMFORTABLE.

JP
If you can be comfortable if you don't have fears about it. The people who really hate ballet are the ones who were tortured in it. Its really true they were somehow tortured in it.... they didn't fit it they got yelled at...whatever... It was so against what they wanted to do in their body and it was the only dance they had so they hated it. If it's taught in away like this (she points to her classroom) there is no reason to develop that kind of psychological stigma about it.

And then, let's get real; there are many different ways to approach movement. They all have some information, that's good. Well, this one's one of the oldest. So its tried and true ... why would you leave it out ...you know. There is no reason to leave it out.

CJ
BEFORE I CAME I GOOGLED UP JANET PANNETTA AND SAW THE DISCUSSION MOVEMENT RESEARCH WAS HAVING ... SHOULD CONTEMPORARY DANCERS TAKE BALLET?

JP
I'm like ...if you don't want to you don't have to.

CJ
IT"S CALLED FREE WILL.

JP
Understand that if you are in a school, you don't have free will. There's a lot you don't have free will about in a school, and you actually give up some things to be there so you'd better accept that as a contract on your way in.

CJ
BALLET IS FASCINATING. WHEN I WAS WATCHING YOU I WAS SITTING UP A LITTLE STRAIGHTER...IT SEEMS SIMPLE BUT ITS NOT.

JP
Simple, but not easy. Simple and hard.

One of the things that you have to be is specific. That's a part of your training ...whether it's your work or someone else's work, you want to be specific. So if it's this (she shows and arabesque with the right arm) and you want to do that arm (the left arm) all the time because its helping you with your weight ...NO, you gotta have your weight. You gotta figure that out. SPECIFIC.

People come for different reasons in there.... And what I have always had in my class that is fantastic is that they come from all over...I have burlesque people... I've always had people from every dance company in New York. For a while, like in the 80's and Early 90's you came to me, that's who you came to, it didn't matter where you danced. Even now I have Trisha Brown people, I have some Cunningham people... burlesque people...and they're all different ages... and Bang people.

CJ
IT SEEMS TO BE ABOUT LEARNING.

JP
And then once they get through the technical part... once they're freed from being hindered by the technique, once they can free their minds up... then they can really, in depth, go after the mystery or what's going to make them completely individual in a work.

What you see in there, they are completely individual. There are no 2 people looking alike in there.

CJ
WHAT IS YOUR FAVORITE THING ABOUT TEACHING?

JP
...If you are actually able to free someone, if someone is having a problem with something and you see the light bulb go off in their head. It doesn't matter if its your 10,000 time of saying that to them. Like you see that light bulb go off and you're really happy and you're restored. ...That's doing something real good for you emotionally and spiritually because you are restored from it as much as they are. So that's great ...

You know I've taught for 33 years. And when I ...I teach everyday. I teach 5 days...well, now I'm not ... I'm teaching 3 days and I have another day of privates so I am teaching 4 days a week right now. But prior to this... I teach everyday of my life. I get on an airplane on Saturday and teach again on Monday in another country...that's an enormous amount of teaching.... that's not like (teaching) one month or two months a year, that's a different kind of teaching. And you know, it's not boring; it's not boring to me.

PART IV- PANETTA ON THE FUTURE OF DANCE, THE ECONOMY, AND OTHER WORK
Janet Panetta on The Future of Dance:

There is a dialogue going on between the international community and New York. That may save us in the dance world...It may.
CJ
COULD YOU IMAGINE YOURSELF DOING SOMETHING ELSE?

JP
Yeah, I imagine being an architect. I don't think it's going to happen. It's very similar to this but I don't think it's going to happen this time.

The only thing that.... It was really fun to be a dancer and a teacher, a dancer and a choreographer. Being a teacher ... and aging where I can't do it (dance fully) is somewhat frustrating.

CJ
REALLY?

JP
Yahh sure...its somewhat frustrating to me to not be able not do as much as I used to and honestly, I don't see myself being like 80 years old and doing it...I might. ...But I'm not sure I'm interested.

My teacher couldn't get up. She was 78 when I walked in. She got up then but by the time she was older 6 to 8 years older, she didn't get up very much... I don't know maybe at that point you say, well that's all I can do and I want to keep doing, and its a life force to go to work...but right now I don't imagine that.

CJ
...WHEN I SEE YOU MOVE THOUGH.... IT'S VERY SOPHISTITCATED.

JP
Some of it is still there that I can see. I know that and I'm glad for that. But y'know
I am talking about now ME...for me I think if there's a point where I really can't get up and at least mark with the music a little then I might not do it anymore.

CJ
WHAT WOULD YOUR LIFE HAVE BEEN LIKE IF YOU NEVER DANCED?

I don't know really cause I really danced my whole life and I was a successful NY dancer ... I had a child when I was kind of young ...you know I was 28 ...young for now...but so what it did was it meant that I wasn't going to tour and I didn't, but I ended up dancing all the New York Performances for several choreographers...so I ended up having one (performance) a month in New York for several years.

CJ
AND WHAT WAS YOUR FAVORITE?

JP
I don't know...I liked the movement stuff but of course I finished with the post-modern stuff that was more minimal and that was really fun to do. It was all about performance.

I probably thought it was all fun that's why I stayed in it for so long...I liked it all. That's why you stay in something. I mean I have taken time off.

I took of 3 years when I was young I took some time off and stopped... and then later I took some time off when I was about 45...

CJ
FOR MENTAL HEALTH...

JP
It was a financial thing...

CJ
YOU NEEDED TO DO SOME OTHER WORK?

JP
I needed more money. I took some time off. I made a lot of money doing something not very well... I went and worked for a financial institution... and I was really impressed with how much money I made so fast ...Bonuses...It was just amazing to me how little people actually work.

CJ
IT MUST AMAZING TO YOU BEING A DANCER, I THINK ONCE YOU'VE BEEN IN DANCE, WHEN YOU GET OUT OF IT AND YOU SEE HOW OTHER PEOPLE CONDUCT THEIR BUSINESS....

JP
They do such a bad job and they have no responsibility. And you are all about responsibility, and your all about doing a really good job. So they loved me at my job.

Anytime I have gone outside of dancing, the two times I've done it, I've been loved in the work I've done. The first time was with this sound engineering studio, where they did voice-overs. You know I became the vice president of that place within a year... And this financial institution they put me in one place...
Janet Panetta on the Economy:

I needed more money. I went and worked for a financial institution, and I was really impressed with how much money I made so fast. Bonuses...It was just amazing to me how little people actually work.
They liked my work so much they kept changing what department I was in. I was never really comfortable where I was, but apparently I could organize their departments better than they could...

What became apparent to me, I was there eight months close to a year...certainly was making a lot of money. It was easy, (but) I knew, that it was only in the moments I was involved with dancing that I actually knew who I was. I was sort of like playing a part of somebody else.

And one day at this place, it was really nice, they would buy you lunch; they were very nice to their employees. We'd sit around and eat lunch, and finally, one day this guy was talking to me ...he said y'know your stories are incredible... what are you doing here? And I thought yeah, I don't know....

And then it occurred to me I had been to Europe before then I had been to Europe in the '80s and had gone to France it didn't occur to me to go back. In that moment I was like why don't I just go back whey don't I contact some of my European connections...

Yknow Dance was dying in NY therefore I was dying in New York... I thought it was just me ...Actually it was the 90's somebody had stopped the blood flow by taking away all of the money...so I started going to Europe...

The way it was in the 80s and (early) 90's here for me was the way it had become in Europe so fast.... I have a lot of work in Europe, more work than I can do is what I have and that sustains this class actually.

They come from all over the world to study with me. They come here and I'm like "Where are they going to live." What are they going to do?"
But if they come, OK.

CJ
THAT'S AMAZING.

JP
It is. I have had a really great life here dancing like I don't have anything to complain about.

CJ
YOU REALLY LOVE TEACHING.

JP
I love teaching. I love dancing and I love performing ...but you know now that's what I do I teach and I really love it.

Moving is great.

CJ
ITS STRANGE WHEN YOU DON'T DO IT FOR AWHILE AND YOU MISS IT AND YOU FEEL SO SORRY FOR THE POOR SUCKERS WHO NEVER HAD THE CHANCE TO USE THEIR BODIES. YOU KNOW WHAT I MEAN.

JP
They have no idea what they've been missing.

Well movement is incredibly important and now we know that... The whole society knows that. We all know THAT NOW you must do something aerobic for your health build up some weight or we go to yoga...It's catching on.

CJ
I REMEMBER THE DANCE WORLD ...IN THE 70'S, IT SEEMED REALLY EXCITING... DO YOU THINK THAT IS GOING TO COME BACK AGAIN?

JP
Here in New York? I have my doubts. First of all we have a problem in our society we no longer differentiate between art and entertainment. That is a problem. When I was a young dancer...anyone who I ever talked to on the street...anyone...any blue collar worker... I'd say, "oh I'm a dancer" and they'd say," Oh like on Broadway" and I'd say no I'm a ballet dancer.... and they would (draw back) They knew that it was a HIGH art. They didn't have any personal experience with it but they knew it was a high art form. A classical ballet dancer was different from Broadway... it was different than television. We don't know that anymore.

In our society ...its all based on money...all success here is based on money. New York has really gone that way. This Mayor Bloomberg , you know, can support the arts personally but he doesn't understand how to nurture them.

The whole fabric of this city, you can't live in this city unless you're a banker or in real estate... and I love New York. I'm a native New Yorker I defend New York all the time.

But do I think that's going to come back ...I'm not sure yet.

What has started to come, which is good, is instead of us being in a vacuum and instead of our international counterparts being separate, there's now some kind of a conversation.

... I think my studio has helped that by having these European people come here. And I think now it's pretty much happening all over. So there is a dialogue going on between the international community and New York.

That may save us in the dance world...It may.