Jessica Lang's American Ballet Theatre World Premiere "Her Notes"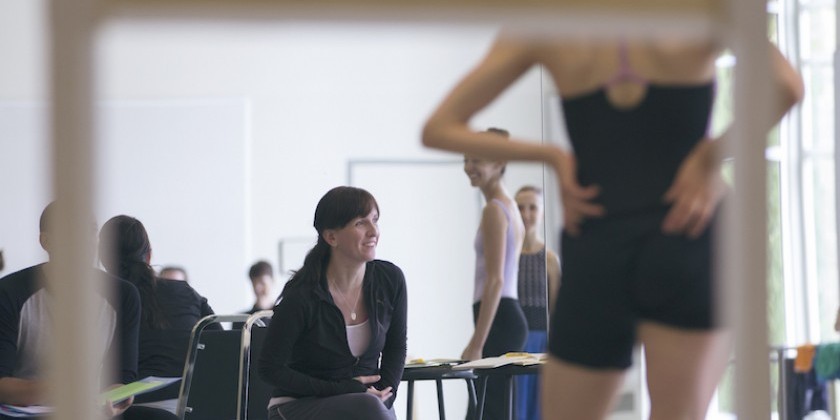 American Ballet Theatre
October 21 at 7:30 p.m.; October 23 at 7 p.m.; October 27 at 7:30 p.m.; October 28 at 7:30 p.m.; October 29 at 2 p.m.; October 29 at 8 p.m.
America Ballet Theatre's Fall 2016 program also includes Monotones I & II, Serenade after Plato's Symposium, The Brahms-Haydn Variations, Symphonic Variations, Daphnis and Chloe, and Prodigal Son.
Pictured above: Jessica Lang in rehearsal with Pacific Northwest Ballet. Photo: Lindsay Thomas, courtesy of Pacific Northwest Ballet.
---
"I was always creative," says Jessica Lang, the Bessie-winning choreographer whose work is shown by companies around the world. She's been making dances for close to two decades, using a signature calling card of textured emotion and strong visuals to create the effect of shape painting sound. New York audiences will have the opportunity to witness this ethos in a world premiere, Her Notes, commissioned by American Ballet Theatre.
Her Notes is set to and inspired by the music of Fanny Mendelssohn, the lesser-known but equally gifted sister of Felix Mendelssohn. Discouraged against publishing her work due to the family's high social standing, Mendelssohn produced over four hundred compositions, many of them for piano, the instrument in her home.
Lang says, "Fanny's most famous work, "Das Jahr" (The Year), is the focus of my ballet. The Year was written as she and her husband took a yearlong journey. At the end of each month, she wrote a musical reflection of their experience. The score, which is written on different colored pieces of paper, has a drawing and a poem by her husband inspired by the music."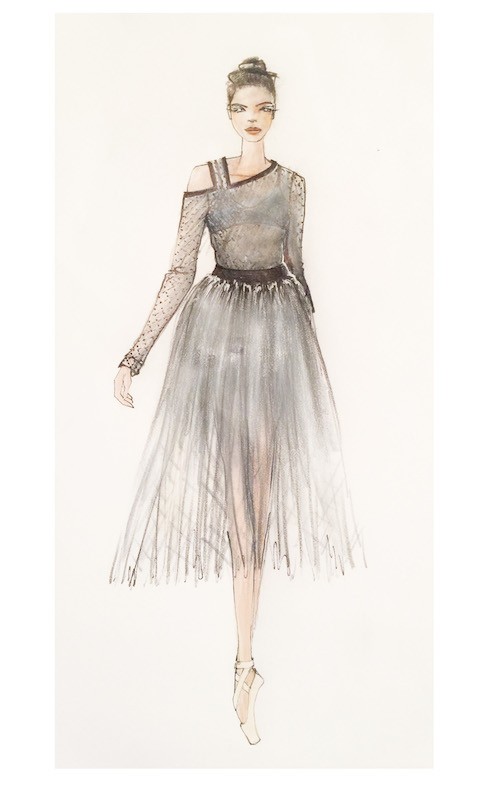 Costume sketch for Her Notes by Bradon McDonald. 
She immediately connected to the music of Mendelssohn. "It is beautiful, and I immediately saw the ABT dancers in my mind. I was so inspired by her thought and care and emotional response to each month. I felt it was instantly poetic and feminine, and I wanted to explore this."  
For Her Notes, Lang selected four months — January, February, June, December, and the Postlude — to set on an ensemble of six women and four men. Gillian Murphy and Marcelo Gomes appear in the beginning, middle, and end to moor the piece. Lang had a bounty of talent to choose from at American Ballet Theatre. Strong technique, a currency the company trades in, isn't the sole quality she seeks in a dancer. She appreciates performers who possess "a spirit that is unafraid to express emotion, intelligence, awareness, consideration for others, musicality, and who want to be in the creative process with me."
Lang liked that Mendelssohn's music was from a time period (1841) in which women didn't often compose. "This music proves the historical issues women face by receiving lack of opportunity. Perhaps by pulling focus toward the actual art — both her music and my ballet — I begin to demonstrate change in perception." She feels the endless discussion of where are all the women in ballet choreography only perpetuates the problem rather than offering a solution forward.
American Ballet Theatre dancers in rehearsal for Her Notes. Photo: Susie Morgan Taylor.
Lang believes that seizing opportunities is key for all up-and-coming choreographers, regardless of their gender. "Choreography is not something that can be practiced without opportunity. If we were painters we would just keep buying tools to try and trash and try again. With dance, we need so much more just to find out if there is any potential in us."
Even after seventeen years of making dances, one thing hasn't changed in Lang's work. She remains deeply involved with all aspects. "I still have my hand in it," she says. Lang doesn't worry about burnout or her creative well running dry. "In the end it is my life — not only my career. I love what I do. I have a life, and it includes creating. So the question of how do I stay engaged creatively — one would say I never disengage. Sure I rest, but creativity is not a 9-5 job. It is happening always. And my creativity keeps me living a very interesting life." 
---
The Dance Enthusiast Creating Conversations/ See More Conversation in The Day in the Life section
For more on women in ballet, click here.
Share your #Audience Review of this show or others for a chance to win a Foodies delight, Gourmet Olive Oil