Related Features
Contribute
Your support helps us cover dance in New York City and beyond! Donate now.
Moving Caribbean: A Journey through Cuba with Martha Graham Dancer Lloyd Mayor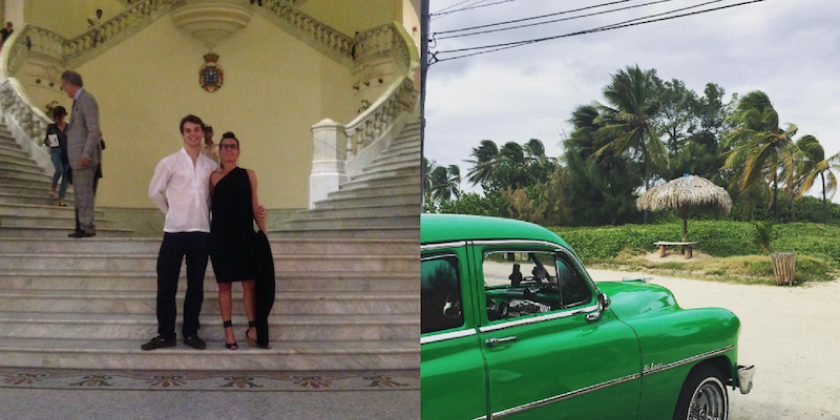 Lloyd Mayor was born in Geneva, Switzerland and trained at the Rambert School of Ballet and Contemporary Dance in London. At 17 he then moved to New York City to pursue is dream of being in the Graham Company and joined the Martha Graham School of Contemporary Dance in 2011. The following year Mr. Mayor joined the main company. Lloyd Mayor has danced lead roles in the Graham repertoire, including Appalachian Spring, Diversion of Angels and Embattled Garden. He has also been featured in Andonis Foniadakis's Echo as Narcissus and in the lead role of Richard Move's Achilles Heels which was first danced by Mikhail Baryshnikov. In January 2014 Mr. Mayor won the Clive Barnes Award, which recognizes excellence and outstanding talent in theatre and dance. Lloyd Mayor is now a member of the board the foundation. In 2016, for the company's 90th anniversary Mr. Mayor danced an excerpt of Appalachian Spring with the Étoile of the Paris Opera Ballet and new artistic director Aurélie Dupont.  
---

One of the largest islands in the Caribbean Sea with 11 million residents, which has had its doors closed for more than four decades, holds dance as a sacred art.  On October 26th, I had the great opportunity to visit Cuba with the Martha Graham Dance Company, one of the first American arts companies to perform there since the easing of embargo under the Obama Presidency.
Dancers Arriving in Cuba Photo: Lloyd Mayor
We landed in Santa Clara and drove to the capital, Havana. Immediately one is submerged by the warmth of the climate and green patches of land that cover almost all of the island. The drive gave us beautiful panoramic view of the vibrant countryside before entering the vast capital. Thick fronds of palm trees give way to delicately decaying mint, red and yellow houses. The colours fit in brilliantly with the quintessential 1950s Cuban-American cars, or what the Cubans call carros, that one so anticipates and hopes to see — and boy, do you see them.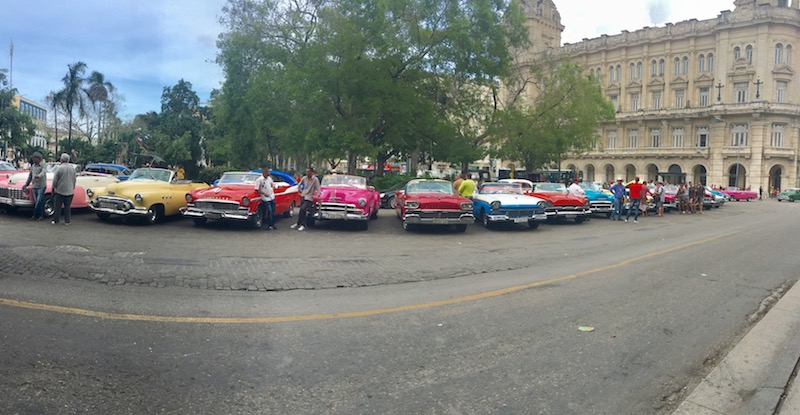 Colorful Cars of Cuba Photo: Anne Souder
As soon as you hit the outskirts of the Havana, one can't help but appreciate the sight of these retro Cuban carros. They spark up the joy of the journey through the city. The carros' designs and colours are endless, and they are owned by regular folk. In fact, the only cars Cuban citizens can own legally are cars created and bought before 1959, which is obvious when you notice no seat belts in any cars.
On the first day the company was invited to a reception at the U.S. Ambassadorial Residence just outside of Havana. The impressive mansion was very inviting with its cool marble floors and beautiful grounds. Mr. Jeffrey DeLaurentis, Chargé d'affaires, hosted us exquisitely and kindly explained the history of the building. Built from 1932-1942 it is more than half the size of the White House and has survived war, revolution and occupation. After being abandoned from 1961 to 1977, it is once again a hub for American-Cuban relations with President Barack Obama, First Lady Michelle and their daughters staying in residence when they visited Cuba in March 2016, the first U.S. President to visit in 88 years!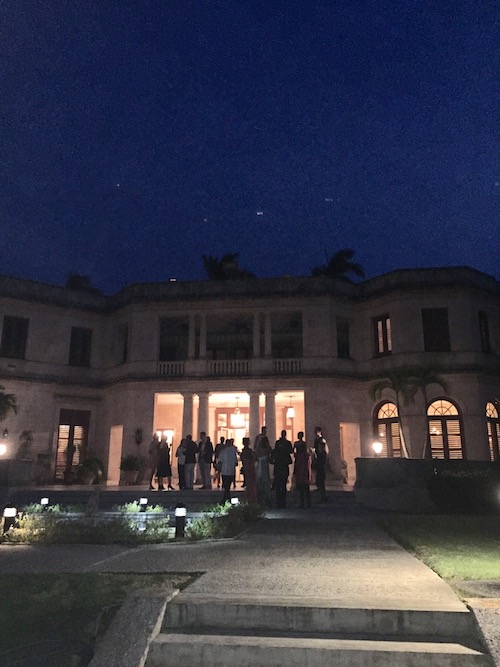 The U.S. residence
During my stay, I had the privilege of meeting a few acquaintances and friends who are native to Cuba. We often conversed about the country's development and recent changes. The feelings and views that were shared were intriguingly mixed. Most of the older generations expressed a love for their independent culture and unique identity and sounded wary about losing it, whereas the younger generation were looking forward to new emerging cultural exchanges beyond the island. Interestingly enough, it reminded me of the generational differences that have been noted in other countries when populations are faced with a paradigm of change.
The constant contradictions encountered were riveting. The country still demonstrates a robust machismo culture, yet many Cuban women are strong influencers in the arts and other communities. I quickly understood that this was a highly complex and paradoxical place filled with polar oppositional views. Its complexity and state of continuous flux make it quite fascinating. Rigid conclusions should be avoided, I hope they get the time and space to make their changes at their own speed.
Photo: Anne Souder
As the days went by, the constant warmth and humidity of the rainy season forced one to slow down and breathe more deeply… The local tempo and flow of the city takes hold of you; the charm and the love of the people enthralls you. One evening, I had the delight of meeting Iraida Malberty at the opening night of the International Cuban Dance Festival. Iraida Malberty trained many of the great dancers of Cuban ballet for over forty years and still teaches to this day. Her passion and knowledge deeply moved me. It was then and there that I finally understood both physically and intellectually just how much dance is revered and loved in Cuba. The acclaim, pride and joy that the Cubans experience through dance is simply life-giving to witness and a complete match to the breath taking Baroque architecture of the theatre and its opulence.
Iraida Malberty with Mayor at the Gran Teatro De La Habana
After taking in a few sights like the Teatro Nacional de Cuba and meeting so many beautiful people, it was time to give something back to the people of Cuba and share our joy of dancing with some Martha Graham Art.
Rehearsal at Teatro Nacional de Cuba / Nadine Xintara as the white woman in Martha Graham's Diversion of Angels
We performed over the weekend at the Teatro Mella in Havana. Most of the buildings have a unique nostalgic decaying charm and the theatre was no exception. The audience turned out to be just as loving towards our work as they are of their own. After the shows, one of my friends, Jose, who owns a 1920s, convertible took us for a ride around the city.
Photo: Lloyd Mayor
Seeing the old town and its endless stream of colours left us all mesmerised and even more in love with the country. Embracing some of the time frozen aspects of this culture reminded me of what life can be when we step away from our fast-track lives and numbing technology.
Final company bow at Teatro Mella
In all, this experience has indeed changed me in many ways and widened my perspective on life as an artist and more importantly, as a human being. Cuba, I salute you for your cultivation of the arts and high level of authenticity, and we have much to learn from you.  
Nature view of our drive back to Santa Clara to head back to New York City
---
Join Dance Enthusiasts at our Enthusiastic Event! Dance: Island to Island-Moving Caribbean in NYC - November 16th at Gibney Dance 280 Broadway featuring food, drink, dancing, and conversation with Caribbean Women Artists from Haiti, Jamaica, Trinidad +Tobago, Puerto Rico - More Information and Tickets, Including Special Friends Discount Code here.

The Dance Enthusiast Explores Dance and Creates Conversations- See More Day in the Life Articles here.
And Check out our other Moving Caribbean pieces on Dance in Haiti, Homer Bryant, Geoffrey Holder, Gabri Christa, Makeda Thomas, and Carlos Cabrera.