A Day in the Life of an Aerial Artist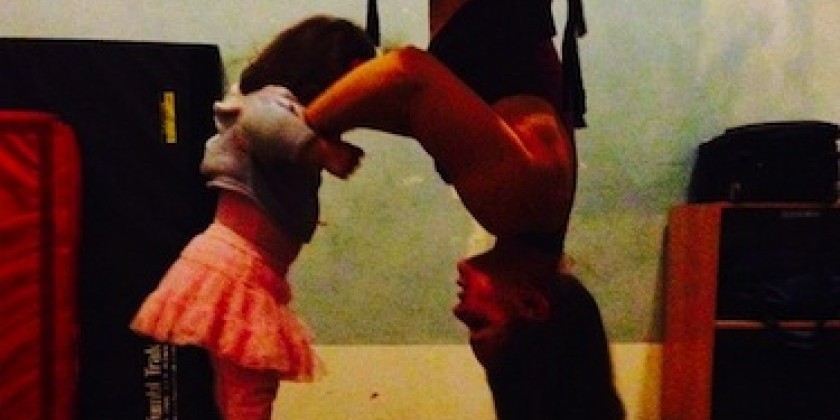 The Dance Enthusiast talks to Grounded Aerial
These modern day superheroes don't shy away from the public eye - you've seen them on TV, at circuses, or at that swanky nightclub in Las Vegas. If you live in New York City, guess what? Aerial artists move among us.
Founded by Karen A. Fuhrman in 2007, Grounded Aerial has been producing jaw-dropping dance with a daring team that knows no vertigo. Grounded Aerial has set itself apart from most existing aerial troupes by presenting equal parts aerial stunts, dance choreography, and theatrical performance. In 2011, the company was listed among one of Bizbash Magazine's "50 Best Ideas of the Past 10 Years."
This month sees plenty of traffic in the air: Fuhrman and her team will lead aerial workshops for absolute beginners from Monday, Jan 13 through 17 and stage a one-night only performance at Lehman Center for the Performing Arts in the Bronx on January 25th. The evening of spectacle will also feature a specially commissioned dance by Paul McGill titled Hymnal.
---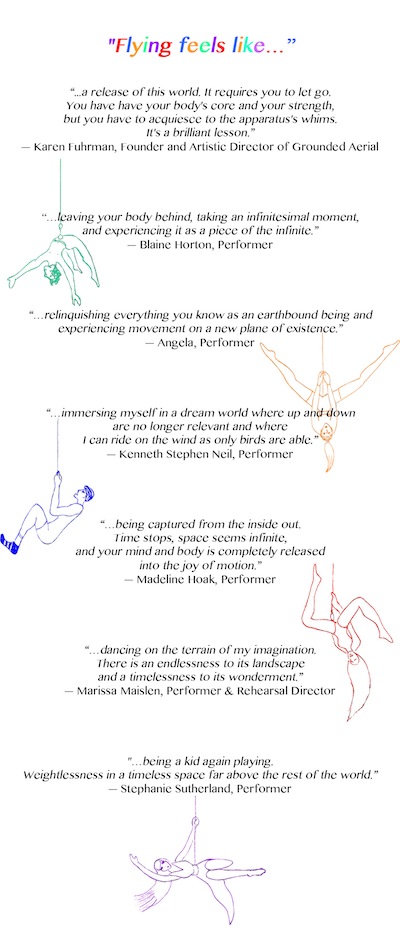 Illustrations by Sammi Lim.
Fun Facts about Grounded Aerial and Aerial Dance:
1) Grounded Aerial's productions involve an immense amount of acting.
"Every action carries meaning to further the plot; nothing is for show or gratuitous." – Karen F.
2) Aerial performers should know their own limits and comply with the clock.
"The maximum amount of time you can remain suspended, wearing a harness, is around 15-20 minutes… After that, your legs fall asleep in the air!"
3) Costumes worn during aerial performances have to be customized to take harnesses into consideration.
"Cut a hole in them! We have to be careful to find the right placement. It always feels a little scary to cut into a perfect costume. Kind of like surgery."
4) Although it seems like a whole different realm, choreographing aerial dance isn't so different from choreographing grounded movements.
"There are just different possibilities in the air. The rules change. I create something on the ground and then I take it up to the air to see how it changes. It requires an open mind and a readiness for change. It's a lovely metaphor for life, actually."
Grounded Aerial Workshops
January 13-18, 2014
Brooklyn Lyceum, 227 4th Avenue Brooklyn, NY 11215
Grounded Aerial's Newest Repertoire
Saturday, January 25th at 8pm
LEHMAN CENTER for the Performing Arts, 250 Bedford Park Boulevard West Bronx, NY 10468
Tickets: Adults - $25 to $35, Children 12 & below - $10