Meet Keo Motsepe of "Dancing with the Stars"
South Africa has a legacy of phenomenal male ballroom dancers who've made waves competing in the Latin division: Cha Cha, Samba, Rumba, Paso Doble, and Jive. Two South African natives, Bryan Watson and Michael Wentink, received worldwide acclaim when they won the prestigious British Open Championships. Affectionately known as Blackpool, this competition attracts the best dancers in the world with first rounds beginning with hundreds of couples that are then whittled down to a final six. The torch has since been passed to Keo Motsepe, who recently completed his first season as a professional on the ever-popular "Dancing With the Stars."
As a child, Motsepe demonstrated a preternatural gift for soccer. He transitioned from the field to the dance floor when he dropped into some dance classes at a school near where he lived. At first, he was petrified to go in due to the plethora of men sporting tights. He overcame his aversion and quickly became hooked. He says, "From the first moment, I knew I wanted to do this for the rest of my life."
Ballroom dancing, particularly the Latin division with its sensuous hip actions and cadenced rhythms, exerted an irresistible pull over Motsepe. He started with an advantage, putting the fast footwork he honed in soccer to use, particularly in the Jive, a dance of lightening fast weight changes. Dancing's union between flesh and spirit seduced Motsepe, but he discovered that ballroom dancing offered far more than just visceral physicality. He opines, "Dancing taught me discipline and how to respect a woman in the right way. It helped me to be a better man."
Ballroom dancing usually occurs in two presentations: social venues (weddings and clubs) and competitions, which are serious affairs with stony-faced judges. However, in the last decade, this flamboyant and alluring form has exploded into popular imagination with the twin successes of "Burn the Floor" (a flashy stage production) and "Dancing with the Stars." As a featured performer with "Burn the Floor" and as Lolo Jones' professional partner on "Dancing with the Stars," Motsepe elaborates on the challenges of navigating these various formats. "The theater offers an opportunity to make a connection with the audience. In television, because there is a new dance every night, I get to show different parts of my personality."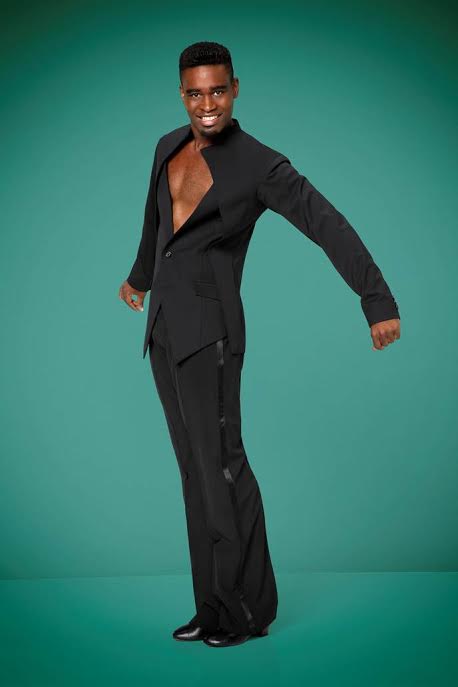 Keo Motsepe. Photo: Gorgeous Media Group.
 
He admits the grueling touring schedule of "Burn the Floor" took its toll, and he tired of doing the same show over and over. However, a chance encounter with a fan in Japan who was deeply touched by Motsepe's performance caused him to rejigger his approach. He realized each show was new for the audience, and he needed to keep it fresh for himself. "Every show I would pick something to focus on like rhythm or technique, and then it became very interesting."
Working with Lolo Jones, one of the few Olympians to compete in both the Winter and Summer Games in bobsled and track and field respectively, proved to be a fun challenge. As an athlete, Jones was no stranger to hard work and demanding training regimens. The real goal became for her to relax her perfectionist tendencies. Motsepe elaborates, "My mission was to get her out of her comfort zone and to let go."
Motsepe, an eight-time South African Latin champion, is ready to leave the competitive dance floor for the stage and screen. He will appear on the "Dancing with the Stars" tour, which begins at the end of December and runs through mid-February. His ultimate goal is to headline a Broadway production, sharing his love of dancing with audiences and inspiring a new generation of dancers.
Even with these lofty goals, Motsepe maintains a connection with his South African heritage. South Africans are known for their friendly and humble demeanor. Even though he is based in Los Angeles, Motsepe says, "I don't want to fall into the Los Angeles lifestyle. My parents say I haven't changed, and I take that as a big compliment." He hopes to become an ambassador for dance both here and in South Africa.
Ballroom dancing is known for its extravagant costumes festooned with rhinestones and feathers. Motsepe indicates his fashion sense has changed since leaving the competitive floor. While traveling the world for competitions, he would often dress up, which is typical for this discipline in which making a strong visual statement is key. Now, he states, "I prefer casual, cool clothes that look good on my body." His go-to outfit consists of dark jeans, formal shoes, and a nice shirt. There are many events in conjunction with "Dancing with the Stars," and for those, he likes a suit with no tie.
Motsepe reminisces that one of his finest dance moments occurred when Bryan Watson, his coach and dancing hero, came to see him perform in "Burn the Floor" during its London run. Watson told his former pupil "that he had become a man," thus validating Motsepe's original intention as a dancer: to become a better person through dancing.
To catch Keo Motsepe on the "Dancing with the Stars" tour, click here.