Kyle Abraham's "Pavement" Brings the Streets of Pittsburgh to Harlem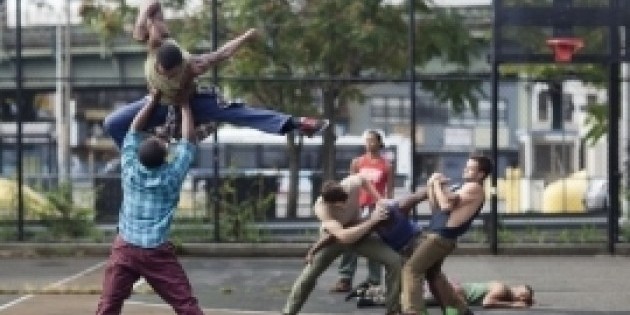 In Rehearsal with Kyle Abraham
As Abraham and his dancers prepare the Premiere of Pavement at Harlem Stage
November 1st-November 3rd, 2012

October 2012
---
Garnet Henderson for The Dance Enthusiast

Shots ring out and dancers rocket across the stage. Sneakers hit the ground with a soft thud, thud, thud, and more dancers add their weighted strides to the chorus. A man lies face down, his hands arranged behind his back as if in handcuffs.

This is Kyle Abraham's Pavement, a new work inspired by John Singleton's iconic 1991 film Boyz n the Hood and W.E.B. Dubois' classic book The Souls of Black Folk. The piece will have its premiere at Harlem Stage from November 1st–3rd, 2012.



While creating the work, Abraham drew on a wide variety of sources and experiences. Boyz n the Hood and The Souls of Black Folk provided a starting point, but Pavement evolved to include elements of Abraham's personal experience.

"Of course, being from Pittsburgh and making dances, especially when it's a social thing, I think a lot about where I was at that time, in '91, and just my life in general," said Abraham. "So I was thinking a lot about Pittsburgh and of gang violence, and the violence in the film. Putting that in relation to Pittsburgh where we also had the Bloods and the Crips… thinking about the fact that those two gangs in particular are in two historically black neighborhoods that were really rich at some point, not financially, but in culture. The jazz scene. You have Art Blakey, you have Billy Strayhorn, one's from Homewood and one's from the Hill District, these historic black neighborhoods.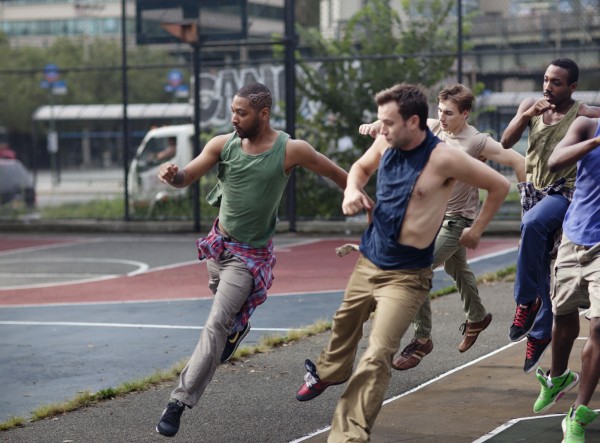 Kyle Abraham's Pavement ; Photography © Carrie Schneider

Abraham was also influenced by the physical structures of these historic Pittsburgh neighborhoods, and the changing city landscape.

"There were times when these structures were up and there was a lot of business booming, and then in '91, the buildings were still there, but they were run down. Graffiti, wood planks over the windows, and that kind of thing. I was drawing a connection between the piling of bodies and the dilapidated buildings… and how they have this collapsed look."

Music was another component of Abraham's creative arsenal. "I was thinking about opera music, oddly enough," he said. "I was listening to Philippe Jaroussky's music, and one of the albums he has is about the castrati. I was thinking about that as a metaphor for Boyz n the Hood."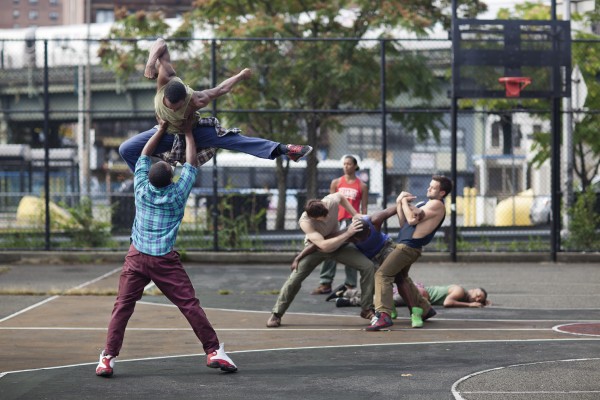 Kyle Abraham's Pavement ; Photography © Carrie Schneider

Opera music has found its way in to Pavement's score, which also includes sound bites from Boyz n the Hood. The performers speak on stage as well. They worked with dramaturge Charlotte Brathwaite to hone their vocal delivery.

Abraham has gathered a stellar cast of dancers – six men, including himself, and one woman. They move seamlessly between explosive, raw dancing and casual pedestrian movement, uniting the many elements of Pavement with their presence and conviction. The group worked together to build Pavement over the course of several residencies, first through the Joyce Theater Residency and the Andrew Mellon Foundation, and then at the Maggie Allesee National Center for Choreography (MANCC).

Abraham generated a formidable amount of material at MANCC in particular, thanks to his use of yet another element – video. Abraham and his dancers had access to four cameras, and Abraham used the technology to quickly create and pass along choreography. He would improvise or choreograph a phrase, record it, and then have dancers learn the material from the video. Several solos in Pavement were generated entirely through this process, and many other sections evolved through variations on those themes.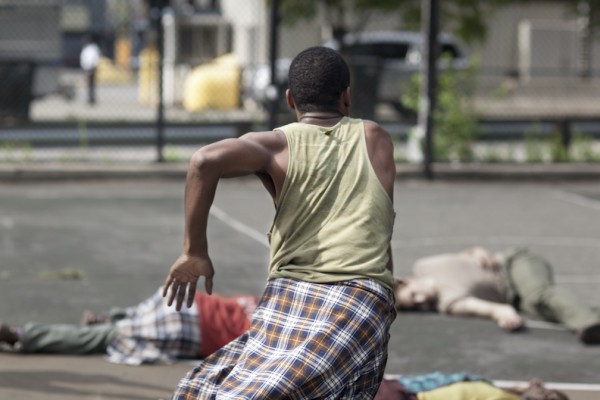 Kyle Abraham's Pavement ; Photography © Carrie Schneider

The company's last residency was a production residency at Hobart and William Smith Colleges. This allowed Abraham and his collaborators to see the piece fully realized before its premiere at Harlem Stage, an opportunity that Abraham said was vital – "we wouldn't have been able to do this without that residency."

Pavement invites audiences into a world of vulnerability and rough edges, sliding and weaving through disparate emotional registers. This intimate work brings a piece of Pittsburgh to Harlem, and offers a glimpse into Abraham's own experience.
---
The Dance Enthusiast's DAY IN THE LIFE covers the stories behind dance/performance and creates conversation. For more behind-the-scenes stories from NYC and beyond, click here.
---
The Dance Enthusiast - News, Reviews, Interviews and an Open Invitation for YOU to join the Dance Conversation.