Dance Up Close to Kyra Nichols with the New York Theatre Ballet
As the Ballerina Coaches Jerome Robbins' "Antique Epigraphs" for the Company
New York Theatre Ballet at New York Live Arts from February 24-27, 2016. 
Performances: Wednesday, Thursday and Friday at 7:30pm; and Saturday at 2pm and 7:30pm. 
Tickets start at $15, and are available online at  New York Live Arts  by calling the Live Arts box office at 212.691.6500, or by visiting the box office, Monday-Saturday 1pm - 9pm and Sunday 1pm - 8pm.  
---
Inside the warm dance studio of St. Mark's Church-in-the-Bowery a tiny gathering of dance-loving reporters waits patiently, anticipating the arrival of the glorious Kyra Nichols. If I close my eyes, I  can see her dancing: elegant, precise, and natural in every role. Today Nichols, now retired from New York City Ballet since 2007, is coaching the New York Theatre Ballet in Jerome Robbins' Antique Epigraphs, one of the legendary dances to be performed by the company during their Legend and Visionaries 2016 season at New York Live Arts. She was in the original cast in 1984.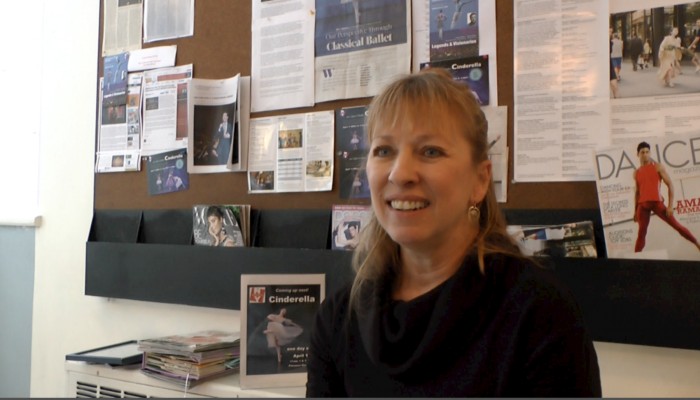 Kyra Nichols After Rehearsals
Unfortunately the ballerina is late, rather ingloriously stuck outside the Holland Tunnel in a mammoth traffic jam. Getting to rehearsal has been the hardest aspect of coaching, she tells me later. Grounded in Los Angeles for three days after working at Jennifer Ringer's Colburn School, she couldn't make it to NYTB's first rehearsals. But the company, whose dancers she calls, "wonderful, quick, and knowing how to perform" valiantly began preparing solo passages from video. At this particular rehearsal, the group — only a week into the work — is already performing with confidence — such a pleasure to watch.  I believe this is due to Nichols' extraordinary warmth and disarming down-to-earth coaching approach. Her belief in the artists in front of her seems to bring out their best.
New York Theatre Ballet Week 1 of Rehearsal
Nichols finds returning to Antique Epigraphs similar to revisiting an old friend. Little things come back, remembering that a moment when everyone stands still is really about breath and bringing the stage to life. Big ideas also return. "Jerry (Jerome Robbins) liked dancers to be comfortable in their own shell and Balanchine wanted to see our personality on stage, he wanted to see you. This is what I am trying to pass on," says Nichols. "I didn't like people picking at me too much when I was dancing, I wanted to find my own way. And I think that's important for a dancer…their interpretation should be their interpretation.  It is not about me. It is about them: enjoying it, putting it on stage, bringing the dance to life."
For ballet dancers who spend a majority of their day refining detailed and complex physical patterns, Robbins' ballets can be a challenge.  "Jerry's pieces are relaxed and you need to feel comfortable with that simplicity." Nichols adds, "I find myself working on weaving the steps together. It's not step, step, step — but a whole picture. "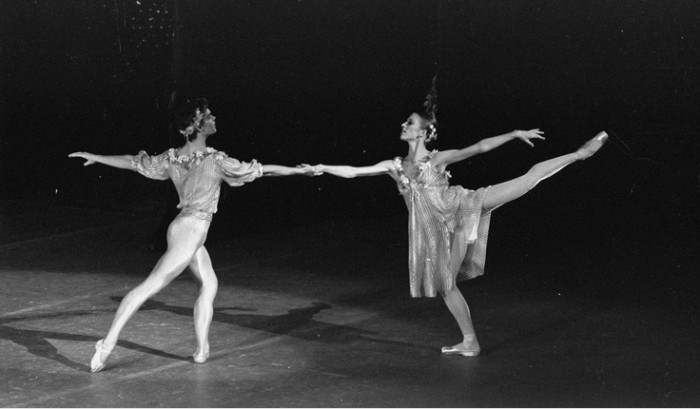 The New York Public Library. (1979).Photo by Martha Swope. New York City Ballet production of "The Four Seasons" with Kyra Nichols and Daniel Duell, choreography by Jerome Robbins (New York) Retrieved from http://digitalcollections.nypl.org/items/7f4c1a70-21af-0133-87df-58d385a7b928
More memories flood in. "My favorite role for Jerry was 'Spring' in The Four Seasons (which premiered in 1979). He created that on me. Before then, I wasn't in any of his ballets, not even in the corps. I thought he didn't like me. Then all of the sudden he called me for 'Spring' and it just worked. He was a left-turner and I could turn left. I just followed him. There was no awkward moment. I treasure that."
Robbins, notorious for being difficult, had a great relationship with Nichols. "He was really nice to me especially when Joe (her first son) was born. He just loved Joe. We called him Uncle Jerry. He would come to my dressing room after I danced and would want to see Joe. It wasn't to tell me that I danced nicely."
More about the Program: New York Theatre Ballet's Legend & Visionaries 2016
The program includes: the NYTB Premiere of Jerome Robbins'
Antique Epigraphs
set to Debussy's "6 Épigraphes Antiques", staged by Kyra Nichols; the world premiere of San Francisco choreographer Milissa Payne Bradley's
Chemical Bond
set to "Serenade Op. 98 Apres un Reve" by Gabriel Fauré; Richard Alston's
Such Longing
set to "Mazurkas" by Frédéric Chopin, staged by Martin Lawrance;
Song Before Spring
set to Philip Glass' Piano Etudes Nos. 1-10 choreographed by Zhong-Jing Fang and Steven Melendez, featuring the NYU Steel Drum Ensemble led by Josh Quillen, Director of the NYU Steel Drum Ensemble and Jonathan Haas, Director of Percussion Studies at NYU Steinhardt.